CHEN YUJUN
Reflection From the Golden Dome
Rén Space, Shanghai
[Press Release]
Opening: June 24th, 2018
Exhibition: June 25th to July 31st, 2018
Rén Space is proud to announce the opening of Reflection From the Golden Dome, by Chen Yujun on June 24th, 2018. The newly conceptualized body of work by Chen Yujun is inspired by spiritual figures and materialization from divinity. Through a year long process, the artist has created simple clay models in primitive forms that contemplate on different elements from the mythologies that reflect individual experiences and collective memories of history and culture. Through photographs, videos and installation of scenes with multiple perspectives, the artist purposefully provokes ambivalence towards the physical venue with conceptual and imaginary scenario by bringing familiar stories to unexpected contexts.
"As a sunbeam slants to Dome of the Rock reflecting the ancient holy city of Jerusalem, worshipers of different color and creed assemble under the dome, each with their own personal journey and stories. Each and all, young or old, worshippers contemplate and filter the elements through their own individual experiences and collective memories and construct yet another new and unique experience and realities." In an environment of reality and fiction, the artist questions how uniqueness of individual's experience and cultural legacies in current globalization affects how the individual confronts the issue of spirituality and uniqueness of identity.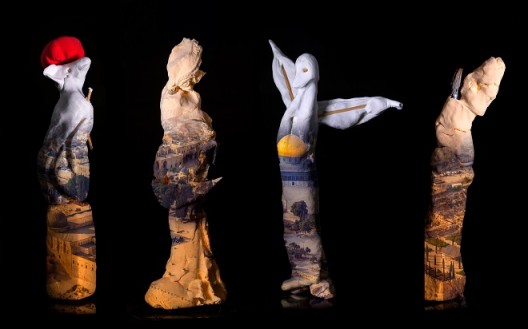 This is the first of CLAY PLAY series by Rén Space which will showcase works created by Chinese contemporary artists in different phase of careers with distinct backgrounds and styles without previous experience in sculptures. The models exhibited are first contoured and expressed by artist's hands using the simplest of tools and common clay. The models are then digitally processed with the artist's collaboration with world leading studios specializing in material and techniques best able to support and express the artist's visions.
Accompanying the clay models are the artist's specified instructions for future production with which the collectors will have opportunities to secure the works and thereby inviting the collectors to assume a role of enablers. This early engagement and commitment by the collectors enable artists to engage in projects otherwise not viable, while the collectors are given a unique opportunity to engage art, artist, and art making process as patrons and enablers of the artists and their works. Completed final works will be presented at a late 2018 exhibition.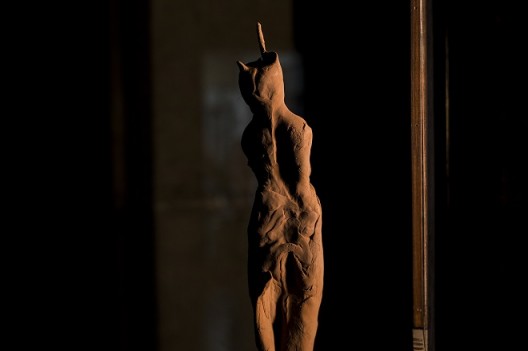 It is only now that the new and fundamental shifts in art making process enabled by breakthroughs in digital and robotic technologies upends how art is created in this modern era. It fundamentally transforms the role and definition of artist and how he or she creates art and value of work during the process. The archetype of an artist in the last century that depicts solitary artist laboring alone in his or her studio is updated and expanded to a new and classical view of an artist as the conceptual and intellectual master akin to a modern symphony conductor or Jeff Koons, Michelangelo, or Rubens managing and combining different talents of their respective studios and resources. Through the Clay Play series, Rén Space is excited to empower and support artists with their artistic endeavours through new experimentation and exploration.
Rén Space is proud to represent Chen Yujun on this Solo exhibition and this series of works. We would also like to recognize Tang Contemporary Art in Beijing and Bank Studio in Shanghai for their supports.
Chen Yujun, born in 1976, Putian, Fujian Province, graduated from Department of Mixed Media of China Academy of Fine Arts in 1999, and taught mixed media and oil painting in Chinese Academy of Fine Arts from 1999 to 2004. He now lives and works in Shanghai. His works are exhibited widely and collected by Brooklyn Museum (New York), White Rabbit Contemporary Chinese Art Collection (White Rabbit Gallery, Sydney), M+ Museum of Art (Hong Kong), DSL Collection (France), Yuz Museum (Shanghai), Long Museum (Shanghai), He Xiangning Art Museum (Shenzhen), and Arario Museum (Seoul).