Screening and Lecture – Intervention: science, art and social responsibilities
[press release]
Participating artists: Mats Bigert (Sweden), Hua Jun (China)
Special invited guest: Zhao Liang
Moderator: Kaimei Wang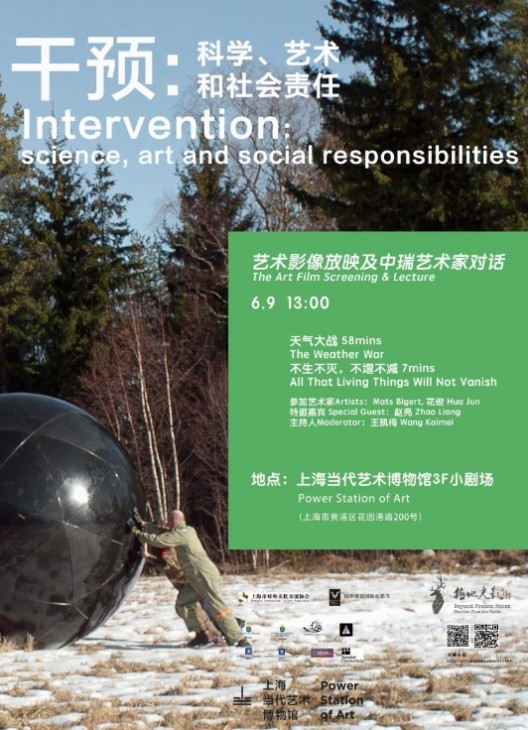 Can mankind control the uncontrollable? Who owns the right to manipulate the nature? At what point will the human intervention on nature turn from good intention into bad consequence? Where are we in the circle of life? Can we intervene? 
Swedish artist duo Bigert & Bergström travel to the US tornado belt with their special machine-sculpture, the Tornado Diverter , to stop a tornado. Along the way, we see historical examples of how the science of meteorology developed in symbiosis with military goals and how these visions evolved into modern ideas of geo-engineering. Chinese artist Hua Jun wrote calligraphy on a trash mountain and transformed a stinking trash mountain into something beautiful and provoking. The 8 characters from the Heart Sutra referring to the eternal live inhabiting in the nature reflecting the artist's attitude towards the role of human in nature.
Two artworks embodied with fantasies and ambitions, poetically and philosophically, both looking at the environmental issues through an artistic lens.
We are thrilled to have both artists in Shanghai to participating the screening of their films. After the screening, the artists will share with us their experiences and reflections on art, science and social responsibilities.
Special invited guest
Zhao Liang , film director and artist. His films won many prestigious international film festival prizes and his video artworks were show in the 2014 Shanghai Biennale. He is the first Asian film director entering the competition section of the Venice film festival with a documentary film.
About the artists
The Swedish artists duo Mats Bigert (b.1965) and Lars Bergström (b.1962) met during their study in the Royal Academy of Art in Stockholm and started collaboration since 1986. Their films and artworks , including The Extended Life, The Storm, The Weather War and The Freeze, have been shown in many art museums, institutions and film festivals.
Hua Jun (b.1970) studied calligraphy since a young age and achieved great success. He spent 8 years in Sweden where he was a student and later a teacher at the Stockholm University and the Royal Art Academy. He holds a Doctor degree on Chinese ink painting and is now an associate professor in China Art Academy. 
About the moderator
Kaimei Wang is a curator and art writer and the founder of Beyond Frozen Point film festival showing films from the northern polar region. The festival toured in 8 Chinese cities and the Chinese section of the festival was screened in the 2016 Tromso International Film Festival.