South Island Art Day 2017
[Press Release]
When: Saturday, October 14th,2017
Time: 12pm – 8pm
Admission: Free
What: 21 galleries and artist studios opening their door
What else: exhibition openings, performances, guided tours, food & drinks
Where: Wong Chuk Hang, Aberdeen, Tin Wan
How: My MTR South Island Line (7 min from Admiralty), buses, taxi, car
Who: 5000 local and international art lovers are expected to join the event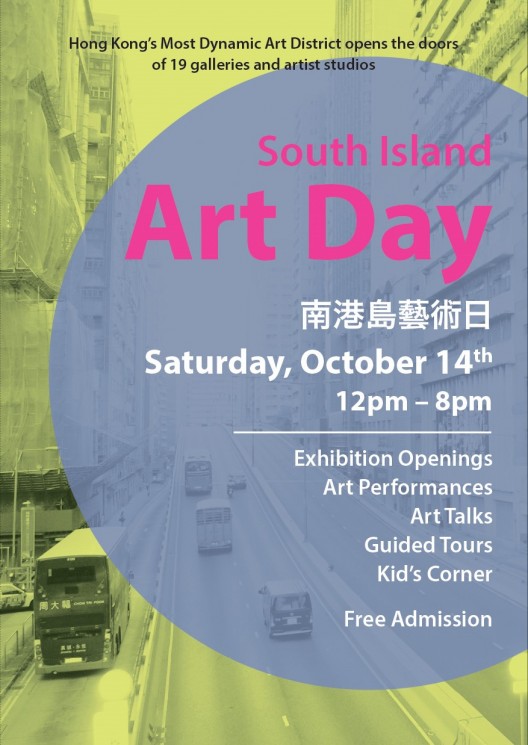 The South Island Cultural District (SICD) galleries, art spaces and artist studios will open their doors as part of Art Basel HK and Art Central VIP Programs. Yet this even is also open to the general public and the admission is free.
Following highly successful South Island Art Nights and South Island Art Days over the past 3 years, the SICD is expecting over 5000 local and international art lovers to attend the event at "Hong Kong's New Destination for Contemporary Art". The new MTR South Island line will facilitate greatly the access to the SICD, being now a mere 7minutes from Admiralty.
SICD promises an exciting and varied program including art exhibitions in 21 art spaces, giving visitors the opportunity to attend exhibition openings, interact with local and international artists, experience contemporary art, dance and music performances, as well as enjoy free food and drink from our south side partners.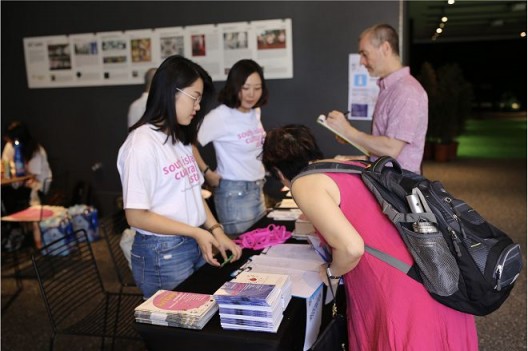 Press Contact:
Tong Yang
Tel: 2696 2300
Email: contact@sicd.com.hk
What is the South Island Cultural District (SICD)?
Founded in 2013, SICD is currently formed by 24 galleries and art spaces in the South Island areas of Wong Chuk Hang and Tin Wan. With the exception of Central, no other district in Hong Kong can claim to have so many high quality galleries located in the same area. And no other district has so many galleries hosting exhibitions in large industrial spaces (ranging from 3000 to 5000sf). SICD is a major evolution and improvement to the Hong Kong art scene and the South Island district has became Hong Kong's new destination for contemporary art.
Current SICD members are:
ADC Artspace
Chloe Ho Studio
Pékin Fine Arts
AISHONANZUKA
Greer Howland Smith Art Studio
Empty Gallery
Alisan Fine Arts
Caroline Chiu Studio
Whitestone Gallery
ARTMIA Studio
Fordham & Plastridge Studio
Longmen Art Projects
ART STATEMENTS
Kirsteen Pieterse Studio
De Sarthe Gallery
Blindspot Gallery
Michael Nock Studio
CHARBON art space
Rossi & Rossi
Marsha Roddy studio
Spring Workshop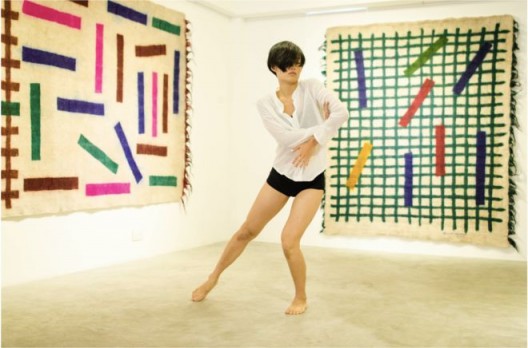 Objectives of the SICD
Currently led by contemporary art galleries, the present objective of SICD is to bring awareness about the district to art lovers. We organise joint openings, specific events and liaise with art fairs and other festivals to promote the area. SICD has also produced a written guide to the district, which is available at key distribution points throughout Hong Kong. The group has a website and sends monthly e-newsletters with updated information about spaces, exhibitions, special events and show openings.
Soon SICD will include more cultural outlets in the area such as photo studios, dance academies, yoga centers, private kitchens, music studios, etc. Crossover and interdisciplinary events as well as cultural festivals will be organized. SICD is at the forefront of the promotion of this new and dynamic cultural neighborhood.
SICD online
Check our website www.sicd.com.hk for full information about SICD members, updated information about shows and special events and to see our downloadable guide.
For more information about SICD, to have a guided tour of the neighborhood or to set up interviews, Please contact Ms. Iris Tsang on 2696 2300 or contact@sicd.com.hk