Summer Sessions Artist-in-Residence Gábor Pribék|Audio-visual Map
Project Description
In big cities the environment is surrounded by prolific information-overflow which influences our travel experience. What is also evident is the shift of attention towards the private digital space of the inhabitant's smartphones. Audio-visual map is an experiment based on these facts, exploring an alternative audio-visual version of public spaces.
During Summer session residency at CAC Gábor Pribék creates a digital composition that interprets the streets of M50 as a musical score. The structure and units of the buildings are transformed into simplified 3D graphics, and a multilayered ambient music is designed for the specific locations in the area. Walking in the streets generates a musical composition, an opposite of the linear playing of music associated with 3D visuals. This expands the original function of the space, transforming it into a digitalized audio-visual experience.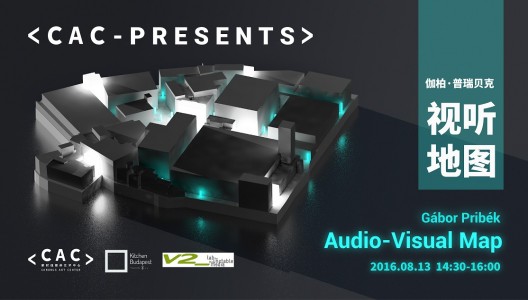 The experiment is a diptych with two versions. The geolocation based version can be explored on the actual streets of M50 with a smartphone app and earphones. The other version is based on immersive virtual reality, which can be experienced through a head-mounted display, controller and headphones.
A prototype and work-in progress will be presented on Saturday. Please bring Android phones and headphones for opened testing.
About the Artist
Gábor Pribék is a Media Design graduate from the Moholy-Nagy University of Art and Design Budapest. His previous works are projection mappings, interactive new media installations and 3D computer animations. He often mixes multiple medias and disciplines bringing hybrid results, whilst dancing on the borderlines of commercial design and arts through new technologies. Creating site-specific installations, dependent on the actual space and time has important role in his practice. His projects were already shown and installed across some globally influential or historical cities such as Hong Kong, Moscow, Berlin, Amsterdam, Budapest and Bratislava. For more works refer to his website www.gaborpribek.com
About Summer Sessions
The Summer Sessions are short-term residencies for young artists organized by a network of cultural organizations all over the world.
The Summer Sessions offer a highly productive atmosphere with production support and expert feedback to jumpstart your professional art practice. The result is a pressure cooker in which you develop a project, from concept to presentable work, ready to show.
http://summersessions.net/