Talk | On film, cultural production and interpretation incontemporary Chinese art
[press release]
Asia Art Archive (AAA), in collaboration with the Hong Kong Arts Centre, hosts presentations by scholars and curators Dong Bingfeng, Huang Chien-Hung, and Peggy Wang – the first AAA Researchers-in-Residence for The Robert H. N. Ho Family Foundation Greater China Research Programme. The presentations take place on 6 May 2017 from 2–6pm at the McAulay Studio of the Hong Kong Arts Centre.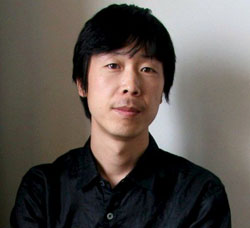 Courtesy of Dong Bingfeng.
Dong Bingfeng, Beijing-based independent researcher and curator, uses materials in AAA's collection to investigate the development of video art in China through exhibition history and artist case studies. The talk takes film as an entry point for discussing moving images in China – as a historical description of the medium's evolution, and as an exploration of the interaction among artistic creation, theory, and social development. Dong's 2017 publication Cinema of Exhibition: Film in Contemporary Chinese Art is the backdrop of the presentation, with 'narrative', 'installation', and 'site-specificity' as the main topics of discussion.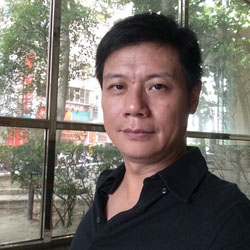 Courtesy of Huang Chien-Hung.
The Kaohsiung-based scholar and curator Huang Chien-Hung will present on the Cultural Production of Asia Through Exhibitions and the Concept of 'Art Individuation'. His research focuses on images, art communities, and curatorial studies. Huang investigates the cultural production of Asia and how the image of Asia is constructed and circulated in the Chinese-speaking world, particularly within the context of para-colonialism. His research at AAA – which critically formulates the subject of 'Asia' and contextualises his collaborative research project with artist Chen Chieh Jen – is an extension of his previous exhibition 'Discordant Harmony'. He identifies case studies of artists from Hong Kong and China to investigate the concept of 'art individuation'.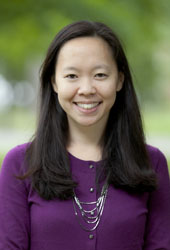 Courtesy of Peggy Wang.
Maine-based scholar Peggy Wang looks into the production and interpretation of contemporary Chinese art during the 1990s. While global art opportunities and domestic market reforms posed immense challenges, they also presented exciting possibilities. As artists reassessed the systems in which they were operating, they imagined their work as vehicles for effecting change. Wang's research focuses on artist correspondence in AAA's collection, as well as interviews conducted by researchers. The question she asks when studying these materials include: What did artists think about art? What did they hope to accomplish with their art?
The research residency is part of the Robert H. N. Ho Family Foundation Greater China Research Programme. It aims to support practitioners to utilise Asia Art Archive's extensive collection of primary source documents and develop new, in-depth historical research projects on topics relating to contemporary Chinese art. The programme also offers research grants annually.
Presentation Details:
Date & Time: Sat, 6 May 2017, 2–6pm
Location: McAulay Studio, Hong Kong Arts Centre
Lanague: English and Mandarin (with simultaneous interpretation in both languages)
Registration: www.aaa.org.hk/programme/Details/897