The Third CAFAM Biennial | Negotiating Space: I Never Thought You Were Like That
[press release]
Project duration: May, 2016 to January, 2017
Exhibition time: 9 November, 2016 to 8 January, 2017
Venue: CAFA Art Museum
Advisory Committee:
Head of the Committee: Fan Di'an
Advisors: Su Xinping, Wang Huangsheng, Qiu Zhijie, Tang Bin, Wang Chunchen
Executive Negotiators: Gao Gao, Liu Xiyan, Yi Yue
The CAFAM Biennial is organized by the CAFA Art Museum. With the support of this university art museum, "Super-Organism: Research and Experiments from a Specific View" and "Invisible Hand: Curating as Gesture" were held in 2011 and 2014 respectively.
In recent years, the international art world has been discussing and reconsidering how a biennial should be organized, and doubts about the biennial mechanism have been voiced in recent years. The biennial mechanism has developed for nearly one hundred years, gradually creating a fixed model. Sometimes this model can neither quickly respond or react to the rapidly-changing sites and ecologies of art, nor reflect the immediate state of art. For this reason, in planning the Third CAFAM Biennial, the CAFA Art Museum reconsidered its model in an attempt to experiment with organizational and operational modes, exemplifying the university art museum's function as an "intellectual laboratory."
We have named the Third CAFAM Biennial "Negotiating Space: I Never Thought You Were Like That," in an attempt to provide a completely new model for experimental exhibitions. Here "space" does refer to physical spaces and architectural spaces, but it also points to social spaces, psychological spaces, cultural spaces, and public spaces. "Negotiating Space" implies a free and broad vision of these concepts through the innovative presentation of new ideas. Second, negotiation allows for a more democratic process of artwork creation and project implementation. In Jürgen Habermas' theories of communication, interaction between a number of parties increases the understanding of a thing and coordinates action to arrive at a common understanding. In this process, individuals have the chance to improve themselves. Bringing "negotiating space" into the exhibition model implies the dissolution of monolithic curatorial power and a break from its control. The proposal's creators and negotiators will explore how visual presentation can produce a relationship with the space or break through spatial limitations, thereby sparking a discussion about the democratization of curatorship, the democratization of art, and the democratization of culture.
As a result, there is no curator for this biennial, and the CAFAM team works as coordinators for the exhibition. The exhibited works are selected using an open call for artwork proposals, not a process of recommendation or nomination. Because "everyone is an artist," any individual or group can, as an artist, submit a proposal for a project that has not been realized before, and all submitted proposals will be recorded in a directory. In the proposal collection process, we have invited people from all realms of society to participate as "negotiators." Within an open context, the submitted proposals are publicly negotiated and discussed. Some of the works that have been discussed will be presented in the exhibition, and all proposals that entered the negotiation phase will be presented in the exhibition halls and the catalog. The negotiation, presentation, and implementation of these proposal texts collectively constitute the method of this biennial. In this process, the CAFAM Biennial team will accept questions and input from the public with an open attitude.
The subtitle "I Never Thought You Were Like That" was inspired by a popular internet phrase, expressing amazement at surprising and unimaginable ways of doing conventional things. This subtitle provides a colloquial, popular, and web-based explanation of the new exhibition structures and methods for "negotiating space," in an attempt to break with conventional assumptions about and methods for choosing biennial names. However, guided by this subtitle, we hope that the proposal presenters will work creatively, break conventions, and communicate across disciplines and submit proposals that we "never thought would be like that."
The Third CAFAM Biennial will also present a series of academic and educational activities, including "Public Space and Cultural Democracy" seminars and lectures, "Intellectual Laboratory" dialogues, workshops and the Art Museum Night.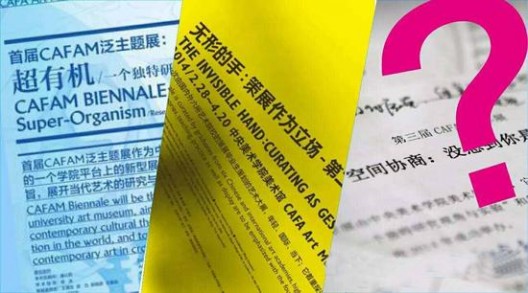 Proposal Collection and Presentation
The discussion and presentation of the Third CAFAM Biennial will follow a model of proposal collection, proposal negotiation, text presentation, and artwork presentation.
Phase 1: Proposal Collection
Dates: May to September 2016
Collection Deadlines: June 9, July 7, August 11, September 8
Proposals can be submitted from the date of this announcement's release to September 8. Four collection deadlines have been set for this time, to complement the monthly proposal negotiations. The proposal collection and negotiation will take place on a rolling basis, so we recommend submitting your proposal as early as possible.
Proposal Requirements:
1. Any willing individual or group may submit a proposal.
2. Proposals must include:
1) An introduction of the individual or group
2) Project title and description, no less than 600 words
3) Project drawings, renderings, and at least six explanatory pictures. The resolution of the pictures must be at least 300 dpi.
4) Project budget
5) Other explanatory materials. Should you wish to include physical objects, please first submit photographs.
3. The proposal cannot include obscene, violent, or illegal material.
4. All proposals submitted must be original and not the subject of any copyright dispute.
5. Proposal Submission: Please email project proposals to [email protected]
6. As for the CAFAM space images and maps, please download from this link: http://pan.baidu.com/s/1c16cS16
Phase 2: Proposal Negotiations
Dates: June to October 2016
Negotiation Dates: Fourth week of June, July, August, and September 2016
Negotiation Method:
1. From the proposals collected before that month's deadline, the Biennial team will make a preliminary selection of proposals for negotiation.
2. An open proposal negotiation for the proposals initially chosen will take place at CAFA Art Museum once per month.
3. At every negotiation, the presenter(s) of the selected proposals will have 10-15 minutes to speak about that proposal. Presenting supporting materials during this time is recommended.
4. Approximately 4-6 negotiators will participate in the proposal negotiations. The negotiation teams are not set, but they will include personages from art and other realms. After the explanation, negotiators can ask questions about the proposal, and engage in discussions with the presenter(s).
5. The proposal negotiations will be open to the public, and based on the circumstances, attendees can ask questions or participate in the negotiation.
6. The proposal negotiations will be recorded on video and presented in the exhibition later.
Notes:
1. The proposal texts that enter the negotiation phase are seen as artworks in the Third CAFAM Biennial.
2. Proposals that enter the negotiation phase must be authorized by the museum to be included in exhibition presentations, academic publications, and publicity efforts.
3. The museum will have priority in collecting the proposed artworks.
Phase 3: Text Presentation
Dates: July 2016 to January 2017
After every proposal negotiation, the artwork proposals will be presented in text and pictures a special area of CAFA Art Museum. Other explanatory materials will be selectively presented based on considerations of quality and space. The edited video record of the negotiation meeting will also be presented.
Phase 4: Proposal Realization and Exhibition Presentation
Dates: November 9, 2016 to January 8, 2017
Location: CAFA Art Museum
After the discussions have ended, all feasible proposals that conform to artist requirements and negotiator recommendations will be realized. CAFA Art Museum will formulate the final artwork exhibition plan based on the circumstances of the works and the exhibition space.
Publications:
The CAFA Art Museum will also edit and publish a catalog for the Third CAFAM Biennial, and all of the proposals will be included in a directory in the catalog. All negotiated proposals and the final works will be presented in the catalog as texts and pictures.