West Bund Art & Design announces 2017 Gallery List
[Press Release]
Now in its fourth edition, the West Bund Art & Design (10 – 12 November, 2017) continues to define itself as the premier destination and venue for contemporary art in Shanghai, and as the leading cultural gateway to top-tier contemporary art in China and throughout the Asian region.
Forty leading galleries from around the globe are invited to participate in the West Bund Art & Design Fair this year; additionally, the newly launched TALENT sector will present works by emerging artists in a series of solo exhibitions or specially curated group shows. Also returning this year is ArtReview Asia Xiàn Chǎng (the Chinese word for "on the spot", "at the site") showcasing cutting-edge works by both Asian and international artists that are featured in designated public spaces both inside and outside the fair.  Many of the works included in these special exhibitions have been created especially for the venue or exhibited for the first time in the region. The gallery list of TALENT and the artist list of ArtReview Asia Xiàn Chǎng will be announced later.
Since its founding in 2014, the fair has continued to welcome and cultivate an exciting and diverse range of galleries, collaborating with museums and art institutions, as well as with design and innovative architectural studios. Presenting established and emerging artists from around the world, the West Bund Art & Design Fair exemplifies the thriving West Bund District that has rapidly become Shanghai's distinguished cultural corridor and artistic enclave with its neighboring museums such as The Long Museum, the Yuz Museum, and SCôP (Shanghai Center of Photography). Alongside the West Bund Art & Design Fair, the growing cluster of galleries and artists' studios that have established themselves in the area augments the progressive and dynamic energy of the West Bund District and the city of Shanghai. The second week of November has now become a citywide event extending to other exciting venues throughout Shanghai.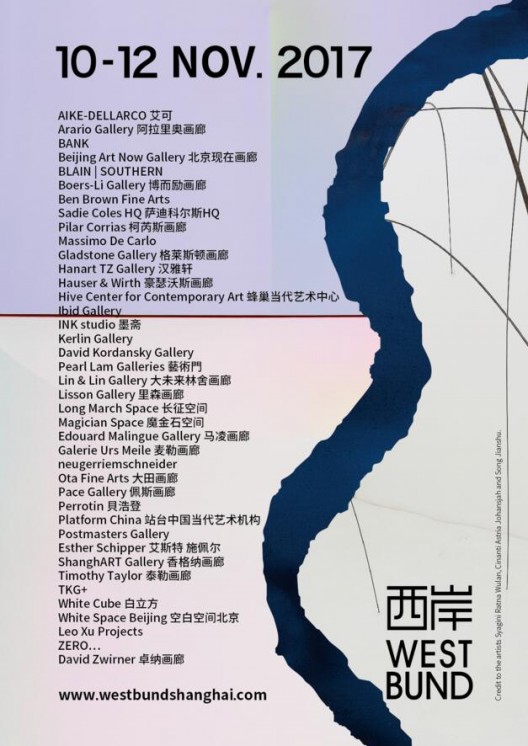 2017 Gallery List
(In alphabetical order, gallery names with * are the new exhibitors of this year)
AIKE-DELLARCO
Arario Gallery
BANK
Beijing Art Now Gallery
BLAIN | SOUTHERN *
Boers-Li Gallery
Ben Brown Fine Arts
Sadie Coles HQ
Pilar Corrias
Massimo De Carlo
Gladstone Gallery
Hanart TZ Gallery *
Hauser & Wirth
Hive Center for Contemporary Art *
Ibid Gallery *
INK studio
Kerlin Gallery *
David Kordansky Gallery *
Pearl Lam Galleries
Lin & Lin Gallery *
Lisson Gallery *
Long March Space
Magician Space *
Edouard Malingue Gallery
Galerie Urs Meile
neugerriemschneider *
Ota Fine Arts
Pace Gallery
Perrotin
Platform China Contemporary Art Institute
Postmasters Gallery *
Esther Schipper
ShanghART Gallery
Timothy Taylor
TKG+
White Cube
White Space Beijing
Leo Xu Projects
ZERO… *
David Zwirner