"West Bund X – Call for VI Design" Submission Guidelines
[release]
West Bund is an ambitious urban branding and development project initiated by Shanghai's Xuhui District government. It seeks to bring together domestic and foreign pioneers in the fields of culture, art, media, fashion, design, and innovative finance to create a unique and vibrant world-class waterfront on par with the Left Bank in Paris and the South Bank in London.
"West Bund X" contest calls for VI designs which illustrate the infinite and diverse possibilities which Shanghai West Bund brings to the community at home and beyond.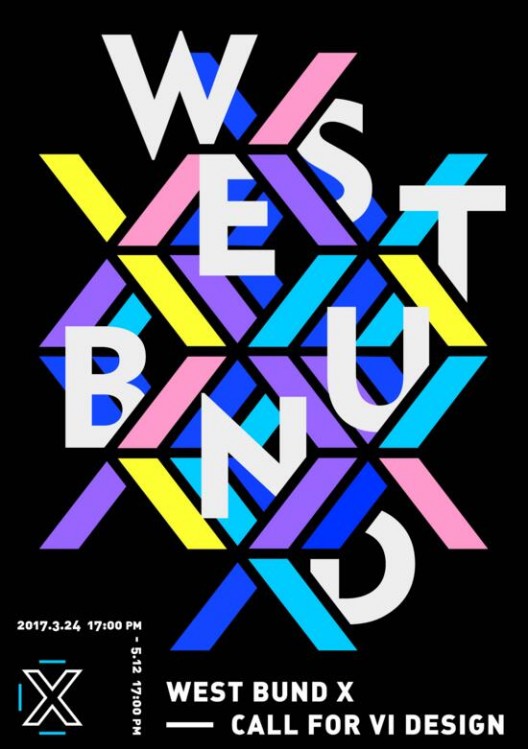 About West Bund
West Bund, a historically important industrial area in Shanghai, covers over nine million square meters of land along the southwest of Huangpu River. It provides the public with riverside scenery, greenery, entertainment facilities, and cultural institutions. Under the planning of Xuhui District Government, this area will evolve into the largest culture cluster in Asia and a dynamic ecosystem that blends cultural creativity, science and technological innovation, as well as financial development. Through the development of West Bund in the next two decades, Shanghai aims to become a city of sustainable and rich culture and innovation.
Xuhui Riverside was once a cradle of modern national industries and the city's main transportation, logistics storage and manufacturing base, gathering the biggest airport in Far East , China's first land-and-water coordinated transportation dock, China's first wet cement plant, Shanghai's first freight station and so on. Due to urbanization and shift of traditional industry, this busy but enclosed shoreline gradually lost its energy in city development and became a "Rust Belt".
In the late 2011, the Xuhui District government proposed the "West Bund Cultural Corridor" project, and initiated "the Museum Mile", attracting Oriental DreamWorks, Long Museum, Yuz Museum, Shanghai Center of Photography, ShanghART Gallery, Sotheby's among many other renowned institutions to make their homes here. Meanwhile, with events such as West Bund Music Festival, West Bund Architecture and Contemporary Art Biennale, West Bund Art and Design Fair, West Bund Food Festival, and Waterfront Global Talk, the area has become Shanghai's new gathering place for quality cultural, financial and sports activities.
With a multifaceted focus on art, design, fashion, information, entertainment, media, West Bund also aims to foster technological and financial innovation. In addition to the cultural institutions and events, the area has attracted LinkedIn, Tencent, Hunan TV, Youzu.com and other leading companies to create urban complex and high-end business that involve information, technology, health, culture and entertainment.
With the start of "West Bund Project", through the communication and collaboration between eastern and western culture, West Bund is intended to provide a platform to discover, enhance and promote Chinese and Shanghai culture to the world, and to make West Bund as the new landmark for Shanghai as an international cultural metropolis.
Objective
The design shall match West Bund's vision of a vibrant waterfront area of a global city and its function as a major culture cluster. The design shall reflect West Bund's identity, cultural accumulation and distinctive connotation.
The design should be concise and clear, modern yet sublime; it should be bright in theme, rich in content and easy to identify. The design should be easily enlarged and reduced in size, it could be applied to different contexts and promotional materials across platforms. The design should be malleable and available to create moving, three-dimensional, fading in/out, interactive, material, visual, color, digital effects.
Deadline
Please submit your design by 5:00pm (GMT+8), May 12th 2017. Any late submissions will not be received or reviewed.
Eligibility
Any individual or institution/group can participate in the contest.
Materials for Submission
All participants must submit the following materials:
1. Logo design (it can be graphics, or text, or combination of graphics and text)
2. Logo placements in the following contexts
a. On printing materials (i.e. brochures and posters etc.)
b. On public facilities and signage (i.e. street signs and building facades etc.)
c. On West Bund events (i.e. West Bund Music Festival, West Bund Food Festival, West Bund Art & Design Fair, etc.)
3. You must include one or several elements below in your logo design:
WEST BUND (either capital or lower-case letters)
上海西岸 (Chinese name for "Shanghai West Bund")
Materials Format
For still images, please submit JPG file in RGB mode. The size of each image should be 1920(W)x1080(H) pixels. Please retain your own original design file.
For moving images, please submit GIF file in RGB mode, the size should be 960(W)x640(H) pixels.
You should submit your design sketches, final effects, and a brief design description which explain your concepts and ideas of the design and to help the jury members to understand your work better. Please make sure the description is clear, straight-forward and comprehensive.
If you wish to provide videos to elaborate the design concept and application, you may upload a video to any file-sharing platform, and add the web link in your design description.
The submission should not include any information about the designer, as such information shall be provided in the Registration Form.
Submission Process
There is no registration or participation fee.
Please fill in the Registration Form, and email it to the address found on the link.
By submitting the design files, the participants agree to all the rules and conditions. The participants may submit supplementary materials before the submission deadline in case earlier submissions fail to meet the requirements.
Participants may download this guide and Registration Form from the official website.
Jury member
Project Manager: Shen Haopeng
Jury members for the first review:
Chen Rong, Bi Xuefeng, Luo Xiaoteng, and Lu Junyi
Jury members for the final review:
Fang Shizhong, Li Zhonghui, Li Xiangning, Zhou Tiehai, Jason Little, and Ruedi Baur
Review and Selection Process
The jury members will review and select the winning designs.
First review: May 15th – May 19th. The Jury members will shortlist 50 entries.
Public notification: May 22nd – June 5th. The 50 shortlisted entries will be posted online for the internet voting.
Internet voting: May 22nd – June 5th. The 5 most popular designs will win the Popularity Award.
Final review: On June 6th, the jury members will review the 50 shortlisted entries and select 3 Recognition Awards and 1 First Prize.
Design optimization: June 7th – June 21st. The First Prize winning design will be improved and optimized.
Public announcement: On June 23rd, all award-winning designs and the optimized First Award winning design will be posted online.
Rewards
First Award (one selected design): CNY 300,000
Recognition Award (three selected designs): CNY 20,000 for each design
Popularity Award (five designs): CNY 1,000 for each design
The monetary rewards mentioned above are pre-tax. The recipients should pay taxes according to related laws (including but not limited to that of People's Republic of China). Other submissions that do not win the awards will not be receiving any of the rewards or bonus.
The First Award winner is obligated to optimize the design according to the jury members' feedbacks. The First Award winner also has the priority to be commissioned by the organizer to further develop the design, the design fee thereto shall be negotiated based on the case.
All 50 shortlisted entries and award-winning designs shall receive certificates cosigned by Shanghai West Bund Development Group Co., Ltd. and West Bund Regional VI Design Contest Organizing Committee.
If it is a team that wins any of the awards, the rewards (cash or check) and the certificate will be handed to the person whose name appears in the place in the column of "author" in the Registration Form.
The final list of the awards will be announced on Shanghai West Bund official website.
Organization
Organizer: Shanghai West Bund Development Group Co., Ltd.
Operator: Shen Haopeng Graphic Design Co., Ltd.
Agreements and Policies
All submissions will not be returned, please keep your own digital copies.
During "West Bund X" period, the participants shall not transfer the design or authorize it to any third party; the participants shall not use the design in any other similar contests.
The participants shall hold the complete copyrights of the submitted design; the participants shall confirm that the submitted design has never been transferred or authorized to any third party.
Please keep your original design file safe. All award-winning designers (First Award, Recognition Award, Popularity Award) shall provide the original design files and sign copyright agreements. Failure to sign the copyright agreement would be regarded as a waiver of the award-winning. All award-winning designs (First Award, Recognition Award, Popularity Award) shall not be used in other similar contests or events.
The copyright of the submissions is protected by the laws of People's Republic of China. For First Award, Recognition Award, Popularity Award winning designs, Shanghai West Bund Development Group Co., Ltd. reserves all intellectual property rights except the right of authorship (including but not limited to copyright, all rights for the graphic, three-dimensional and digital forms of the designs). Shanghai West Bund Development Group Co., Ltd. holds all rights to use, develop, edit, change, authorize, protect the designs in any form.
The organizer reserves all rights of the final explanations.
Others
West Bund Regional VI Design Contest Organizing Committee reserves all rights of final explanations of all documents related to the contest including this submission guide. West Bund Regional VI Design Contest Organizing Committee may revise or supplement matters not mentioned herein.
This contest shall be governed by the laws of the People's Republic of China.