WKCDA announces that Lars Nittve will stand down as Executive Director of M+
[Press release]
WKCDA announces that Lars Nittve will stand down as Executive Director of M+
(5 October 2015, Hong Kong) The West Kowloon Cultural District Authority (WKCDA) today announced that Dr Lars Nittve will stand down as Executive Director of M+ upon completion of his current contract in January 2016.
The WKCDA's CEO, Mr Duncan Pescod said "While we are very sorry to see Lars go, we have to respect his decision to leave after spending five years in Hong Kong. He has made an immense contribution to the Authority and we have ensured he will continue to be available to provide advice and support in the role of External Advisor."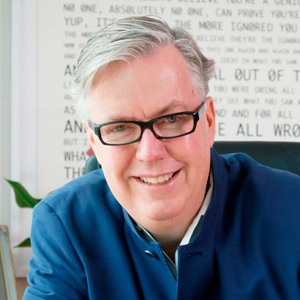 Dr Nittve joined the WKCDA in 2011, and has built a strong team for M+, which has grown to 47 people during his tenure. Over the same period the M+ collection has grown to over 4300 works, including a significant number of donations from collectors and artists. In 2013 the competition to design the M+ museum was won by the celebrated Swiss architectural firm Herzog & de Meuron, working with Hong Kong-based TFP Farrells and Arup & Partners HK. The foundation works commenced in 2014, and the construction of the main M+ superstructure will start in early October 2015.
Announcing his decision to leave at the end of his current contract period, Dr Nittve said "My decision to leave at this point has of course not been an easy one to take. It has been an extraordinary privilege to be part of this journey, and I am proud to say that we have reached a point when we can say with certainty that we have a truly world-class museum underway, with an excellent team in place, a collection of growing significance and an extraordinary museum building under construction. But I have to accept that after five years here, there are still another four years of very hard work remaining until the opening of M+. I believe I should either commit to all those years – or accept that this is the right time to hand over to someone else. After much consideration I have decided to do the latter."
Mr Pescod commended Dr Nittve's achievements "After finishing the foundations in early September, we recently signed the main contract for the construction of the extraordinary museum building by Herzog & de Meuron. Just as importantly, we have a team which by their international peers is ranked as second to none, a team that over the years have given hundreds of thousands of enthusiastic Hong Kong people a row of exciting, award winning exhibitions, talks and events, preparing them for what M+ will bring to the city. Even more gratifying though is that the M+ team have, over three years, built an amazing collection of art, design, architecture, and moving image rooted in Hong Kong and Mainland China but with a global perspective. The M+ collection is rapidly growing, not least thanks to generous support from so many donors in Hong Kong, Mainland China and overseas, with the total value of all donations to date approaching an astonishing HKD 1.4 billion. All this has been achieved under Dr Nittve's strong leadership in the past five years.
Commenting on the departure, WKCDA Board Chairman, Mrs Carrie Lam said, "I would like to thank Lars for the tremendous contribution he has made to the project, in particular in making M+ an institution widely recognised in the international arts arena. We are sorry he will not be with us for the next stage of a most exciting journey that will bring Hong Kong a world class contemporary arts museum by the Victoria Harbourfront. I appreciate the hard work he has done and have every confidence that the M+ team he has built will ensure that vision will become reality. I am much encouraged by his agreement to continue offering his expertise to the WKCDA by acting as an External Advisor."
Victor Lo, WKCDA Board member and Chairman of the Museum Committee echoed the appreciation for Dr Nittve's contribution to M+. "Lars has been a hugely influential driving force in the development of M+ and I am sorry to see him leave; however he leaves behind a lasting legacy in the form of a great team, a growing collection and a beautiful yet practical museum design that will add immeasurably to Hong Kong's cultural landscape."
A global search will begin to identify as soon as possible a suitable candidate to lead M+ through the next phase of construction and its public opening in 2019.
Dr Nittve will continue as Executive Director of M+ until 9 January 2016, further developing the extensive programme plan that is being developed for the next three years for the Arts Pavilion, which is due to be completed in 2016 and will act as a temporary home for M+ exhibitions.