YUAN YUAN
'Alternative Realities'
Palazzo Terzi, Bergamo, Italy
'My paintings encounter Palazzo Terzi and its multifaceted heritage, composed of various times and spaces. The concept of alternative time and the process of understanding the juxtaposition between forever and the moment are central to my work.' – Yuan Yuan [1]
Situated in the centre of Bergamo's Città Alta, a few steps away from Piazza Vecchia and the Basilica of Santa Maria Maggiore, is Palazzo Terzi, one of the most iconic cultural landmarks of the city and home to 'Alternative Realities', a major solo exhibition by Chinese artist Yuan Yuan (b. 1973) and his first ever show in Italy. Curated by Dr. Valentina Locatelli and presented by Edouard Malingue Gallery, the collaborative exhibition is set amidst the spaces of the historic palace, each room presenting new works by Yuan Yuan. Created following a site visit during which he responded to its interiors, the palace's aura and history, he's integrated this encounter within the echoes of his own practice that has evolved in the creation of elaborate oil on canvas paintings reflecting architecture and a passing of time, crucially devoid of human presence. Moving through the Anticamera to the Salone and onwards, one becomes privy to an unexpected and thoughtful pluralistic dialogue between tradition and modernity, but also between West and East – Italian old masters, baroque architecture and Chinese contemporary art melding into one.
A graduate from the Hangzhou China Academy of Fine Arts Oil Painting Department, Yuan Yuan is internationally lauded for his painting technique and investigation of mesmerising spaces. At a distance, his canvases nearly resemble in their fine visual authority a photograph. Yuan Yuan's works, however, crucially do not represent 'reality' – rather, his protagonists, these sumptuous yet depopulated interiors, ranging between states of wealth and abandonment, are explorations of a passing of time. In the context of 'Alternative Realities', existing locations are taken as a point of departure, Yuan's intervention with their appearance marked by his hand onto canvases, which then displayed throughout Palazzo Terzi transform its quarters into 'alternative realities' – into what could have been, could still be, or will maybe eventually become.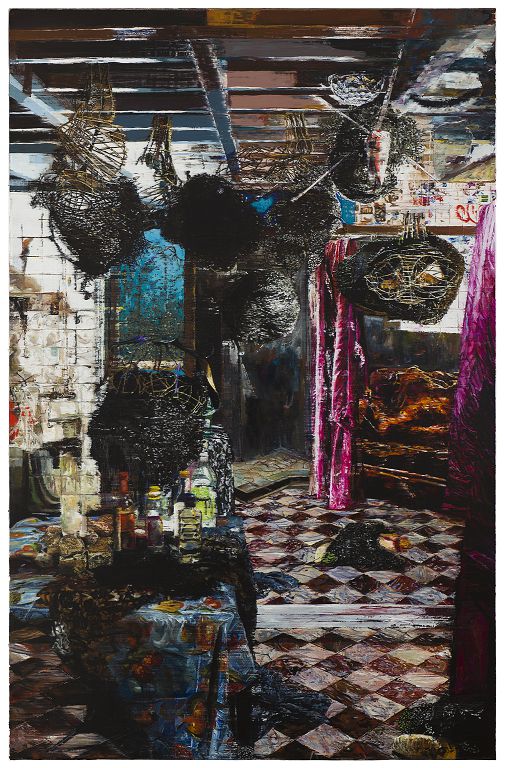 When thinking about this mutual intervention, between space, visual creation and back, the concept of a 'fractured mirror' is a resounding metaphor. Effectively, Yuan Yuan's works blend into the palatial rooms, at times hiding in plain sight, at other times slightly highlighted by contemporary hanging techniques. Whether leaning against the brocade wall tapestries or the frame of an imposing architectural chimney, his works present themselves as portals reflecting a detailed past, present and future. The images reflected, however, are not univocal, but multiple, contradictory, reflecting a plethora of broken fragments. Indeed, Yuan Yuan's paintings are imbued by a number of superfluous yet crucial narrative threads, details. In this sense, as outlined by Dr. Locatelli in the accompanying catalogue essay, they recall that 'narrative luxury' found in literature inserted by authors such as Gustave Flaubert or Jules Michelet. Albeit 'unnecessary', their presence, as Barthes pointed out, raise the question of the significance of their insignificance [2]. Channeling such elaborate details in his paintings, Yuan Yuan effectively consciously strives away from realism, provoking instead a 'glitch' or shift between actualities.
Ultimately, 'Alternative Realities' is conceived as a synergetic combination of parallel multiverses, a confrontation and dialogue between the established contemporary Chinese artist and the old masters of the past: an encounter generating a new space and time, suspended between cultures.
[1] Yuan Yuan in an email to the curator Dr. Valentina Locatelli, May 09, 2018.
[2] 'Yuan Yuan: Alternative Realities' by Dr. Valentina Locatelli, 2018; cites Roland Barthes. The Reality Effect (1968). In: The Rustle of Language. Translated by Richard Howard (original French edition: Le bruissement de la langue. Editions du Seuil, 1984). University California Press (Berkeley and Los Angeles, 1989), pp. 141- 48.