Momentum
MOMENTUM + randian 燃点
randian 燃点 and Momentum together promote "time-based art" to a global audience (for randian 燃点, particularly China and East Asia), including video, film, performance and sound related art, extending. We have combined our mailing lists, so don't be surprised to hear from us both.
Janet Laurence, "Grace", 2012 (06:30)(image courtesy the artist and Momentum Collection)

About MOMENTUM
MOMENTUM is a global platform for time-based art, with a mission to promote the work of and enable exchange between exceptional international artists, galleries and institutions while continuously reassessing the nature and relevance of time-based art. MOMENTUM is a non-profit institution which collaborates with both commercial and non-commercial galleries, private collections and art initiatives. Launched as an exhibition and international symposium of galleries and art professionals in Sydney in 2010, MOMENTUM is now based in Berlin with a Gallery Space, Exhibition and Salon Program, a Public Art Initiative, and a Collection of video art donated by artists. In addition MOMENTUM is developing several Artists' Residencies across international locations. The Berlin gallery functions as a gallery of galleries, selectively inviting international artists through their galleries and private collectors to show time-based art. In 2011 MOMENTUM's programs collaborated with leading galleries in Australia, Hong Kong, and New York, while in 2012 we have shown renowned artists from China, Poland, America, Australia, Germany, and more. MOMENTUM launched an Emerging Artists Series to support exceptional Berlin-based artists, and participated in local and international Festivals. Curated group shows are also featured, each being accompanied by screenings on our Public Art Screen, SKYSCREEN, as well as a Salon event. MOMENTUM Salons bring selected art professionals together to discuss each current show and its broader implications. MOMENTUM has a growing Collection of international video art, which we exhibit in Berlin and abroad, and that we make available on our website as a resource to educate the public and art professionals alike, opening up a world of video art from the most established to emerging artists, working with a diversity of techniques and ideas.
Kate McMillan, "Paradise Falls I", 2011/12 (02:49)(image courtesy the artist and Momentum Collection)
MOMENTUM | Collection
The MOMENTUM | Collection is a growing collection of international video art comprising the best and brightest artists we have shown and collaborated with worldwide. The Collection represents a cross-section of digital artworks at the top of the field. Ranging from some of the most established to emerging video artists, including work from Australia, New Zealand, Hong Kong, the Philippines, Puerto Rico, Finland, the US, the UK, Bulgaria, Turkey, and Germany. The works in the Collection have been generously donated by the artists to support MOMENTUM, as we are a non-profit organization. In turn, MOMENTUM is committed to supporting our collaborating artists by exhibiting and promoting the Collection internationally and making it available on our website as a resource to inform and inspire the public and art professionals alike.
The Collection is being used in an educational curriculum, and is available as a resource to interested individuals and institutions. Furthering MOMENTUM's mission to promote sharing and exchange of resources, the Collection has toured through Berlin and Venice at the time of the Venice Biennale (2011), and in 2012 will screen in Jerusalem in a public art festival, on a public art screen in Berlin, and will be presented in select international art events.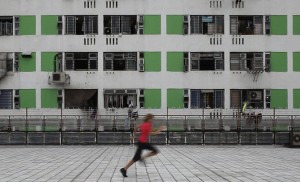 Map Office, "Runscape", 2010 (24:18)(image courtesy the artist and Momentum Collection)