Andrew & Lingling Ruff – Shanghai collectors
Amidst the proliferation of private art museums in Shanghai and around China, smaller collector spaces are also opening with more modest but also more focused ambitions. Influential Shanghai collectors, Andrew and Lingling Ruff, opened 166 Art Space in late 2017. Its third show, curated by Josef Ng, opens this month.
Ran Dian: Andrew, what brought you to China? 
Andrew: Serendipity. After college, I just assumed I would be going to graduate school but wanted to get something of a perspective-change. I decided to go to China, which was far from a well-established tourist attraction in 1988. Having no language skills at the time, I started in Taiwan, with the goal of doing a crash course in Chinese for nine months before heading to the mainland. I recruited my little brother to join me for a 4-month summer tour of China and we arrived in Guangzhou on June 4, 1989. So, I guess I got the perspective change I was looking for.
Ran Dian: Who started collecting first? What led you to collect art? 
Andrew: Well that would have to be me, since my "virtual" collection started when I was 4! My parents started taking us to museums when we moved to New York and while we had no money to collect, they encouraged us to think about which pieces we would take home if we could. My early tastes ran to Van Gogh, Rousseau and Magritte. At 9 I went through a Flavin and Warhol phase but grew out of the latter. Thanks to the Whitney, I got Serra, Katz, Rosenquist, Hopper and others. The Met and MoMA combined for Johns, Rauschenberg, de Kooning, Diebenkorn, Rothko, Picasso, Matisse, Courbet, Cranach, Dürer, Freud, Hockney and Hodgkin, and the list goes on. So quite a good collection. Shame it's only in my mind.
Ling Ling: But we bought our first piece of contemporary Chinese art together in Shanghai.
Andrew: That's true. After college, I helped my parents put together a small collection of contemporary American realist painters before their interests turned to ceramics. When I moved to Asia I made a foray into Ming and Qing Dynasty furniture but I was late and soon priced out of the market. I had started nosing around the Chinese contemporary field and Ling Ling and I were together when lightning struck.
Ran Dian: Where did you start collecting? What was the first artist you started collecting seriously?
Ling Ling: Shanghai, Fuxing Park at the old ShanghART space. We bought two Zeng Fanzhi mask paintings.
Andrew: We kept collecting Fanzhi as well as other artists—of course the pace was far more languorous then. I was encouraged to see him remove the masks from his figures over time and then happened to be in Shanghai and got a call from him as they were hanging the I/We show [I/We: The Paintings of Zeng Fanzhi, 我‧我們:曾梵志的繪畫 1991-2003 , Shanghai Art Museum, 2003]. Through studio visits I had come to know Fanzhi as a courageous experimenter with technique, but as soon as I saw the new work I ran out of the museum, called Ling Ling and said, well now I know we are working with at least one great artist!
We benefited from the persistence of gallerists and artists who were patient with us. We spent hours in the studios of artists like Ding Yi and Zhang Enli—two artists who now feature prominently in the collection—before we really started to understand what they were getting at. That was many years ago but it initiated a process of collecting a progression of their work. As we start to work with younger artists or look back on a shorter progression with mid-career artists, we hope to repeat the process with the likes of Yuan Yuan, Gao Weigang, Ou Yangchun, Ni Youyu, Wu Di and Shi Zhiying, to name a few.
Ran Dian: How did you meet? 
Ling Ling: Maya restaurant in Shanghai, summer of 2000. I was young and just having some fun with my girlfriends. I didn't think it would last.
Andrew: I was more confident!
Ling Ling: He wouldn't leave me alone!
Andrew: I've been chasing her for 17 years.
Last year Ling Ling and Andrew opened an exhibition space in a lane house near the Jing An Temple. The first show was 'Shanghai Black and White' with Ding Yi, Hu Yi, Ni Youyu, Shi Zhiying and Zhang Enli. The follow-up show, 'The Blues' opened recently, with Gao Weigang, Jin Shan, Li Shan, Ni Youyu, Ouyang Chun, Wang Jiaxue, Wu Di, Yu Hong, Yuan Yuan, Zeng Fanzhi, Zhang Enli and Zhou Zixi.
Ran Dian: Tell us about 166 Art Space—what is it?
Lingling:  When I found the space I had a vision of it more as an extension of our living room. A place for my son to practice music and for friends to come and relax. Andrew saw it as an opportunity to do something more exhibition focused. Since we started collecting I told Andrew that the art is a visitor in our home, but at 166 we are the visitors.
Andrew: It's a space that became available to us unexpectedly, so it's not as if we started with a mission and were looking for a space to achieve it but more an exercise in deciding what to with the building once we secured it. It was always intended to be completely non-commercial and from there a program of exhibitions developed rather quickly and organically from dream combinations we had always wanted to make out of the collection, to projects we had been discussing with artists and curators over the years.
Ran Dian: How would you describe your collection?
Andrew: As collectors, we are driven more by aesthetics than theory—we gravitate to pieces that can be experienced as a singularity but which over the years will continue to appeal, reveal and surprise. Ideally, we would like the shows in the space to reflect this. I guess if a 4-year-old wanders in one day and finds something to place in his or her virtual collection—then all our objectives for the space will have been achieved.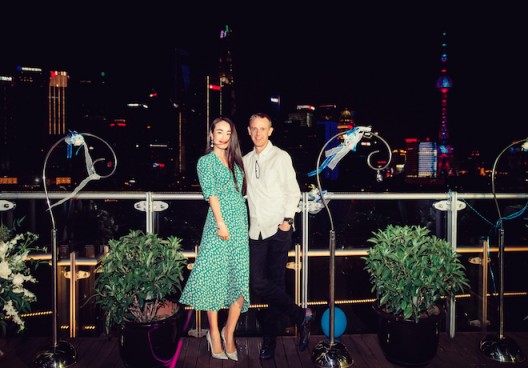 Ran Dian: What has changed about the Shanghai art scene—good and bad? 
Lingling: From a collector perspective, there really wasn't much of a scene when we got started.  Obviously, there were others around buying Chinese contemporary art but so few that we rarely saw them. There were very few galleries in Shanghai—principally Yibo and ShanghART. When we wanted to see work they would shut down the gallery and we would drive over to Moganshan Road. and spend a few hours poking through warehouses or visiting studios. When we brought pieces back to Hong Kong to be stretched at galleries there, people thought we were crazy.
Andrew: Things really started to change around 2005 and one way or another the pace has continued since then. I guess I harbor a bit of nostalgia for the quiet of the early collecting days but I'm not sure the change since then can be characterized as good or bad. There are concerns of course, as there are in all collecting circles, about speculation and perhaps more uniquely in China about the nature and staying power of the influx of new collectors. I have always thought that good art fundamentally requires that you have something to say and possess the ability to say it. The combination of technical mastery, thanks to a strong academic tradition, and a historically unprecedented compression of social and economic change, means the fundamentals in Chinese art remain strong.
Ran Dian: What would you change? 
Lingling: As a collector—nothing.
Andrew: Very few collectors have regrets about acquiring a collection but most can tell you what they regret not acquiring. I have my list, but I'm not going there.
166 Art Space
No. 166 Zhenning Road
405 Lane
Shanghai 200050