Art Basel Hong Kong 2017 opens
A crowded Art Basel Hong Kong has begun, following the inaugural Gallery Weekend in Beijing and numerous private museum events in Shanghai. It seems Hong Kong is expanding to the Mainland and the international art bedouin are unfazed by airport deserts and airline desserts.
Art Central opened Monday evening and Art Basel on a Tuesday – so the start of the week is the new weekend. Initial sales reports have been positive with few grumbles (there are always some).
Encounters, Hong Kong's version of Art Unlimited, is strong but doesn't upset the general art show milieu – it's still not Art Unlimited, and that's a pity because Hong Kong needs some big thinking (even if its apartments are too small for it).
Not for the first time the bejewelled Pedder Building looks increasingly tarnished by its loony rents (even Abercrombie & Fitch have moved out) and sometimes bland exhibitions (there was a ho-hum Urs Fishcer show at Gagosian – why?).
But Do Ho Suh at Lehmann Maupin is great – a virtual reality tour of London by its new resident Korean master. Meanwhile, across the road, are a small but perfect Otto Boll show at Axel Vervoordt and a very good painting Qiu Xiaofei show at Pace. Also not to be missed – Theaster Gates at White Cube and Tatiana Trouvé at Galerie Perrotin. (More on this soon)
But everyone is looking to Wong Chuk Hang, where even de Sarthe Gallery has recently relocated (even more on this soon too!).
PARK BENCH
PAINTING
ARTISTS AT AN EXHIBITION
VIDEO FOR EVERYONE
SCULPTURE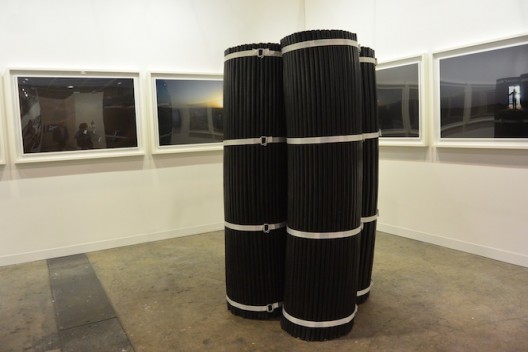 Zhao Zhao solo show at Tang Contemporary
PHOTOGRAPHY
LIGHT SHOW