Big Pictures
Art has no equivalent of the Skyscraper Index, the notion that record-breaking towers tend to be built, hubristically, just prior to an economic crisis. The top end of the art world seems to ignore crises altogether (at least the part that doesn't invest in tall buildings). Inflationary tendencies are observable in the art world, though, in uppity auction prices, the spread of private museums and art storage facilities and, seemingly, in art itself, no doubt partly to fill all the cavernous museums being built.
Painting, rightly or wrongly still the primary index of art world, is a sincere disciple of scale, because a statement writ large gets more attention. We will look at three recent examples: Jia Aili's "Century" (2008–2015) is 15-meters-long. It is huge. Compare it though with Jonas Burgert's painting "Zaitlaich" (2017), which is 22 meters long, and Jean-Baptiste Bernadet's mural painting "Untitled (Fugue 2016-01-12)", at over 23 meters long! But let's first begin with the elephant in the room.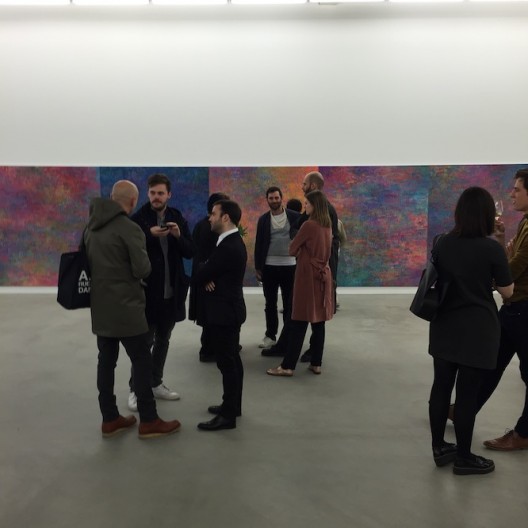 Jean-Baptiste Bernadet Almine Rech Gallery Brussels 2016 (photo Chris Moore)
Seriously, why so big?!
Very large paintings always have a strategic purpose beyond their artistic narrative. The artist wants to signal that they have "arrived" or that their career has reached a "turning point". Because of the necessary resources, logistics, space and time involved, often these works are commissioned. Most famously, Michelangelo's Sistine Chapel ceiling fresco (1508–1512), measuring a whopping 40 meters x 14 meters, was commissioned by Pope Julius II (who liked it so much, he commissioned "The Last Judgment", 1536–1641). This was driven by religious fervor and proselytizing intent—for the glory of God and to inspire awe in the flock (perhaps not so different from the intentions behind placing huge art works in corporate lobbies and shopping centers). While an artist may have the perfect project they also need the opportunity—save for those in the happy but rare position of possessing the resources themselves.
Speaking of resources, time is often the most valuable, because investing so much of it in something huge and probably unsalable means you cannot make smaller, collector-size works—the mainstay of art patronage that arose in the industrial age and which overwhelmingly remains with us today. Mid-career Picasso certainly had the resources. Interestingly though, his "Guernica" (1937; 349 cm x 776 cm), was completed in June 1937, barely two months after the bombing on April 26 that inspired it. Opportunity is not all, occasion is also crucial—in this case, Fascist atrocities during the Spanish Civil War.
Then you need somewhere to display the bloody thing (as even the most loved children can be taxing). Modernist architecture—particularly the capacious corporate lobbies—provides great opportunities, because big art is not only about drama and history but also propaganda and raw self-promotion, for artist, patron, and real-estate developers alike. The knot is complex and confusing. The artist must become an impresario who, like architects and film directors, must juggle their vision with the competing interests of many stakeholders and (their) financial interests. An artist of any merit who works on a large-scale—whether that involves a big corporate or public space, the opening of the Olympics, or a big splash at Art Unlimited—still very much wants to preserve artistic purpose, however that might pan out.
The question inevitably poses itself: do we really need such scale, particularly in the digital age? Auctioneers are only half-joking when they say that ideally a painting should be able to fit in the goods-lift of a New York apartment (and include some red somewhere). While that may drive bread-and-butter sales at auctions, it is not the concern of the lavishly wealthy, of which there are ever more (and besides, storage can be hired). And for public statements, scale does matter. Increasingly Ai Weiwei is criticized for the heavy-handedness of some of his works but they have a way of connecting with people. "Remembering (2009), an installation with 9000 children's backpacks, shown at the Haus der Kunst, Munich, was bluntly grandiloquent and equally bluntly eloquent. Yet epic works rarely make epic sales. If they succeed in their strategic purpose, they can establish a reputation. Without the opportunity to display a painting, however, it is merely a folly. These days, opportunity for display increasingly means mobile phones. Scale can therefore simply provide a popular setting for an Instagram selfie. For something so big, one cannot help but feel something is being lost.
For all that, there are moments when size does matter. The transcendent experience of encountering a large Jackson Pollock, like his "Blue Poles" (1957; 2.1 x 4.86 meters), relies heavily on the fact you have to get up very close to it as much as to see it from far away. The movement of the viewer across its "all over" surface, not just with the eyes but physically across it, is part of the painting's architecture, of its DNA. A James Rosenquist needs the scale of the billboard or else it is just a preparatory study—not the real thing. Jeff Koons almost always needs size (even when it apparently doesn't).
Then there is the issue of gender, both for artists and collectors. Unsurprisingly, men have a habit of wanting to make and buy big things. While there are increasingly more women (think of Barbara Kruger and Katharina Grosse) who regularly work on a grand scale, it is still relatively rare. There are one-off projects, such as Rachel Whiteread's "EMBANKMENT" (2005) or Doris Salcedo's "Shibboleth" (2007), both purpose-made for Tate Modern's cavernous Turbine Hall, but it is fair to say women tend to be less preoccupied with size.
The works just mentioned all involve sculptural and architectural installations. The expanded opportunities for working on a large scale have greatly benefited the development of sculptural and architectural work. Anthropomorphism was central to the development of minimalist sculpture but Richard Serra's monumental work is about the anthropomorphic being overwhelmed by scale. The benefits to painting are less obvious. With painting, the larger the scale, the more architectural it becomes. Or cinematic—until recently, our experience of large-scale images occurred more often than not in a cinema. Now the experience of film is primarily on a video screen. This creates an opening for large-scale painting but what sort is unclear. Again, what are the motivations driving its creation?
A recent example of a monumental scale wall-based work is Julie Mehretu's vast diptych "HOWL", on view recently at the San Francisco Museum of Modern Art. It is not the first time Mehretu has worked on a large scale, most notably in the Documenta Halle in 2012 at documenta (13) in Kassel. "HOWL", the title referencing Alan Ginsberg's 1955 era-defining poem, and responding to Western and American history and art history, is about American space and its mythology, and the people who made it, the explorers (original and Western), the settlers, immigrants, and slaves, and also the people who live there now. Somehow I wish it had stayed in the deconsecrated church in Harlem in which it was painted. And how big is it? Each panel is 27 feet / 8.32 meters wide and 32 feet / 9.75 meters high. And they need every inch.
Jean-Baptiste Bernardet, "Untitled (Fugue 2016)"
Sometimes a gallery presents the perfect opportunity. Last year Jean-Baptiste Bernardet exhibited "Untitled (Fugue 2016-01-12)" at Almine Rech Gallery in Brussels. Comprising 12 panels hung contiguously, "Untitled" forms a shimmering mural that exists as meditative object and theatrical backdrop and is clearly informed by Monet's Waterlilies series (for which the French government built a pair of customized rooms in Paris's Musée de l'Orangerie specially to display a couple of large tableaux from the series). The experience of the painting depends markedly on position (the exhibition was titled "So Far, So Close"). The gallery's long exhibition hall is reached by descending narrow stairs. "Untitled (Fugue)" was displayed along the right-hand wall. On the wall directly opposite, the gallery built a simple bench, inviting visitors to sit quietly and contemplate the vista but also to lower their point of perspective, effectively raising the picture-plain. A different experience is had when one walks along beside the painting, whether directly or obliquely. Yet another arises when the room is full of people, the colors glimpsed between moving forms.
Jonas Burgert, "Zaitlaich
Just in time for Gallery Weekend in Berlin this year, Jonas Burgert finished "Zeitlach". I visited Jonas at his studio the Saturday before it was moved to Blain Southern's gallery (both studio and subsequently gallery were giddy with the reek of oil). Noted for weird figurative works that combine psychological and psychological imagery, Burgert had been seeking an opportunity to test his mettle. In his huge studio in Berlin, the painting hung almost from floor to ceiling with just enough space cut out for the roof beams (and filled in for the exhibition space). Themes Burgert previously played with in smaller individual paintings, in "Zeitlaich" are tipped into a Boschian battlefield. On the wall opposite the main theater of war, a number of ambiguous figures—society ghouls and jokers. They stand with visitors. But let us turn around, back to the painting. It is overwhelming because it is intimidating. Like in a Wes Craven horror film, the wry comedic figure becomes something sinister and threatening the moment it is made giant. It is a parody and the viewer is inevitably the object of the joke/attack. But scale also makes it autonomous, a wild, free beast, for it looms over us existentially, with its garish colors and grotesque force making us small and ridiculous. Do you laugh or do you run?
Jia Aili, "Century"
Jia Aili was (born in 1979 in Dandong, a city in Liaoning Province. His current show at the influential CAC Malaga, comes at an important point in his career (not least because he has recently been taken on by Gagosian). "Century" (previously titled "We are from the Century", 2008-2015, is in Panavision-Ultra-70-scale. It is a towering 6 meters high and a vast 15 meters long landscape. It was first exhibited unfinished in "Jia Aili's Hibernation", a solo exhibition held at DoART Beijing and organized by the Art Mia Foundation, November 14, 2008–2009. It was around this point that DSL Collection stepped in. Anyone familiar with DSL Collection knows that Dominique and Sylvain Lévy like to collect big works, so the large-scale did not deter them. Now for the first time it is being exhibited in its final state.
Jia's works have grown and grown over recent years but "Century" may possibly be the limit. Jia adopts the scale of propaganda and cinematic billboards. The lowering skies and half-light scenes draw heavily on the aesthetics of Hollywood sci-fi films, from "Blade Runner" (1982) to "Inception" (2010). Nuclear explosions, anachronistic pilots, and a permanent state of déjà vu (interestingly Jia's hometown is close to the North Korean border). There is a sense of rising panic, a horrific realisation of something vital lost, or doom let loose. It would not have the same effect if it were smaller, say in the scale of Goya's series of etchings, "Disasters of War" (1810-1820), which were intended for wide distribution.
***
Goya's prints raise the most serious question about large-scale works—for whom are vast paintings intended? The Sistine Chapel was always going to be famous and crowded. But beyond privileged corporate halls, private museums, and maybe a shopping center or two, who will see most large-scale paintings these days except perhaps an insurance company functionary reading a Freeport manifest? Like desert blooms, years might pass before they see daylight, briefly, before returning to climate-controlled hibernation. Yes this is the fate of much art these days, even in public collections, but in the age of Instagram and mobile phones, T-Rex-sized paintings are at a Jurassic disadvantage. But then again, boys always love dinosaurs.
Jia Aili solo exhibition
CAC Malaga Contemporary Art Center (Calle Alemania, S/N, 29001 Málaga) March 17 – June 18, 2017
Jonas Burgert "ZEITLAICH" 
Blain | Southern (Potsdamer Straße 77–87 (Mercator Höfe), 10785 Berlin) April 29 – July 29. 2017
Jean-Baptiste Bernadet "So Far, So Close"
Almine Rech Gallery (20 Rue de de l'Abbaye, Brussels) April 20 – July 30, 2016