Two Gentlemen of Bergamo
Yuan Yuan at Palazzo Terzi
by Chris Moore
Yuan Yuan 袁遠
"Alternative Realities"
Palazzo Terzi (Bergamo, Italy)
9 June – 23 July, 2018
Approaching Bergamo by the slow train from Milan, the Città Alta—the old town—is slowly revealed, a Medieval citadel with Renaissance walls, perched on a hill surrounded by buildings from later centuries. The avenue into town is crowded with students and tourists but after the grandiloquent Porta Nuova, the decorative city gate, quickly gives way either side to quieter alleys, which in turn slowly surrender to imposing villas and the verdant terraces below the citadel. The day was hot, so I took the funicular rail up, passing through the 16thcentury city wall, reaching the old town, with its narrow passages, bell towers, and churches. Beyond the Piazza Vecchia, behind the Basilica of Santa Maria Maggiore, I reach a gated terrace looking out over the town below. An old man sat on the terrace, giving orders to two assistants and gesticulating with his cane. I had arrived at Palazzo Terzi.
On very rare occasions an artist has the pleasure of showing artworks in the perfect place for them. Early this year Yuan Yuan (b.1973) was invited to spend time at Palazzo Terzi, which has been in the same family for over 500 years. The Palazzo is a not a public institution but a house, though its upper floor, the setting for the exhibition, is as much an architectural Wunderkammer as abode. Yuan, who uses an expressionist painting style to depict objects and places devoid of people but redolent with their ghosts, created works that referenced the Palazzo but also local institutions, such as a museum, his studios in Berlin and Hangzhou, and other spaces, such as a simple restaurant kitchen in Hong Kong. Some works are very small; others, huge. Each responds to their precise location, creating games of mise-en-abyme, jokes with family objects and photos, and most impressively, a sort of time travel, a Houdini-like theatricality. (scroll down to read further)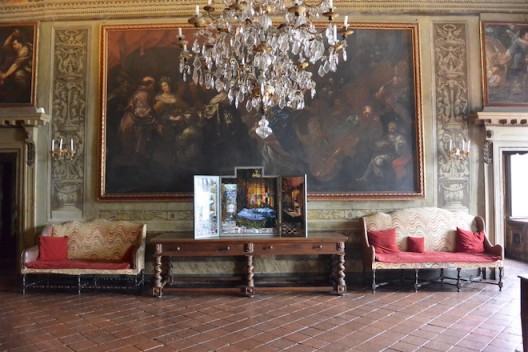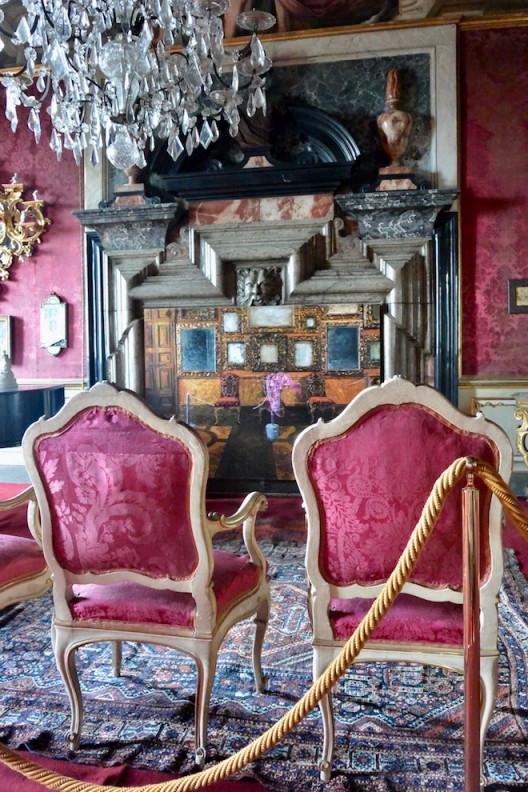 Wandering through the reception rooms and private chambers is intoxicating (and not only due to drying oil paint). Sometimes they are empty, sometimes crowded. Vistas painted and real are reflected in mirrors and the panes of half-opened windows. Partly there is a child-like joy at a conjuror's trick. It draws a wry but still critical smile. But then, there is also a sense of bewitchment, conjured by the smell of old furniture and dust, a summer breeze drifting into cool rooms, and the suspicion the world is slightly askew before we realize we have entered the residence of a magician. Yuan's paintings have infiltrated rooms and walls, taking over the spaces of long-slumbering family paintings and photographs. In one work a carcass hangs on a velvet wall. A nude Ingres back has inveigled its way into the sitting room, parading its sensual youth beside a severe daguerreotype of a long deceased but still disapproving aunt. Cathedral doors were shrunk and left stranded on tables. Ancient artifacts, displayed in a vitrine in a museum with marble-clad walls and floors, suddenly found themselves in a Rococo salon, walls gilded and mirrored. A Wanchai kitchen appeared in a private chamber and a floating mattress with who knows what tales invades the master's bedroom.
Organised by Edouard Malingue Gallery and curator Valentina Locatelli, "Alternative Realities" is not to be missed. But go slowly. Walk from the station to the citadel. Turn off your phone, put away your maps. Meander through the Palazzo. Stop, listen and look at everything around you. Lose yourself.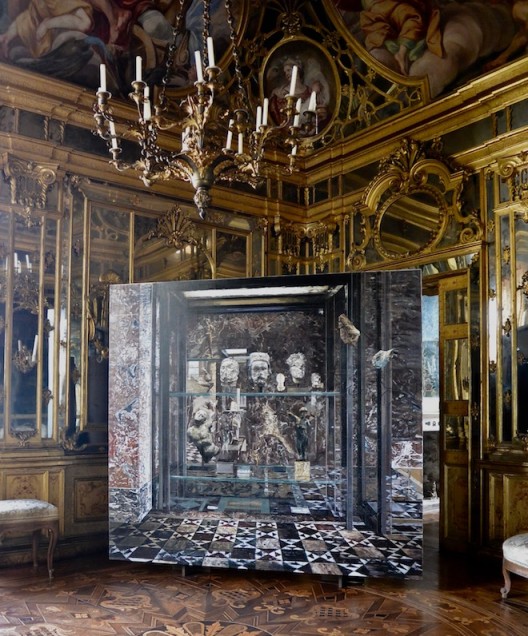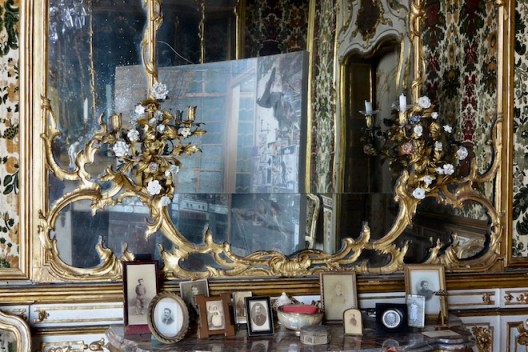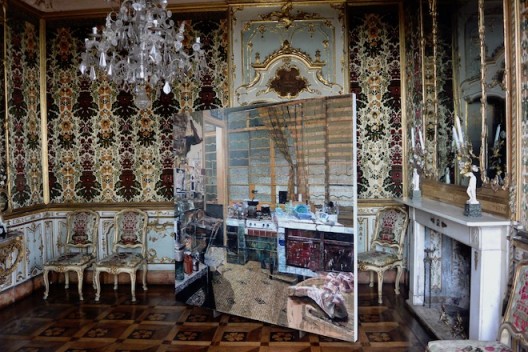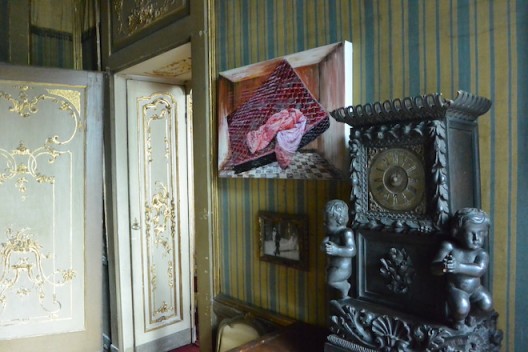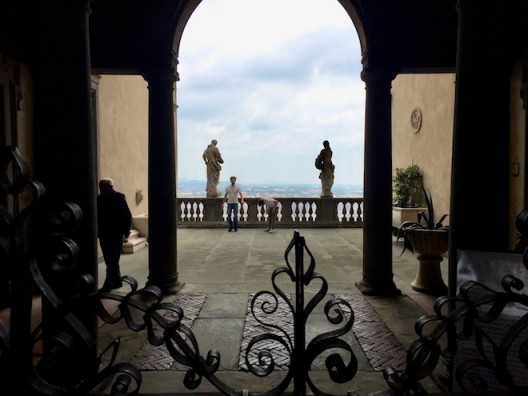 All artworks by Yuan Yuan courtesy of the artist and Edouard Malingue Gallery. All photo credits not otherwise described are by Chris Moore.