2015-2016 MoCA Animamix
Biennale Exhibition Preview
Shanghai
Chief Curator: Jeffrey Shaw (Chair professor of Media Art, School of Creative Media, City University of Hong Kong)
Curator of the exhibition Space in Mind: Wang Weiwei
Curators of Screening Project of Short Artistic Animations: Wang Fang, Sharon Huang, Zhang Chi
Animamix Studio: Banana Fish, Trevor Lai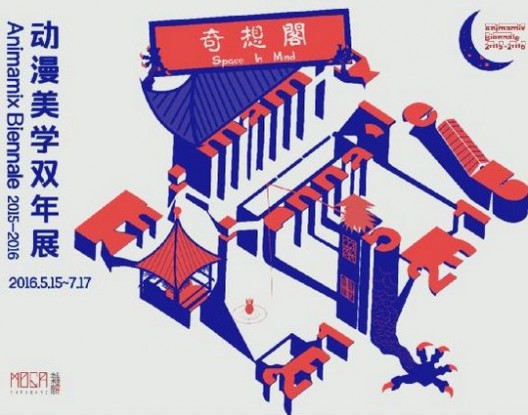 Exhibition Insights for the Animamix Biennale:
The Animamix Biennale has established a model totally different from all previous ones. Its unique format is characterized by a number of artistic exhibitions being hosted respectively by partner institutions in the same duration and under the central direction of a chief curator. These exhibitions, held either concurrently or successively, have their own coverage and highlights in the concept of Animation + Comics, networking the regional exhibition facilities and building up the momentum and velocity for the joint growth of Animation and Comics.
The artists in Animamix are not just creators of their own animation and comics but also contribute to the whole realm of creative industry. The emerging aesthetics of Animamix are mirrored in the full range of artwork, using diverse artistic elements to incorporate animation and comics into art. The art of Animamix, in addition to its relevance to either animation or comics, can therefore also be a conception in the background of today's aesthetic attitude.
Exhibition Content for Animamix Biennale 2015 – 2016:
MoCA Shanghai will open the Animamix Biennale exhibition on 14 May 2016. Responding to the idea of Giorgio Agamben's that, "…every authentic poetic project is directed toward knowledge." The exhibition will start with an exploration into the space between the virtual world and reality shaped by animation and comics. Thirteen invited artists from around the globe will deploy diverse creative mediums and technologies, such as animation, painting, sculpture, installation, in their efforts to reconstruct space, time, narration and world view. Breaking through routine occurrences, virtual space shall be created, a world of imagery modeled, and the intangible 'X-dimension' launched.
Participating Artists:
Bang & Lee (South Korea), Geng Xue (China), Ho Sin Tung (Hong Kong, China), Kim Inbai (South Korea), Lei Lei (China), Liu Yi (China), Liang Manqi (China), Nathan Zhou (China), Park Junghyun (South Korea), Pussykrew (Poland), Takashi Ishida (Japan), Wu Chuan-Lun (Taiwan, China), Ye Linghan (China)
Screening Project of Short Artistic Animations
Unlike the previous rounds of the Animamix Biennale, the MoCA exhibition this year presents a special unit of animated short films for broadening the perception of Animamix aesthetics from diverse perspectives. The audience will feast on an enriched volume of artworks, breaking through the conventional cognition of animation. In combination with relevant educational lectures and workshops, the exhibition plans to arouse the audience's broadness and depth of understanding in this particular field.
Each animation corresponds with a geographic category and theme; these animated short films are to be presented periodically and circularly in a special unit, with each themed animation to be shown throughout an average cycle of 10-15 days.
Animamix Studio
"Animamix Studio". The space will allow children and adults to access to the know-how and fun behind animation creation through their own game play.
Participating Artists:
Bang & Lee (South Korea), Geng Xue (China), Ho Sin Tung (Hong Kong, China), Kim Inbai (South Korea), Lei Lei (China), Liu Yi (China), Liang Manqi (China), Nathan Zhou (China), Park Junghyun (South Korea), Pussykrew (Poland), Takashi Ishida (Japan), Wu Chuan-Lun (Taiwan, China), Ye Linghan (China)