A+ Contemporary CHEN YUFAN solo exhibition
[Press Release]
A+ Contemporary is pleased to announce the opening of "CHEN YUFAN" solo exhibition at 3pm on 31st October at Asia Art Center Taipei II. This is Chinese artist Chen Yufan's first solo exhibition in Taiwan. The exhibition will continue until 6th December, 2015.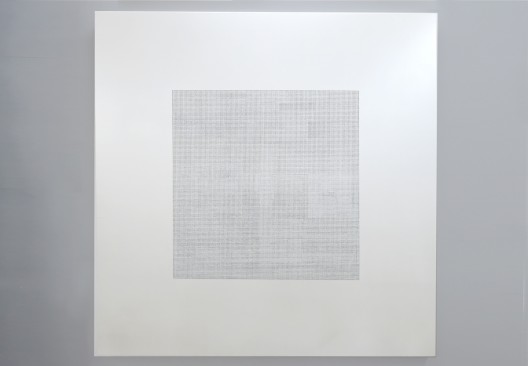 Chen Yufan's work revolves around the optical structure and the force of intent; his unique artistic expression is grounded in both the assembly and scatter of objects and space. Through surfaces composed of dots and lines, and spaces constructed by surfaces and objects, a trace for time is unleashed when these elements overlay upon one another. The dialogue between the artist and his mediums becomes a significant subject, resembling that of an internal meditation; when seen in the perspective of contemporary art, it is a form of performance art rooted in concepts.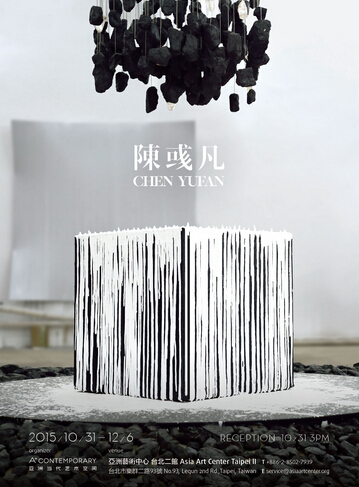 During the 80s in China, artworks that were abstract in nature or anti-symbolic were viewed as rebellious in the discourse of mainstream art which was filled with notions of realpolitik. For Chinese artists who chose abstraction, it was a means to find an outlet for the soul, a desperate escape so as to not be engulfed by reality. This sets a definite contrast between Chen Yufan and Western abstract art. Putian, Fujian, where the artist grew up, should be the place of departure when examining his work. "Mulan River Project" of 2011 (a collective work by brothers Chen Yufan and Chen Yujun) is an homage to the Mulan River of their hometown. The work not only highlights their lives, history and creative paths, it further accentuated Chen Yufan's distinct interest in retracing the core of culture and the source of life. Although free from any hints of realist depictions, his work is in fact rich in narratives, literary and Eastern philosophies. Curators in China refer to Chen Yufan's works as a mindful space of "Daoism" and "Zen".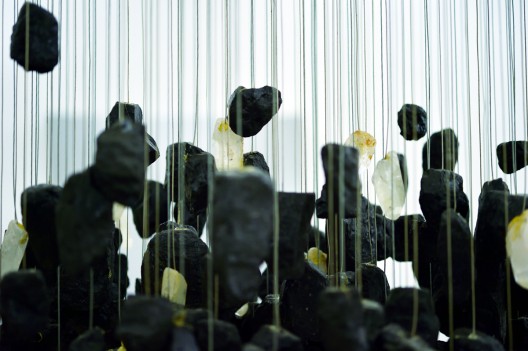 Chen Yufan's solo exhibition in Taipei features works from his different creative periods, from early work Zhuangzi, to Derivative of this year, and installation work Landscape, offering us a comprehensive look into Chen Yufan's creative path. His work bears the outward expressions of contemporary art while his concepts are buried deep within the rich soil of Chinese culture. Through the interweaving of these two clues, the artist's intimate memories and culture drift between abstract and concept, and his unique creative context is thereby established. The notion of self-awareness, distinct to Chinese artists born in the 70's, is further emphasized, as well as the unbowed attitude towards realpolitik and collective consciousness. These progressive and contemporary characteristics distinct to China may also be interpreted as a new iteration of spirit of the East. (Text/Yuyun Chiang)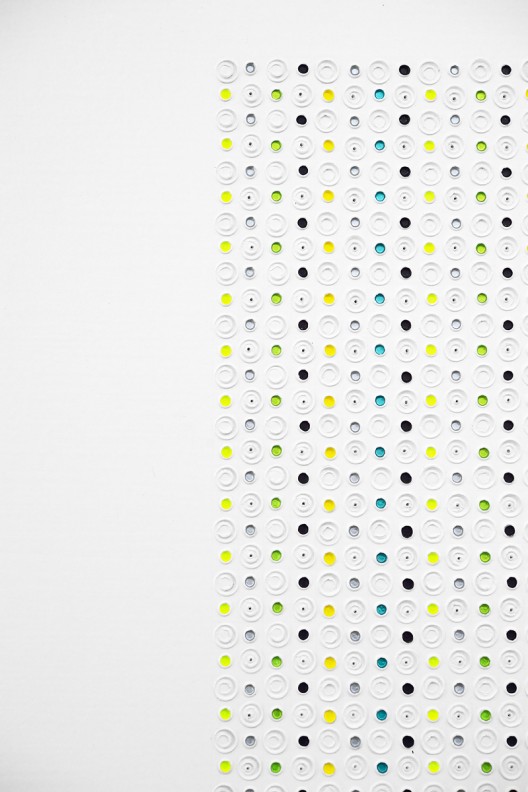 Artist: Chen Yufan
Born in 1973 in Putian, Fujian Province, Chen Yufan graduated from the school of Fine Art at Fujian Normal University in 1997, and graduated from the Graduate School of the Department of Integrated Art at China Academy of Art in 2007. His solo exhibitions include: Beyond the White, Beneath the Black – Chen Yufan Solo Exhibition (Anxin Trust Co. Ltd. – Artemis, Shanghai, 2015), Space Graphy No.1 – Exhibition of Chen Yufan and Chen Yujun (AYE Gallery, Beijing, 2014), and Mulan River – Unsettled was exhibited in Leipzig and Zhong Gallery in Berlin in 2013 and 2012 respectively, and the exhibitions The Folding Time – Chen Yufan's New Works 2012 (AYE Gallery, 2012), Mulan River Project – Chen Yujun and Chen Yufan (Boers-Li Gallery, 2011), INTO ONE (AYE Gallery, 2010) were held in Beijing. Chen's selected group exhibitions include: This is Not Painting – Exploring the Boundary of Painting (Asia Art Center Taipei II, Taipei, 2015), The 8th Shenzhen Sculpture Biennale: We Have Never Participated (OCT Contemporary Art Terminal, Shenzhen, 2015), Fuck off 2 (Groninger Museum, Groningen, 2013), Not Same, Not Different – Experimental Exhibition of Young Chinese Artists (The Museum of China Academy of Art, Hangzhou, 2013), MIRROR AND SHADOW: Contemporary Art from China (National Gallery of Indonesia, Jakarta, 2013), On | Off: China's Young Artists in Concept & Practice (Ullens Center for Contemporary Art, Beijing,2013), Ctrl+N–Non-linear Practice (Gwangju Biennale Special Exhibition, Gwangju, 2012), 2011 Chengdu Biennale Special Invitation Exhibition: Ri Yong-Chang Xing (Museum of Contemporary Art Chengdu, Chengdu, 2011), Post Traditions, Enlarge the Carve: The Fourth Shanghai Duolun Youth Art Exhibition (Duolun Museum of Modern Art, Shanghai, 2010). He currently works and lives in Shanghai.
About A+ Contemporary
In August, 2015, A+ Contemporary was founded in Shanghai. The space is located in the thriving "M50" art community, featuring artists from China, Taiwan, and Hong Kong, and will feature artists from Northeast Asia and Southeast Asia in the near future. The curatorial programme of A+ Contemporary consists of exhibitions, forums and publication of scholarly catalogs; its selected presentations center around the different facets of artistic innovation and concepts, and its research scope extends to cross-disciplinary analysis.
About Asia Art Center
Asia Art Center is one of the most influential and longest-running international art galleries in Asia. Since being founded in 1982, it has brought forth renowned artists whose talents respond to current time while echoing their cultural heritage.
In addition to two exhibition spaces in Taipei, one in Beijing, and offices in Pairs, Venice, Singapore, and Hong Kong, the Asia Art Center International Project works with major institutions around the world to provide decent insight and understanding into contemporary / modern Asian art. Our artists have exhibited at Venice Biennale, Metropolitan Museum of Art, British Museum, Victoria and Albert Museum (V&A), Museum of Fine Arts Bern, Ludwig Museum, Frye Art Museum in Seattle, Singapore Art Museum, National Art Museum of China, Shanghai Art Museum, National Taiwan Museum of Fine Arts, and more. In 2013, Discovery Channel's CHINESENESS program took viewers from over 30 countries deep into the minds and lives of our represented artists, enthralling audiences worldwide.
In 2015, A+ Contemporary was conceived in Shanghai to showcase emerging, experimental, and contemporary work. Focusing mostly on Asian contemporary artists born after 1970s, the new space is a significant expansion of current art trend's research and scope.