A Nomination Exhibition of Three RoomsInternational TouringExhibition of Young Media Artists
[Press Release]
Chronus Art Center is pleased to present A Nomination Exhibition of Three Rooms
International Touring Exhibition of Young Media Artists.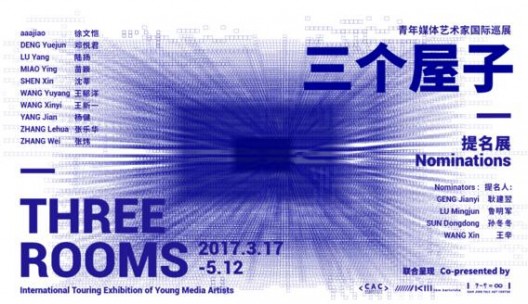 Three Rooms aims to support younger generations of artists working in new media through exhibition-making, residencies, and other related projects or events. Based upon the new media art ecologies of China, Germany and Korea, Three Rooms promotes young artists' experimentation and practice to gradually construct a systematic global archive for new media artists. Furthermore, in providing relevant research and a series of educational programs surrounding media art, the project is devoted to building a two-way communication mechanism between professionals and the public, in hopes of forging an organic and interconnected international community.
Nominated respectively by GENG Jianyi, LU Mingjun, SUN Dongdong and WANG Xin, this exhibition showcases works by ten young media artists, including DENG Yuejun, LU Yang, MIAO Ying, SHEN Xin, WANG Yuyang, WangNewOne, aaajiao, YANG Jian, ZHANG Lehua and ZHANG Wei. The works in the exhibition range from kinetic sculpture to performance based installation, video to net art, providing a glimpse of China's present-day media art landscape. The exhibition is also accompanied by diverse forms of public programs to further respond as well as contribute to current discussions about contemporary media technologies and the new potentials of artmaking.
Three Rooms is an initiative co-organized by Chronus Art Center (China), ZKM | Center for Art and Media (Karlsruhe, Germany) and Nam June Paik Art Center(Korea).