Art Basel Hong Kong 2015 – MICHAEL KU GALLERY – Luo Jr-Shin solo exhibition
[Press Release]
Insights Section 1C31
Project Description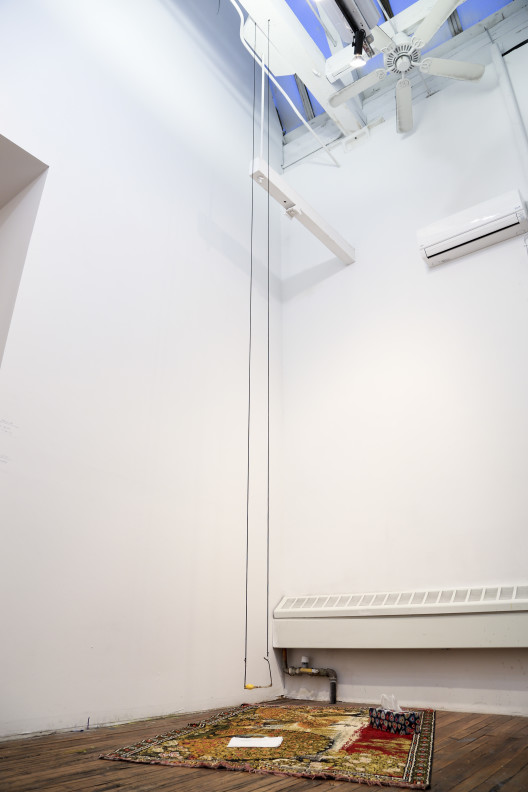 Project Description
First solo show in Art Basel Hong Kong, LUO presents three works in section Insight: An Afternoon, Hanging Man and Shadow. All the three works carry a particular ambiance. With their ambiguous quality and feel of suspension, the works allow the viewer to sense the messages and narrativity within them without being able to articulate which are the elements that provoke such an unusual feeling. Seen from the aspect of materiality, the utilization of abundant fragile and unstable materials is also one of the characteristics of LUO Jr-shin's work. Egg yolk, broken eyeglasses, tree branches, plastic bags and feathers: all kinds of materials are juxtaposed in a strange equilibrium through the artist's manipulation, becoming installations of found objects that seem simple and quotidian yet implicitly give forth a weird feeling. According to the artist's statement, by using the unconventional materials which even deteriorate over time, he aims at finding a certain 'dynamism'. The generation of energy can be further considered through two points. The first point is derived from the materials' qualities: while they deteriorate and decline, they also obtain productive power by chance. The second point is related to the fact that at the first glance, the viewer faces familiar quotidian objects but asks: "What is that?"  In the face of the impossibility to identify the quotidian, LUO, however, manages to alienate the materials through his works and pulls the regime of inquiry back into the scenes of our real life, asking whether if the world we live in remains stable and credible.
The feel of suspension is not only expressed through the content delivered by these works but also incarnated in their physical appearances: the suspended eyeglasses, a belt hung over a tree branch in an unusually straight form, a plastic bag accidentally stuck in a bird spike. The states reflected by the objects are not enduring and constant but temporary and provisory. Furthermore, they are even captured within an instant.
About the artist – LUO Jr-Shin
LUO Jr-shin was born in Miaoli, Taiwan in 1984 and currently lives and works in Taipei. In 2010, he obtained an MFA in mixed media from Taipei National University of the Arts, Taipei. He has been nominated for the 12th Taishin Arts Award in 2014, the Taipei Arts Award in 2012, the Arising Artist Award of New Taipei City in 2011, among others. His recent art residencies include International Studio & Curatorial Program(ISCP) in New York and Tokyo Wonder Site in Tokyo in 2013. He has participated in exhibitions in museums including such as Hong-gah Museum Taipei, Queens Museum of Arts, New York and Taipei Fine Arts Museum, Taipei.  From September, 2014 to January, 2015, Luo's work Terrarium is shown at 2014 Taipei Biennale at Taipei Fine Arts Museum. As a Taiwanese artist from a new generation that has caught attention quickly in the last two years, LUO Jr-shin works with a wide range of media including installation, conceptual art, video, etc. LUO Jr-shin takes the idea of 'readymade' as the primary orientation, expressing various ubiquitous states in our daily life, the personal and social meanings behind them as well as the vitality and power of imagination belonging respectively to each object.
About Michael Ku Gallery
Michael Ku Gallery was founded in 2008 in Taipei as one of a few galleries with solid art history background. Mr. Ku curates the exhibitions and also composes related texts. Since its inauguration, the gallery has been presenting excellent artists of the emerging generation to form a clearly contextualized system. It also approaches from the angle of culture dissemination in order to establish for itself a perspective with independent spirit and humanistic depth, exploring prospects of another level behind the surfaces of artworks.