Art+ Shanghai Gallery_Rewriting Beyond Reality: Paintings by LinWeixiang, Featuring Sculptures by Hu Ke
[Press Release]
What happens when we abolish the illusory one-dimensionality of life? When we choose to reveal the layers hidden behind the words with which we communicate, behind the gestures with which we interact with one another, and behind the very essence of existence itself? Building upon existentialist themes of the human subject and authentic expression, Guangzhou-based artist Lin Weixiang presents painted works that delve beyond the facade to consider individuality and the identities we create in the world. Combining acrylic painting with existing patterned fabrics, Lin Weixiang analyzes the perspective of the individual through the prism of one's reactions to the surrounding environment, resulting in two possible outcomes: one's ability to adjust to the status quo, or one's ability to react against it.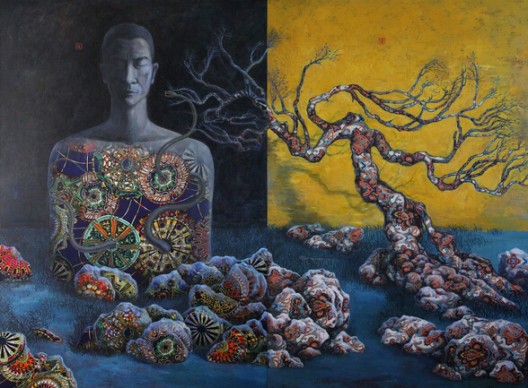 Rewriting Beyond Reality represents Lin Weixiang's first exhibition of paintings at Art+ Shanghai Gallery. Expressing the richness of the fantasy and unconscious thoughts innate to an individual's reality, Lin Weixiang's works shape dreamlike realms populated by recurrent motifs such as trees, lakes, and luxuriant flora, drawing inspiration from the landscapes of his home province of Guangdong. Applied acrylic paint on the surface of fabric mounted to canvas, occasionally appliqued with multiple fabrics, results in imagery equal parts layered pigment and revealed background, blurring the boundary between creation and existence, imagination and reality, and bringing to mind the magical realism of authors such as Borges and Márquez. The world of Lin Weixiang is therefore a visual as well as emotional existence wherein protagonists expose both their vulnerabilities and possibilities. It is a world filled with melancholy and nostalgia, mystery and truth, borrowing amply from the language of de Chirico's metaphysical art and with additional references to religion, mythology, and humanity.
In addition to Lin Weixiang's works of acrylic painting on fabric, Rewriting Beyond Reality features a selection of sculptures from Chongqing-based Hu Ke. Reflecting Freud's tripartite division of the subconscious (id, ego, and superego), Hu Ke's works emphasize the struggle of communication between the individual, the self, and society. As his constructed figures of tender-skinned 'men' whose gender is left ambiguous reflect in their isolated situations atop trees and mountains, unconscious worlds are formed, spaces where hidden wishes, urges, and feelings are left unrestricted by social interaction or moral discipline. Joining the fantastical realms of Lin Weixiang's highly detailed paintings and Hu Ke's distinctive, lonely sculptures, Rewriting Beyond Reality unfolds the multiple layers of reality and one's perception of it, capturing the moments of self-doubt, unsettled feelings, and stifled expression in the individual. Bearing a strong sense of individualism, Rewriting Beyond Reality challenges surface narratives to push past the mind's limitations.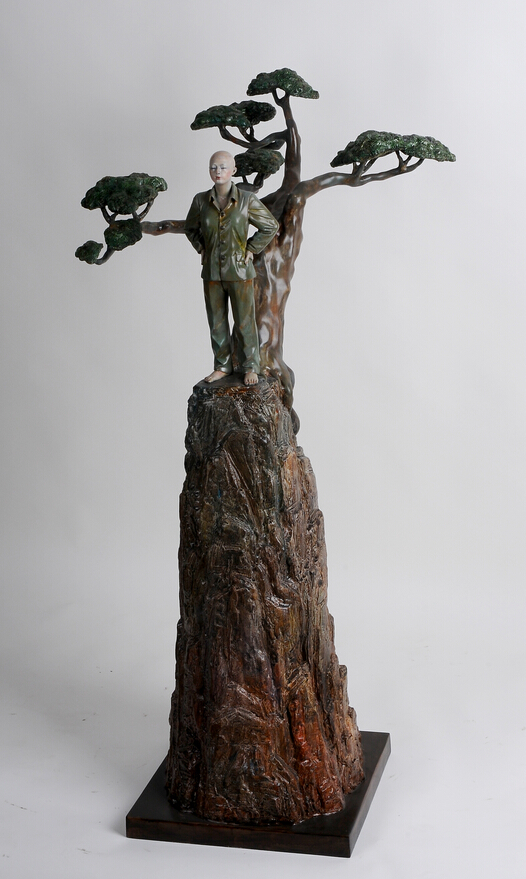 About the Artists
Lin Weixiang (林伟祥) is a Guangzhou-based artist born 1982 in Guangdong Province, China, who graduated from the Guangzhou Academy of Fine Arts. Known for his unique process, medium, and style, Lin Weixiang deconstructs the original designs of patterned fabric through cloth collage and acrylic painting. The resulting scenes are splendidly narrative, incorporating figures, objects, and abstract designs with recurrent motifs such as trees, lakes, and luxuriant flora. Lin Weixiang is inspired by the landscapes of his home province of Guangdong, with its subtropical climate, dense forests, and mountainous terrain, as well as by literature, philosophy, and his own life experiences. With a sense of humor and humanity, Lin Weixiang's recent works capture the flourishes, mystery, and energy of nature and humanity in a manner that is warm and humid, quiet and relaxed. Lin Weixiang has held solo exhibitions in Hong Kong, Shanghai, Beijing, Shenzhen, New York, and Guangzhou, and his works have been published in a number of media such as LEAP and Guangzhou's Southern Weekly.
Hu Ke (胡柯) is a Chongqing-based artist born 1978 in Hunan Province, China, who graduated from the Sichuan Fine Arts Institute in Chongqing. Known for his sculptures of gender-ambiguous figures in often lofty, isolated situations, Hu Ke creates works that strive for a level of self-reflection in the mind's higher levels. His compositions of figures set apart – free of expected gender cues, physically separated, and expressively distant – challenge superficial readings to question the line between society's moral imperatives and an individual's innate, irrepressible feelings. Hu Ke's works have been featured in a range of group shows including Across the Narrow Door, Contemporary Youth Sculpture Exhibition (Hong Museum, Chengdu), All in One – Contemporary Youth Sculpture Exhibition (501 Contemporary Art Museum, Chongqing), Future Avant-Garde (Chongqing Art Museum), Realm.Image (Tang Zi Tou Art Space, Beijing), and Interaction – Viewing Habits (Everywhere Space, Beijing). He has also received numerous awards including the Best Young Artist Award (China Art Industry Expo, Beijing) and the Young Artists Plus Award (Sunshine International Art Museum, Beijing).
About Art+ Shanghai Gallery
Founded in October 2007 and located along the Suzhou River within walking distance to Shanghai's famous Bund area, Art+ Shanghai Gallery is a dynamic art space dedicated to the exhibition, promotion, and development of Chinese contemporary art. Art+ Shanghai Gallery showcases a range of established and emerging contemporary artists from within China and abroad, stimulating and celebrating the diversity of the sprawling contemporary art scene. In addition to holding group and solo exhibitions, Art+ Shanghai Gallery offers art consultation services, hosts cultural events, and participates in international art fairs.