Resurrection of Materiality
ART+SHANGHAI
[Press Release]
In art history, the role of material has been repeatedly questioned, denied, deprived of any function, overly emphasized and completely ignored. The art world has seen a radical shift in the perception of material since the Industrial Revolution brought an influx of machine-made products. Particularly noticeable in the fields of architecture and crafts, ornamentation and decoration was suddenly no longer perceived as desirable. The resulting minimalistic tendencies were reflected in art where the choice of material became charged with philosophical and aesthetic implications. These shifts were especially noticeable in American visual art critic Clement Greenberg's theories on Modernism which put a special emphasis on medium specificity and its purity, privileging form over matter. Minimalist tendencies in the next decades eventually resulted in the introduction of new dematerialized art forms such as conceptual art and performance art. Recently, however, there seems to be a resurgence of crafting and materially-focused work in contemporary art and architecture. This renewed interest in the "surface" of artwork can be identified in the works of the two featured artists Zhuang Hong Yi and Zhang Zhenxue. Resurrection of Materiality: Dual Exhibition by Zhuang Hong Yi and Zhang Zhenxue marks the ongoing trend contemporary art is witnessing at the present moment. Resurrection, a term that denotes a condition of having been restored to life, serves as a lens through which displayed works of rather sculptural quality are examined.
Zhuang Hong Yi's works present composed images made out of multicolored flower petals on rice paper. In his "flower paintings" inspired by aerial views of the flower fields in the Netherlands, the Beijing-Rotterdam based artist applies colors and varnish on rose and lotus petals, arranging them on the surface in a process akin to action painting. In his final step, Zhuang Hong Yi covers the three dimensional artwork with a layer of resin and occasionally an additional layer of other fragments of material. Viewed from a distance, his works may trick the viewer into seeing a two-dimensional painting, but a closer look reveals a collage that engages the spectator as they move in relation to the work. Drawing inspiration from the Impressionists, the artist adds the sense of movement as an important part of his practice: as the viewer's position changes, colored works shift from one dominant color to another, marking the influence of both Eastern and Western art in his work. Emphasis on technique and meditation on form, color and nature expose the clear influence of Chinese aesthetics on his practice.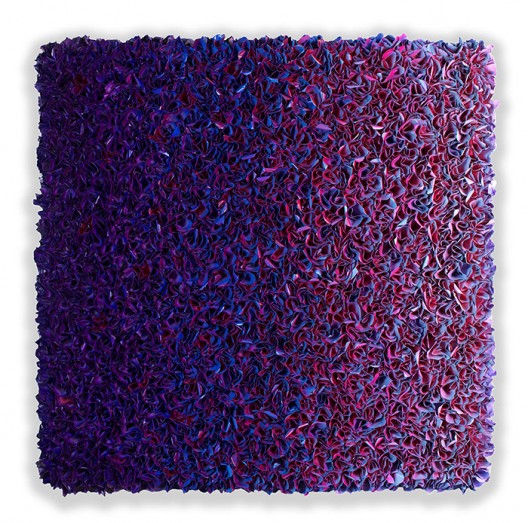 Emphasis on material is also a major characteristic of the other featured artist, Zhang Zhenxue.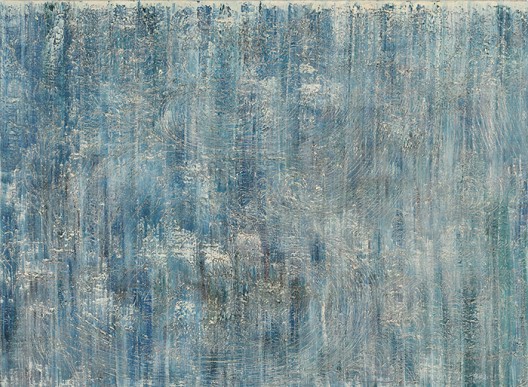 Works of the Chongqing-based artist are marked by increased involvement with materiality rendered in thick layers of oil paint and occasionally glass fragments. Inspired by the cinema of '50s and particularly the cinema of one of the giants of Italian cinematography, Luchino Visconti, the artist constructs his works around the idea of décor and its function in the scenes. The interiors filled with chandeliers, staircases and marvelous princess beds evoke the baroqueness of the atmosphere where theatricality is both presented in motifs and heavy impasto strokes. Thick impasto lines are an attempt to capture the immaterial meaning of the works coupled with strong material presence.
Resurrection of Materiality: Dual Exhibition by Zhuang Hong Yi and Zhang Zhenxue shows artworks that detect the shift in attitude towards physicality in contemporary art. Accentuating the role of material in their works, both artists share a common vision of material as a means not only to transmit meaning, but rather as a means to create meaning. Treatment of the surface is therefore a technique as well as an artistic statement that underlines a new tendency in the contemporary art landscape.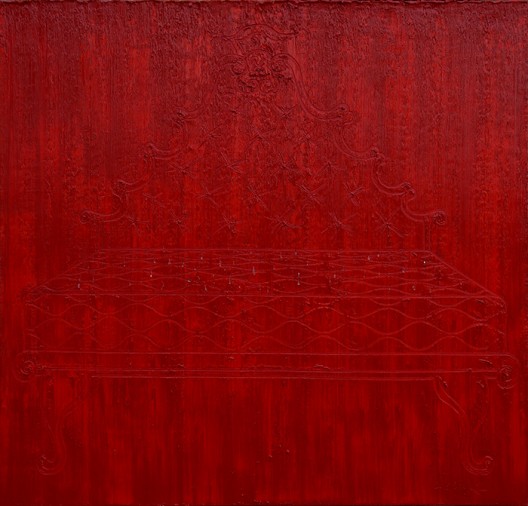 About the Artists
Zhuang Hong Yi (庄红艺), born 1962 in Sichuan, graduated from the Sichuan Fine Arts Institute in Chongqing in 1986 and further continued his artistic education at the Minerva Academy in Groningen, Netherlands in 1992. He currently lives between China (Beijing) and Natherlands (Rotterdam) where he briefly taught at the De Vrij Academy Den Haag. His works navigate the boundaries of various mediums: part painting and part sculpture the pieces represent collage of multicolored rose and lotus petals on rice paper filled with mineral paint, acrylic and oil paint, adding a final layer of varnish and resin. The artist, deeply influenced by the works of the Impressionists, engages the audience by recreating the movement as the position of the viewer changes.
Zhuang Hong Yi has exhibited extensively across the world, from the biggest art fairs to the solo exhibitions at the Gallery Keszler (New York, USA), Beijing 798 (Beijing, China), Kunsthal Rotterdam (Rotterdam, Netherlands), and Gallery Art & Henle (Berlin, Germany) among others. His works are held in numerous public and private collections.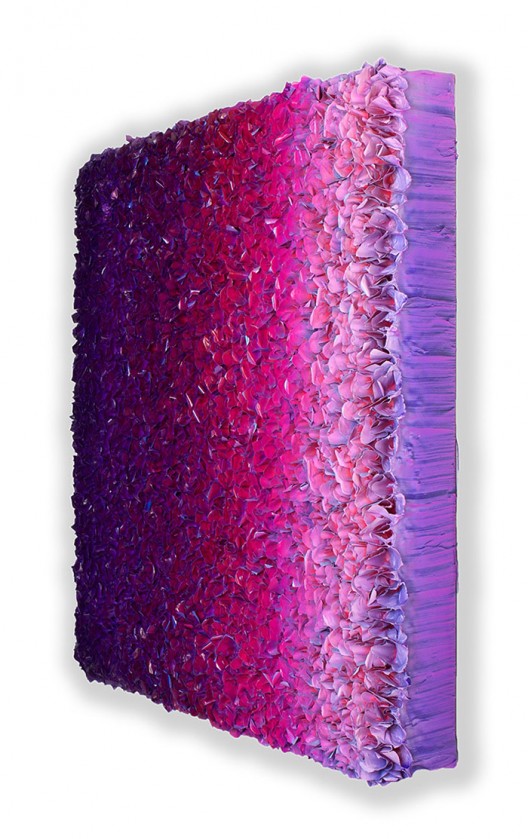 Zhang Zhenxue (张振学), born in 1982 in Heilongjiang, graduated with a Master Degree in Oil Painting from the Sichuan Fine Arts Institute in 2011. His works have been featured in a solo exhibition No Position (55 Gallery, Shanghai) and a range of group exhibitions including Diagonal – Construct a New Context (Joy Art Gallery, Beijing), Shanghai Youth Biennal (China Art Palace, Shanghai), Savour: The Cultural Experience of the Post-80s Artists in China (Art House, Singapore), Boom! 2012 CYAP Exhibition (China Young Artists Project, Beijing), John Moores New Painting Prize (Shanghai Gallery of Art, Shanghai). Mixing realism and romanticism, Chongqing-based Zhang Zhenxue renders his recurring motif of chandeliers in thick layers of oil painting. His work harkens back to the cinema of the '50s with shadowy interior environments wherein décor serves as both background and an integral part of the storytelling.
About Art+ Shanghai Gallery
Founded in October 2007 and located along the Suzhou River within walking distance to Shanghai's famous Bund area, Art+ Shanghai Gallery is a dynamic art space dedicated to the exhibition, promotion, and development of Chinese contemporary art. Art+ Shanghai Gallery showcases a range of established and emerging contemporary artists from within China and abroad, stimulating and celebrating the diversity of the sprawling contemporary art scene. In addition to holding group and solo exhibitions, Art+ Shanghai Gallery offers art consultation services, hosts cultural events, and participates in international art fairs.