ARTS CAN DO Fundraiser Gala Dinner 23 November,2013
[Press Release]
Press Release
As a mother I was shocked to see the effect of isolation on the children of migrant workers in towns and villages I visited in the course of my business in China. I became convinced that something had to be done to help these children. As a child growing up in quite harsh times in Shanghai I knew the solace that could be obtained and new outlook on life that could be found in the world of art. This was the inspiration behind Arts Can Do. I knew in my heart that art could give hope and help transform the lives of even the most disadvantaged children.
Arts Can Do is dedicated to helping children left behind by the economic transformation that is reshaping China. Children with minds effectively shut down by isolation. We are doing it by way of introducing children to making art. Artist, teachers and therapists from China, Australia, New Zealand and other countries have joined with us to make Arts Can Do a reality. Arts Can Do is up and running and our programs are already reshaping lives. Our first centre in Xucun Village has been a great success and our centre in Shanghai opens next month.
We have much to do and we need your support. Over the past year I have met with many hundreds of people interested in the work Arts Can Do and your interest encourages us. I would like to invite all of you to our Gala Dinner in Beijing to learn more of our work and to give me an opportunity to meet with you. I am passionate about our work and I hope I can share an insight into it with you. A ticket to the dinner will not only help Arts Can Do but I am sure you will have a great time. Fine food and wine coupled with art auction and fabulous prizes from our sponsors will see to that.
Yours sincerely
Yashian Schauble
Founder and CEO, Australia China Art Foundation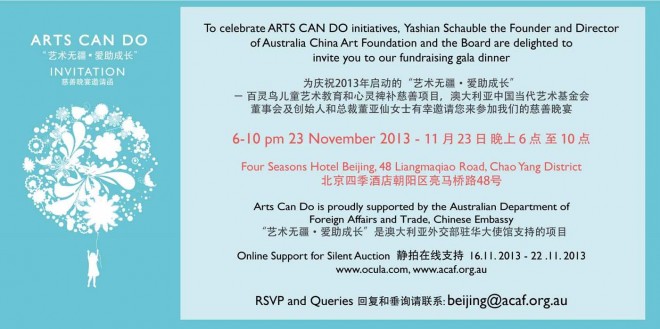 Time: 6-10pm 23 November 2013
Location: Four Seasons Hotel Beijing, 48 Liangmaqiao Road, Chao Yang District, Beijing
LAST CHANCE to buy the Tickets for Arts Can Do Fundraiser Gala Dinner !!!
200-250 persons, high-networth individuals, art collectors, and multinational corporations
PROGRAM: Moet Chandon Champagne and Kaluga Caviar reception, Michelle Star chef designed gourmet banquet dinner, live performance by contemporary artists, live and silent auction of art works and luxury goods.