BEING INFORMATION
PERSON-a
SSSSTAR
[Press Release]
Artist is like a train that goes in the opposite direction, going astray at his/her own will, which inevitably crushes fiercely into the source of information. Dazzled in eyes and sees a figurative "person", or a blurry illegible "even", or a time slapped into the face because synchronicity, or a place with nobody during a feast. Through the coding of the artists, they are transformed into entirely different paths and forms.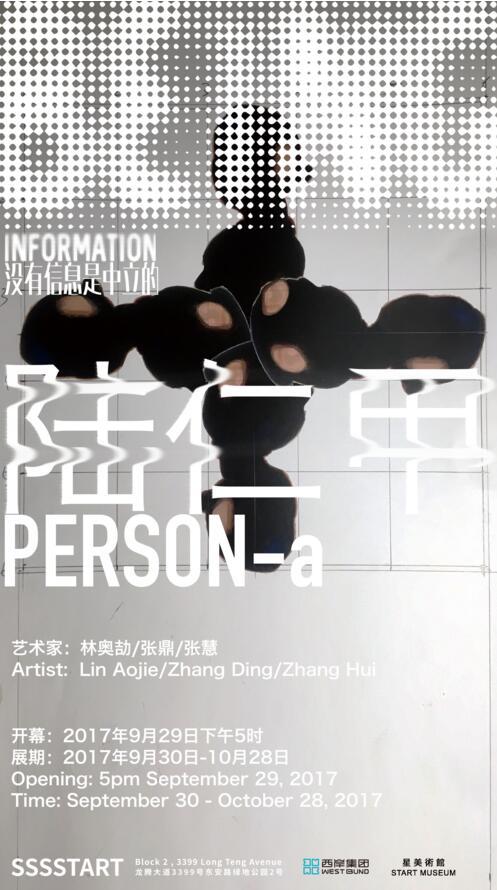 The exhibition traces a "person-A", a desk-mate who are acquainted with the three artists but who they never met. Just like the illegible birthmarks they all bear with, which share the same color and shape. Lin Aojie comes to a boundary that he has never been, and picks up a list of words that runs through the cognitions from fragments. The sequences and owners, however, slip from the fingers instantly and leave only the flesh and a slight scent. In the sight of Zhang Hui, the similar images of a person can be regarded as a subject that can represent "experience" and constrained by "experience" in the end. On the contrary, Zhang Ding is surrounded by persons and events, but the various cognitions of the site make its subjectivity an invalid one. The fragments of truth are picked up by three artists accidentally, while every bits of them are twisting and wiggling, with the overloading information under their feet just like a desert. The enumeration and the final absence of information constitutes the inner logic of these "clues".
The initiation of the on-going research exhibition project BEING INFORMATION of the contemporary art space SSSSTART has already put forward one of the topics — information clearly becomes one of the power systems of nowadays, which is in rapid growth and yet hard to judge. Artist seeks answers in art-making, while disclosing the difficult judgements and the complicated environments he/she is placed in, as well as how he/she copes w ith the changes from the outside world and deals with him/herself. And yet, the conversation has just commenced.