BILLY APPLE
Six Decades 1962 – 2018
Rossi & Rossi, Hong Kong
[Press Release]
Rossi & Rossi is pleased to announce the exhibition BillyApple Six Decades 1962–2018, taking place from 9 June to27 July in Hong Kong. Regarded as apivotal artist in the British and New York popand conceptualart move ments of the 1960s and'70s, Billy Apple's examination and promotion of an identity, and his uncompromising and sing ularmeans to do so, place him amongst them ostidiosyncraticartistso four time. Rossi & Rossi's presentation tracks his practice over three continents and sixdecades through seminal works from each period. Apple willgive a public talk with Christina Barton, the exhibition'scurator, on 9 June at 3:00 p.m., followed by a reception atthe gallery.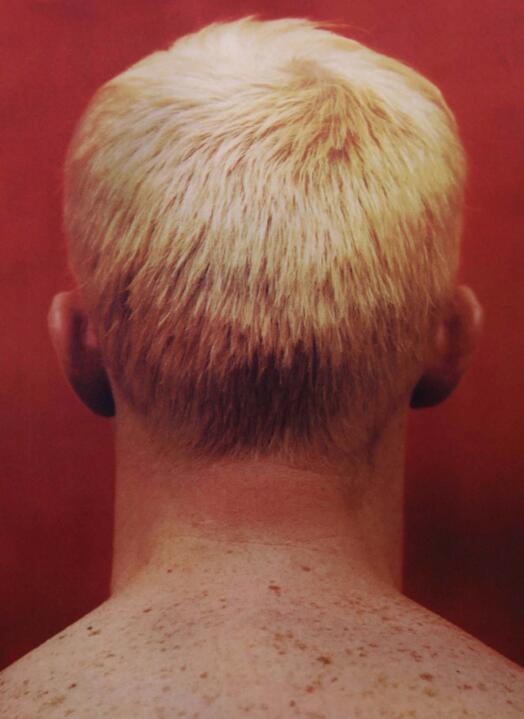 Born Barrie Bates in Auckland in 1935, the artist enrolled atthe Royal College of Art, London, in 1959. There, he studiedgraphic design alongside Derek Boshier and David Hockney,taking a transformative trip with the latter to New York Cityin 1961. Upon graduating, he bleached his hair and changedhis name to Billy Apple, reinventing himself as an artisticbrand. This act is documented in the photographic self-portrait, Billy Apple Bleaching with Lady Clairol InstantCrème Whip, November 1962 (1962/1997), a defining workin the artist's oeuvre.
Also on view is Self-Portrait (Apple Sees Red on Green)(1962/1963), one of the six surviving canvases from theoriginal series of twelve that was shown in Apple's first soloexhibition, Apple Sees Red: Live Stills, at Gallery One inLondon in April 1963. The work resembles a publicity shotthat is intended to herald a new brand or product. WhileApple's naked neck and shoulders suggest rebirth, the formand pose of the image reads like a mugshot. It exemplifiesApple's distinctive manifestation of pop art, which drewon the language of advertising to convey his ownrebranding as a way of blurring the distinction between artand life, as well as people and products.
In 1964, Apple moved to New York, where he produced andexhibited pop-related paintings and objects alongside AndyWarhol, Jasper Johns and Claes Oldenburg, notably in thenow-legendary exhibition, American Supermarket. In theensuing years, Apple pursued new and varied consumertechnologies to aid his art production-promotion, exploringthe mediums of xerography, as seen in Portrait of the Artistin a Drip-Dry Suit (Purple) (1964), and neon, as in FourBlue Knots for R. D. Laing (1966/2017).
By 1969, Apple had shifted to a more conceptual andprocess-oriented practice. To create a venue for his work, heestablished APPLE, a not-for-profit space at 161 West 23rdStreet, which he operated between October 1969 and May1973. There, Apple embarked on a systematic exploration ofhis 'negative condition' principle. One aspect of the principleinvolved declaring as 'art' a set of cleaning actions moreassociated with domestic maintenance: sweeping,vacuuming, mopping and washing. These actions aredocumented in the exhibition via Four Activities: Sweeping,Vacuuming, Mopping, Washing, 20 March 1971 (1971), asuite of vintage photographs.
The process of removal was more formally depicted in a setof three works on paper, Self-Elimination Portrait, 27March, 1974 (1974), which were printed for a major surveyof the artist's work staged at the Serpentine Gallery inLondon in 1974. In this process, the image of Apple'dissolves'. The portrait is the third of several the artist hashad taken by professional photographers over his career, eachadopting the identical format of the full-frontal, head-and-shoulder shot.
Since the early 1980s, Apple has complemented hisinstallation practice with text-based works that draw attentionto the art system and highlight the artist's social networks.These relationships are represented in the exhibition with works such as Bartered (Untransacted) (1984/2018) and IOU (Untransacted) (1987/2018), as well as Paid: The Artist Has to Live Like Everybody Else (1995/2018), an ongoing series in which the artist invites buyers to pay one of his personal bills. In exchange, they receive the invoice mounted on a printed, framed card.
Byblurringtheboundariesbetweenartandartist,artand life,andartandcommerce,Apple'sgradual transformationfromanindividualartistintoabrand culminatedin2007,whenheregisteredhisnameasa trademark. He has worked on a range of projects to create branded products in the eight classes in which his trademark is registered, including an attempt to produce a new commercially viable breed of apple. Developed together with horticulturalists and apple growers, the cultivar is represented in the exhibition by the sculpture, Class 31. Billy Apple Cultivar (Red) (2007).
The exhibition concludes with a suite of works resulting from the artist's collaborations with scientists, comprising elements of a project known as The Immortalisation of Billy Apple (2009–15). Part of an art-science experiment by biochemist Dr Craig Hilton, Apple's living somatic cells have been deposited in the American Type Culture Collection in Virginia, in the United States, where they will be kept in perpetuity for the purposes of scientific research.
Billy Apple Six Decades 1962–2018 is accompanied by a limited-edition, fully illustrated catalogue, with an introductory essay by Wellington-based art historian Christina Barton. More information can be found at rossirossi.com.