CAI JIN
Arcadia
Chambers Fine Art, Beijing
[Press Release]
Chambers Fine Art is pleased to announce the opening on March 10, 2018 of Cai Jin: Arcadia, her second exhibition at the gallery. Widely acclaimed as one of the most distinctive painters of her generation, Cai Jin first attracted critical attention in the early 1990s with her paintings of meirenjiao (translated as "Banana Plant"). Inspired by a dying plant that she saw in her native Anhui province in 1990, she has painted close to 400 variations on this theme between 1991 and the present day, not only in oil on canvas but also on other materials and objects, including mattresses, bathtubs, shoes, and bicycle saddles.
For her first exhibition at the gallery, Return to the Source, in 2013 Cai Jin moved away from her signature theme and the predominant red tonality of her paintings to a lighter, more joyful evocation of what she loosely referred to as "landscapes" even although her visual language was entirely abstract. Her paintings of this period were lighthearted in feeling, equivalent to the emergence of Rococo from the Baroque in European art.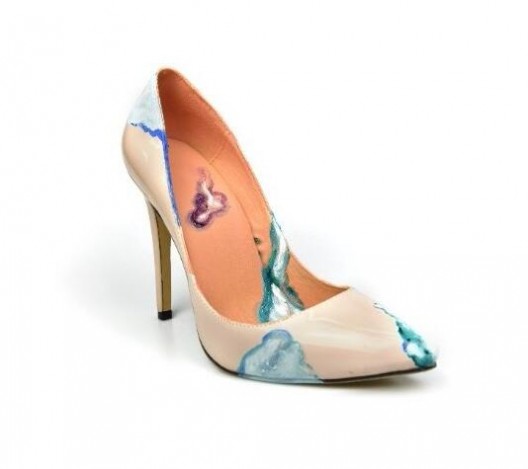 Arcadia differs in all respects from this festive interlude in which Cai Jin celebrated the expansiveness of her vision in a series of canvases both large and small. It is no longer merely the growth and decay of the meirenjiao that provides the subject matter of her painting; she has now begun to incorporate imagery representing the microscopic bacteria that are involved in both processes of the Banana plant's biological transformation. It is not easy to say whether the bacteria are harmful or beneficial, and it is this ambiguity that is just as likely to cause a frisson of pleasure as it is of fear. Turning away from rectangular canvases, she ordered 50 bicycle saddles and 180 high-heel shoes on which to paint, not the first time she has used them but certainly never in such quantity. Responding to the layout of the gallery, she has orchestrated a dialog between shoes and saddles in the East Gallery, saddles climbing the wall in a random pattern, a red bath tub sitting on the floor, and shoes scattered everywhere as if all their wearers have evaporated into thin air.
Contrasting with the East Gallery the darkened West Gallery houses two bathtubs on to which and the walls are projected images of meirenjiao and bacteria from both sides. The gallery floor is covered with soft EPE foam, which visitors are able to both see and feel. In the small gallery a lava-like flow of pink matter appears to be inundating the space, while a bathtub filled with wax, a mattress, a pair of Mary Janes, and a knitted hood float forlornly on the surface.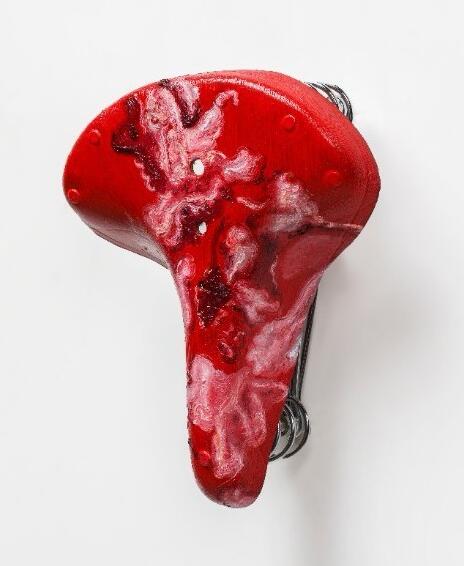 Now more than ever it is not possible to give a rational explanation of Cai Jin's idiosyncratic artistic practice. The fact that she has always resisted offering explanations adds to the mysterious allure of her work that affects viewers at a visceral level. The immersive environments that Cai Jin has created in Arcadia may be seen as a way of eliciting an even more direct response from her audience, no longer viewers but participants.