Celebrating HANART 30 YEARS: A Special View of "Hanart 100: Idiosyncrasies"
[Press Release]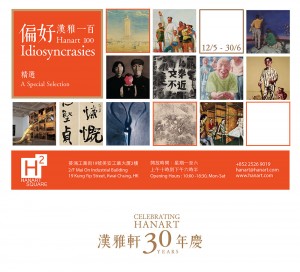 In celebration of Hanart TZ Gallery's 30th anniversary, the "Hanart 100: Idiosyncrasies" exhibition was jointly presented by Hanart and the Hong Kong Arts Centre this past January and February. Now, during the 'art month' of May, Hanart is pleased to open a Special Selection from the 30th anniversary exhibition for those who either missed the show the first time, or would like to revisit it again. The exhibition is centered on a curated selection of 100 significant art objects which reflects a particular interpretation of Chinese modern art history, exploring the structure of the "Chinese contemporary", and posing two key questions:
What is the 'Chinese Contemporary'? Where do the fractured domains of China meet?
In the past 100 years, the Chinese experience has been marked by modes of fracture: fracturing of the national space and governmental systems, a disjunction of histories and a dispersion of destinies. This fractured state is reflected in the Chinese modern art experience. The conceptual framework of our investigation is grounded in the position that China's ideological divide of the past century does not mean separate 'Chinas', but rather alternative positions on the 'modern project'. These alternative positions are embodied within the concept of '3 Art Worlds', which includes the globalized capital world of contemporary art (often recognized as the only international platform), the world of literati art (often structured as 'tradition' of the past) and the world of socialist art (usually characterized as no longer relevant). '3 Art Worlds' thus puts on a par art from the familiar global capital world, art that pays homage to tradition and art from the socialist world.
Hanart's Special Selection exhibition eloquently recaptures these themes. Don't miss this wonderful opportunity to experience the show this May and June!.