Chronus Art Center
Jim Campbell & ZHANG Peili
The Flickering Uncertain
[Press Release]
Chronus Art Center is pleased to present Jim Campbell & ZHANG Peili: The Flickering Uncertain, an exhibition by two pioneers of media art, and the first solo show for the San Francisco based artist in China. The duo solo exhibition also marks the inauguration of a series of programs in celebration of CAC's 5th anniversary and will open on March 17, 2018 with a dialogue between ZHANG Peili and ZHANG Ga, curator of the exhibition and remain on view through June 17, 2018.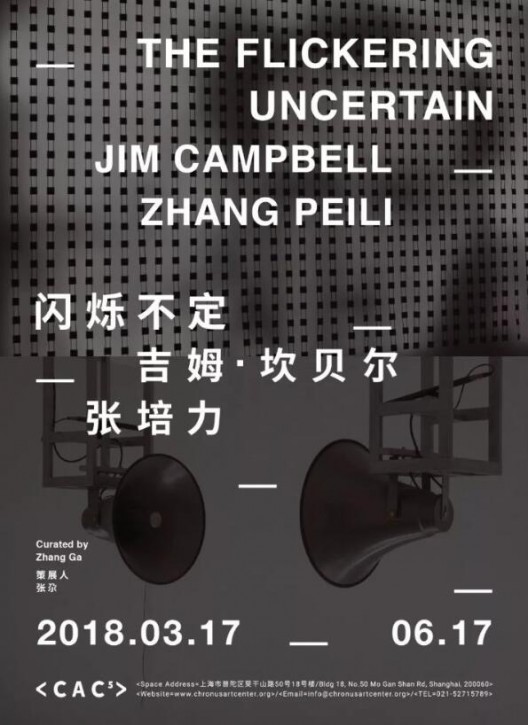 Five works from Campbell's signature Low Resolution Works series occupy the first gallery and a singular work of monumental scale titled Collision of Harmonies by ZHANG Peili will be mounted in the second gallery. Although strikingly heterogeneous, the affinity between the two artists lies implicitly in their shared interest in invoking an aesthetic experience by employing "low resolution" both as a visual device and as a perceptual agent, rendering an embodied looking / seeing, seeking to grasp the technological and psychological intricacies of reality. Like much of Campbell's work, perception is contingent on distance and, according to an inverted logic, the closer one approaches the object in question, the more illusive it becomes. In the shadowy grisaille of Exploded View and Exploded Flat Campbell implicates a kind of silent reverberation, changing one's distance makes the flickering object ambiguous or perceptible. On the other hand, departing from his screen-based practice, ZHANG Peili's Collision of Harmonies for the first time employs sound as a kinetic apparatus to activate machine collisions for an operatic climax. Instead of human-machine interactions and a viewing pace hinged on proximity, here the dramatic encounter of two megaphones from opposite side of a hanging rail gradually approaching each other singing a duet of female and male voices and causing a pile of neon tubes to flare and extinguish until the two megaphones come to a stand-off midway, exploding into a thundering abstraction and dazzlingly white light as if the harmony is pixelated into fragments of destruction. In Campbell's words, "low resolution moving images are analogous to sound. Sound is defined by movement and as such, the more a sound is slowed down, the more abstract it becomes." Might we also find here that ZHANG Peili's forceful collision of harmonies is yet another experiment of low resolution uncertainty?
Some of the works have been specifically realized for the context of the exhibition such as the new kinetic work πTon/2 by Swiss artist duo Cod.Act. Other Swiss artists presented in the exhibition include Pe Lang and Zahra Poonawala. Pe Lang expands his series Modular three dimensionally while the animatronic The Fool's Ballad by Poonawala is at once a work of humor and evocation of machinic sensibility. In Aura, Chinese artist WANG Yuyang creates a mesmerizing installation cycling the returning force of life in a light arch both virtual and solid: as if a receded patina giving way to the new aura of eternal repetition of the digital now. In the work of the German artist Kerstin Ergenzinger's Wanderer, small thermal printers dynamically generate a drawing in the exhibition space. With 1+N chairs, Colombian artist Fito Segrera pays tribute to conceptual artist Joseph Kosuth's iconic work through an artificial intelligence twist. The Small Data series by Spanish artist Daniel Canogar shows collective memories of old electronic devices such as mobile phones, hard drives or remote controls. In the installation Interface I, German artist Ralf Baecker sculpts emergent behaviors by juxtaposing systems transversal to one another inspired by the earth's changing magnetic field while the Chinese artist aaajiao conjures up computer-generated landscapes and objects. The work Stranger Visions by the American artist Heather Dewey Hagborg has caused a stir worldwide by fabricating facial reconstructions based on DNA traces from public places.