Clamour Can Melt Gold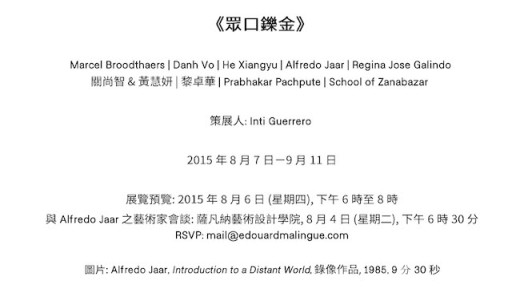 As part of its curatorial projects, Edouard Malingue Gallery is pleased to present 'Clamour Can Melt Gold', a group exhibition that addresses the representation, cultural value and economy around the extraction of gold. It brings together works by Marcel Broodthaers, He Xiangyu, Alfredo Jaar, Regina Jose Galindo, Kwan Sheung Chi & Wong Wai Yin, Sarah Lai, Prabhakar Pachpute, Danh Vo and School of Zanabazar. The show is curated by Inti Guerrero.
Gold has had an almost universal presence in the history of most societies as a symbol of wealth. It has also been regarded as one of the most trusted types of currencies, generally considered to be lacking the risks associated with paper money and other abstract currencies. In China and Hong Kong, gold has been a key element of traditional culture, its colour and symbols being widely represented as general signs of prosperity and good fortune. The major current market of golden jewellery in Hong Kong, catering increasingly to shoppers from the expanding Mainland Chinese middle class, is significant enough to influence general economic parameters, as seen in recent years.