Clare Woods: Doublethink
Simon Lee Gallery,London
[Press Release]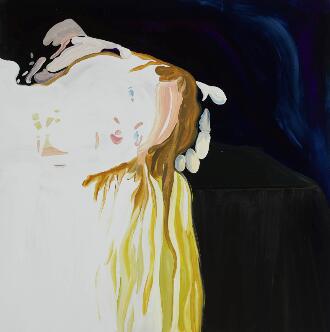 'The power of holding two contradictory beliefs in one's mind simultaneously, and accepting both of them…To tell deliberate lies while genuinely believing in them, to forget any fact that has become inconvenient, and then, when it becomes necessary again, to draw it back from oblivion for just so long as it is needed, to deny the existence of objective reality and all the while to take account of the reality which one denies.'
―George Orwell, Nineteen Eighty-Four, Part 2, Section 9.
Simon Lee Gallery is proud to announce Doublethink, the first solo exhibition at the London gallery of British artist Clare Woods, who presents new paintings across both gallery floors.
Over the course of a career spanning more than twenty-five years Woods has developed a unique painterly language that is concerned with the moulding of an image in two dimensions. Her early practice as a sculptor continues to inform her exploration of physical form via the materiality of paint. Although at first concerned with landscape, a preoccupation with the human body and its connection to entropic themes of mortality, degeneration and disease has surfaced in the artist's work. For Woods, the corporeality of her subject matter and the physical element of the paint are inextricably tangled up in one another. In these new works, Woods employs an often-bilious palette that subverts the viewer's expectations of her virtuoso application of paint on aluminium. Defamiliarising the everyday, Woods probes the boundaries of figuration to challenge her audience's experiences of fear, anxiety and the fundamentally destructive impulses of humankind.
Woods derives inspiration from found photographic sources such as newspaper clippings, magazines, and other diverse sources of visual ephemera that depict unsettling and often transgressive imagery. Yet it is not the origin of the image that is important to the artist, but rather the emotional response it triggers within her and its potential for reinterpretation or translation once painted. In Woods' work painting cannot live without photography, the former offering an interpretation of the representation of reality presented by the latter. The artist's approach to her source imagery involves editing visual data,frequently via cropping or repositioning, thus distancing it from its provenance, while nonetheless retaining a tangible relationship to the original. In this way, Woods' painting teeters on the edge of legibility,excavating the source image through the physical act of painting and providing new content and context, while restoring a form – albeit intentionally disturbed and disturbing – to the original photograph.
The disjunction between figuration and abstraction lies at the heart of Woods' manipulation of her source imagery. These alterations can dramatically change the meaning of the work or the viewer's emotional response. What happens out of the frame, what is lost, removed or invisible, becomes as important as what is seen. During the drawing process Woods conceptually empties an image, yet this information is replaced during the act of painting. The use of vigorous, expansive, brushwork, compositional distortion and abstract colour, remove the normality of the everyday and position it in the artificial, forcing the viewer to question their ability to analyse and decipher the content what is in front of them. Woods'approach to painting reflects our over consumption of images in a world that treats banality and disaster in the same way: human stories are told in digital images, with the manipulation between the media, memory and reality allowing these images to be consumed with ease and without thought. The paintings in Doublethink confront this phenomenon head on, inviting us to review our responsibilities towards the processing of representational imagery