Dane Lovett
Sullivan+Strumpf, Sydney
[Press Release]
Dane Lovett's 2019 solo exhibition takes as its starting point an anecdotal link between Georgia O'Keefe's 1930's Jack-in-the-Pulpit series and Lovett's own ongoing series of dog portraits. Poisonous if ingested, Arisaema triphyllum is lethal to pets.
This tenuous but violent link reflects a particular interest in the behavior of images in cyberspace where incongruity and free distribution allows for slippages between the iconic and the everyday, the pleasing and the gruesome, an emancipation of the image which alters the way we perceive and consume them.
The exhibition presents a series of paintings based on a small set of single images which, whilst repeated over and over, present slight differences at each iteration – for example stretched, compressed, scaled up or down. This body of new paintings extends Lovett's interest in formal constraints and the act of repetition, a subject of an early series of works that explored the de-canonization of art historical images through sets of reiterated canonical paintings.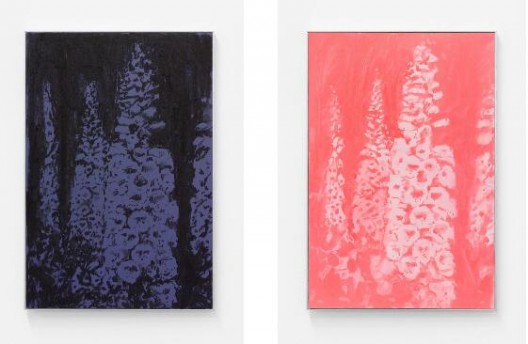 Dane Lovett has been based in Melbourne working as a painter for the past 12 years. He received his MFA from the Victorian College of Art in 2016, his BFA (Honors) Victorian College of Art in 2007 and a BFA from Queensland University of Technology in 2005. Recent solo exhibitions include Slow Rise / Burning Up, Bus Projects (2019), Dog Show, STATION, Melbourne (2018) and Nightshades, Sullivan+Strumpf, Sydney (2017). In 2018 he completed a residency research trip to the United Kingdom and Iceland supported by the Australia Council for the Arts. He was also awarded an Australia Council Tokyo Studio residency in 2011. He was winner of the Royal Bank of Scotland Emerging Art Prize for 2010, the 2009 winner of the Clayton Utz Emerging Art Award and the Qantas Spirit of Youth Award (SOYA) in 2005. His work is held in a number of public and private collections including Artbank and the Art Gallery of New South Wales.