DAWN NG
PERFECT STRANGER
Sullivan+Strumpf Sydney
[Press Release]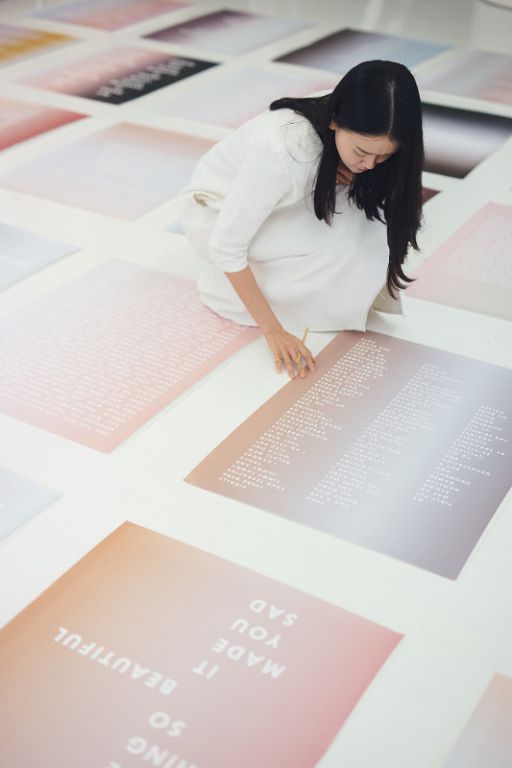 "It often strikes me" says Ng "that when someone says they miss something, they ordinarily allude to a person, time or place; when what they truly miss is a version of themselves, which they can never get back to again. After all, what is each of us, but a vessel of vanishing selves?" 
Sullivan+Strumpf is delighted to present an exhibition by Singapore-based Dawn Ng at its Sydney Gallery. A collection of 61 texts distilled from of a year-long Q&A project between Ng and an Israeli child psychologist, Perfect Stranger draws from their daily correspondence ritual and Ng's ongoing study of colour, emotion, nostalgia and time, to form an autobiographic aide-memoir.
Perfect Strangeris a distilled collection of 61 texts, part of a year-long narrative portrait which began on 1.6.16. Ebbing with text and gradient tones, each sheet emits a phosphorescence arising from a synthesis of shades that is unique to, and reflective of, its story. Displayed flat on the gallery floor, the series draws from the year-long daily correspondence between Ng and a perfect stranger. It is a fossilized, fleeting exchange shared by two women from different pasts, presents and futures. Each day of the project the stranger would ask a question and Ng would respond; including writing from her hospital bed after giving birth to her first child.
Over time, this process of inquisition and disclosure unveils an intimate tapestry of fact and fiction, spanning across recollections, observations, questions, lists, stories, poems, confessions and jokes. Perfect Strangeris an experiment in freezing moments of oneself, over time.     For Ng, Perfect Strangeris a re-imagination of a self-portrait, and a narrative time capsule of one's self in the here and now. At once, a static yet glimmering vista of shades, the work is visually emblematic of the irony and balance in binaries and dualities between stillness and change, the monumental and mundane, materiality and ephemerality, was and is, hello and goodbye.    Dawn Ng works across a diverse range of mediums, motives and scale, ranging from text, illustration, collage, light, sculpture and large-scale installations. Her work primarily deals with time, memory, identity and space. Solo exhibitions includeSixteen, Art Basel Hong Kong 2015; A Thing of Beauty, Art Paris Art Fair, Grand Palais, Paris, 2015; How to Disappear into a Rainbow, Fondation d'enterprise Hermes, Singapore, 2016; and Jeju Biennale, Korea, 2017.