de Sarthe Gallery – Press Release "Current Reality, Hidden Barriers"
[Press Release]
23rd October – 6th December 2014
HONG KONG. Hong Kong – de Sarthe Gallery's upcoming exhibition "Current Reality / Hidden Barriers", will include artworks by Lin Jingjing, Wang Guofeng, Zhou Wendou, and Zhao Jinhe.
The exhibition will focus on our current state of existence as a society. Everyday we are faced with paradoxes, which are overlooked and many times simply accepted without thought. There exists a drastic variation between how each human being experiences life and how they are directly affected by the world that we have created for ourselves.
Political and social issues, environmental pollution, media, identity crisis, poverty, and extreme consumerism: these are complications that we face everyday. This group of Chinese artists is able to wisely discuss these concepts. Although they work in varying mediums they have all individually been compelled to discuss these issues, asking the viewer to question them.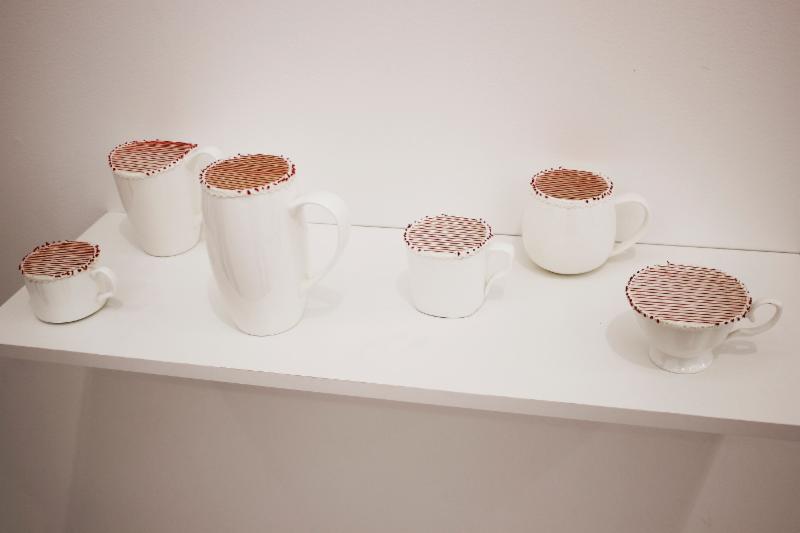 Lin Jingjing (b. 1970, China) is one of the most prominent female artists in China today. She works with personal experiences that deeply influence her but that are also a part of common culture and every day life, with a strong individual connotation. Lin's art investigates people and relationships, their internal and external vulnerabilities, which she captures and transfers from social traditions into a very sophisticated art production. One specific characteristic of Lin's artwork is that she finds images and modifies them with her own unique interpretation of the reality. Her specific technique is mixing pictures with embroidery, creating a spectacular effect with colorful threads and figures in each picture.
Lin Jingjing's works are in the collections of National Art Museum of China, Beijing, (China), lvam Museum, Valencia( Spain), National Museum of Fine Art, Santiago (Chile), The Mountain Group Museum, (Taiwan), Liu Hai Su Art Museum, Shanghai (China), He Xiang Ning Art Museum, Shenzhen (China), Tai Da Museum, Tian Jing (China), Museum of the Nation, Lima (Peru), and White Box Art Museum, Beijing (China).
Wang Guofeng (b. 1970, China) integrates sociality with ideology. He has aroused great attention recently because of his large scale colored panorama photography work. The work reflects the mainstream cultural symbol impacted by the global socialist ideology of the 20th century – magnificent large scale political architecture as well as the continuous photography of the scenes of some large-scale political events of North Korea. He has shot the typical socialist architectures of Beijing, Moscow and Pyongyang successively, and analyzed the similarities and differences of this type of architectural system since 2004. His works objectively represent the modeled political persuasion similar to sculptures in terms of form, and concentrate and reflect the "Collective Unconsciousness" under the centralistic political system. He carries forth the "perfected" post processing toward the subjects and presents all the details and the symbolic codes of all the architecture through high-resolution images, enabling the audience to perceive the spiritual and political attribute hidden behind the solemn and imperatorial architectural style.
Beyond the Image — The New Photography of Wang Guofeng, By Huang Du
Wang Guofeng had solo exhibitions at 604 Art Museum,Busan (Korea) and the Russian Academy of Arts, Moscow (Russia). His works were included in many contemporary art Biennale worldwide and in group exhibitions In the following   museums: Wenxuan  Art Museum, Chengdu (China), Enjoy Museum of Art, Beijing (China),  Susan Museum of Art (Korea), Today Art Museum, Beijing (China), Guangdong Museum of Art, Guangzhou (China), Shanghai Art Museum, (China), Chinese Art, Yerba Buena Center for the Arts, San Francisco  (USA), Tate Modern, London, (UK), Zach ta Gallery of Art, Warsaw (Poland), SeoulMuseum of Art (Korea),Gwangju Art Museum (Korea) and Shanghai (China).
In 2012, he was officially invited by the Democratic People's Republic of North Korea to photograph The 10th anniversary of Kim II Sung's birthday. Winner of the 8th AAC 2014 (Award of Art China – Photography)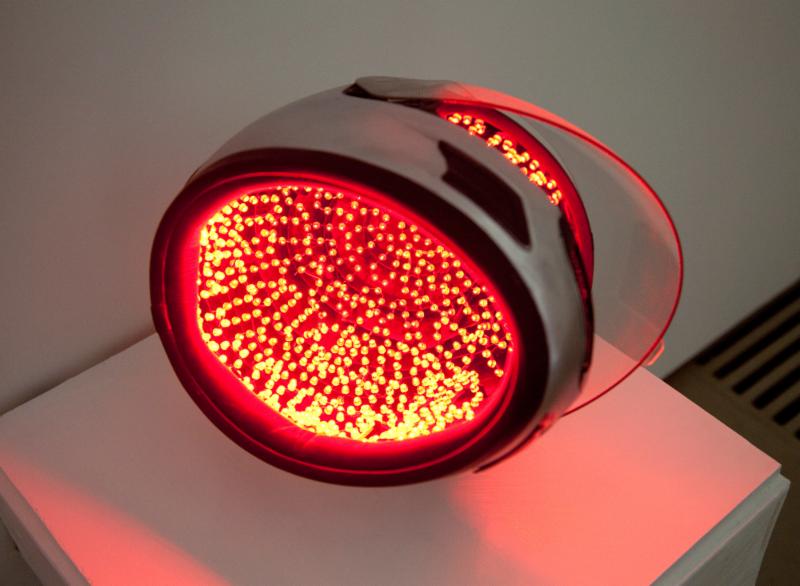 Zhao Jinhe (b.1973, China) is a painter and a performance artist. His paintings are the imagery of unrealizable performances. As a Chinese born in the1970s, Zhao Jinhe has been living and growing up in a socialist country, during which he experienced many social and political issues, facing the drastic changes and the consequences in the Chinese society. In his artworks and performances, Zhao strongly questions the position of the individual in the society context. Indeed, to better express this concept he portrays himself in each painting, as a figure that represents a specific moment related to a specific social problematic. The figure is always wearing a pajama, which is worn by mental patients, to represent all patients in real life and in a diseased society, without faith and religion. This figure sometimes gets worried, sometimes frowns while thinking, and sometimes has a quirky smile. Moreover, Zhao created for each painting a dialogue between an Imaginary Doctor and an imaginary patient, who are discussing the specific social issue painted.
Zhao Jinhe had his works exhibited at Mainland Art Museum, Beijing, Eastern Art Museum, Beijing and 798 0PEN Performance Art Festival, Beijing Performance Art among other galleries and museums.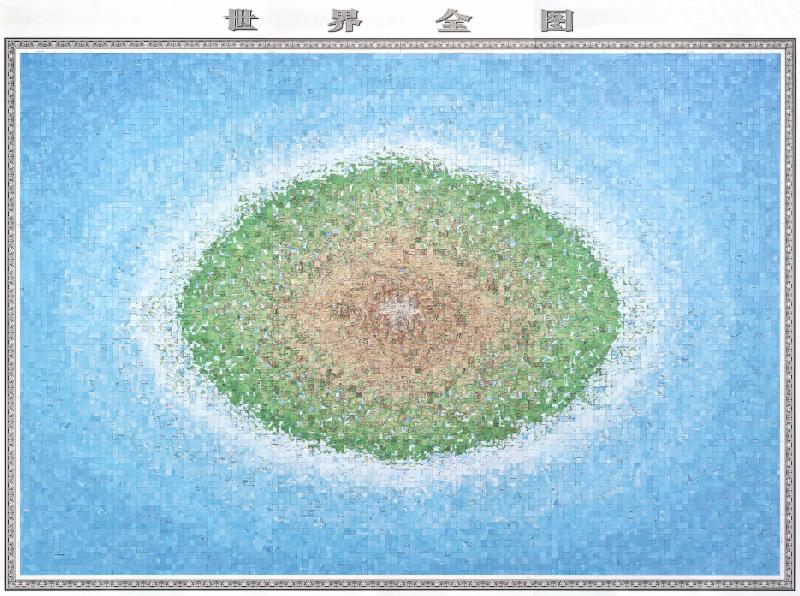 Zhou Wendou (b. 1970 China) is an eclectic conceptual artist, based in Beijing where the contemporary art scene is flourishing and vibrant. His art ranges over different mediums, like painting and sculpture, and often they are mixed together as prominent installations. Zhou Wendou's artistic attitude is expressed by playing with his own audience, as his works are deeply conceptual and usually the viewer could misunderstand the initial meaning. In this way, the artistic production becomes entertainment, besides the conceptual sense behind it. He likes also to use unconventional materials and to seek unexplored fields, which make him able to reveal his distinctive artistic approach.
Zhou Wendou's works are in White Rabbit Collection, Sydney (Australia), Fundaci6n Antonio Perez, Cuenca (Spain), Academy of Fine Arts, University of Com­ plutense, Madrid (Spain), Fundaci6n Estampa, Madrid (Spain),and Museums San Clemente, Cuenca (Spain).
Exhibition Information
Current Reality/Hidden Barriers
de Sarthe Gallery, Hong Kong
23rd October – 6th December 2014
8/F Club Lusitano building, 16 Ice House Street, Central, Hong Kong