Do-Ho Suh's First Solo Show
[Press Release]
Press Release
Lehmann Maupin is pleased to present the first solo exhibition in Hong Kong of acclaimed Korean artist Do Ho Suh, who is best known for his fabric sculptures that recreate the spaces of his homes and the domestic objects found within. The exhibition will be on view from 14 November 2013 to 25 January 2014 at 407 Pedder Building, 12 Pedder Street, Central, Hong Kong and coincides with the opening of Suh's installation Home Within Home at Korea's National Museum of Modern and Contemporary Art (MMCA) in his native Seoul. Lehmann Maupin Gallery has represented Do Ho Suh worldwide since the beginning of his career and gave the artist his first gallery show in 2000.
* Press Viewing with Artist: Thursday 14 November 2013, 3:30 PM to 5PM, accreditation is essential.*
For the exhibition, Suh explores the idea of home and memories of personal space by reproducing, in actual scale, objects from his former New York City apartment, including a true-to-life radiator from the corridor of his building in red fabric, and a medicine cabinet, bathtub, refrigerator, stove and toilet from the interior of his apartment in blue fabric. Also included in the exhibition are smaller objects from the artist's former home in Berlin in green fabric. This collection of freestanding, translucent sculptures is a continuation of Suh's ongoing Specimen Series, which the artist has ambitiously expanded for the Hong Kong exhibition by turning his attention to larger and more complex objects, and presenting them in new and innovative ways that utilize light to highlight their transparency.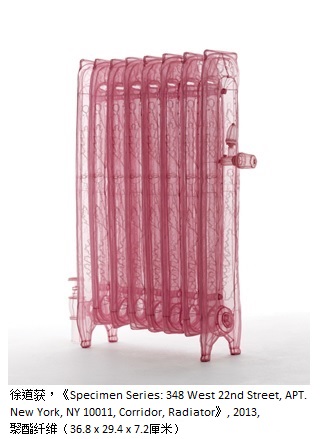 For further information on Do Ho Suh, please contact Charlotte Yip, Sutton PR Asia, at +852 2528 0782 / charlotte@suttonprasia.com, or visit www.lehmannmaupin.com.
Exhibition Dates
14 November 2013-25 January 2014
Tuesday-Friday, 10am-7pm; Saturdays 11am-7pm
Lehmann Maupin, 407 Pedder Building, 12 Pedder Street, Central, Hong Kong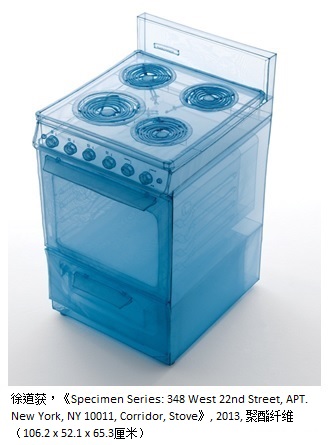 Do Ho Suh (b.1962, Seoul, Korea) currently lives in London, after having emigrated from Seoul to New York in 1991. His experience moving from Korea to attend art school in the United States inspired him to probe the idea of home and cultural identity. Suh received his MFA in Oriental Painting at Seoul National University in Korea before moving to the United States and receiving a BFA in painting from the Rhode Island School of Design and a MFA in sculpture from Yale University. In 2001, Suh represented Korea at the Venice Biennale and subsequently participated in the 2010 Venice Architecture Biennale, the 2010 Liverpool Biennial, and the 2012 Gwangju Biennial. Recent solo exhibitions include Wielandstr.18, 12159, DAAD Galerie, Berlin, Germany (2011); Asian Art and Do Ho Suh, Seattle Art Museum, Washington (2011); Home Within Home, Leeum Samsung M useum of Art, Seoul, Korea (2012); Blueprint, Hiroshima City Museum of Contemporary Art, Japan (2012); In Between, Hiroshima City Museum of Contemporary Art, Japan (2012); and Perfect Home, 21st Century Museum of Contemporary Art, Kanazawa, Japan (2012).
The artist's work is included in numerous museum collections worldwide including the Museum of Modern Art, New York; Whitney Museum of American Art, New York; The Solomon R. Guggenheim Museum, New York; Walker Art Center, Minneapolis; Tate Modern, London; Artsonje Center, Korea; Mori Art Museum, Japan; the Los Angeles County Museum of Art, California; and 21st Century Museum of Contemporary Art, Kanazawa, Japan, among many others.
About Lehmann Maupin
Since its establishment nearly two decades ago, Lehmann Maupin has identified and cultivated the careers of an international roster of visionary and historically significant artists. The gallery has garnered a reputation for supporting artists working across disciplines and with new and challenging forms of creative expression; artist whose work has had a lasting impact on contemporary art and culture. Working closely with curators and leading intellectuals in the field, Lehmann Maupin is committed to presenting its artists on an international level and to firmly establishing their contributions to art history in the 21st century and beyond.
Lehmann Maupin has given some of contemporary art's most respected artists their first one-person exhibitions in New York, including Tracey Emin, Anya Gallaccio and Shirazeh Houshiary.