Dragon Liver Phoenix Brain: Eight Emerging Artists – OCAT
[Press Release]
OCAT Shanghai is pleased to present "Dragon Liver Phoenix Brain – Eight Emerging Artists" on December 10, 2016. Being part of the OCAT Shanghai annual young artists project, this exhibition will also be the last exhibition of the year and is organized by Mr. Colin Siyuan Chinnery, a curator long devoted to the research of contemporary Chinese art. The eight participating artists are Chen Zhe, Hu Xiangqian, Li Liao, Lin Ke, Lu Pingyuan, Nabuqi, Shen Xin and Yu Ji who work in video, photography, sculpture and performance. The isolation or proximity between artists' works shall be a major factor in this exhibition.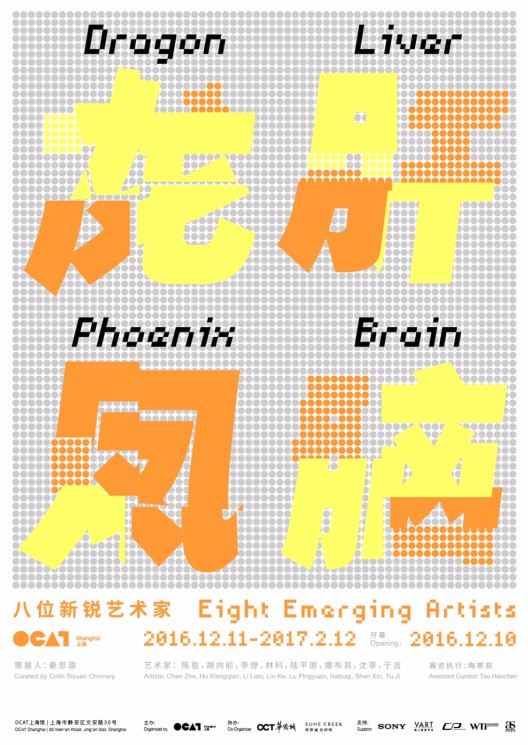 Unlike the use of open space in many past shows, the curator has instead created eight independent rooms in an attempt to play with the idea of exhibition spaces as interiors/exteriors. Works have been placed in these rooms according to the artists' gender, as well as the potential for intimacy or conflict between artworks. Commonly speaking, a work of art exemplifies a relatively independent discourse and meaning, however when just two or three artworks are placed into a confined space, it "forces" them to establish intimate dialogues of exchange.
The title "Dragon Liver Phoenix Brain" combines the literal meaning of 'rare delicacy' with the formal quality of kung-fu movie titles, and the hint of sexuality. With these notions, the curator tries to dissemble the works and reassign new meanings to them, while he spins a satire on gender politics. Using cramp spaces to transform existing expressions of the artworks, both for the artists and their works of art, such clash or integration would form unusual "commonality"; and for the viewer, one may grasp the exchange between the artworks to gain new viewing experiences.
Special thanks to SONY China for the support and sponsorship of this exhibition.
OCAT Shanghai
CURATORIAL STATEMENT
Dragon Liver Phoenix Brain is an exhibition that brings an emerging generation of artists in dialogue with each other. Eight contemporary artists – four men and four women – under the age of 35 have been selected to participate in this show. By taking advantage of the original architectural features of this former industrial building, the curator has split the two exhibition halls into eight small spaces where the artists' works are in close proximity with each other but isolated from other spaces. In this way, the curator has avoided the use of any larger thematic consideration, creating eight small exhibitions each of which creates its own context.
The inclusion of 'Dragon' and 'Phoenix' in the exhibition's title alludes to both the relationship between male and females artists and kung-fu movie titles, suggesting either intimacy or conflict. Therefore, artists are split into exhibition rooms based on gender combinations. Hall A contains four rooms with one male and one female artist in each, and Hall B contains other combinations such as male-male, female-female, male-male-female, and female-female-male. This arrangement of the artists brings together all different possible sexual combinations as well as combat variations, attempting to reveal and articulate the tension that exists in the clash of close encounters between artworks.
An intimate dialogue between artworks is rarely achieved. In the age of the art fair and biennale, artworks are more often than not placed within much larger contexts, helping to elucidate and illustrate ideas or to define an art market context, while individual artist voices are articulated by solo shows. However, Dragon Liver Phoenix Brain is an attempt to address a relationship between artworks themselves, and by extension, artists.