RANDOM INTERNATIONAL
Everything & Nothing
Yuz Museum, Shanghai
[Press Release]
Yuz Museum Shanghai presents 'Everything & Nothing', Random International's first solo exhibition in Asia. The exhibition encompasses new works alongside establishedpieces of pivotal significance within the artists' practice. The exhibited works considerideas of simulation, decision-making, and automation in an immediate and sensory way.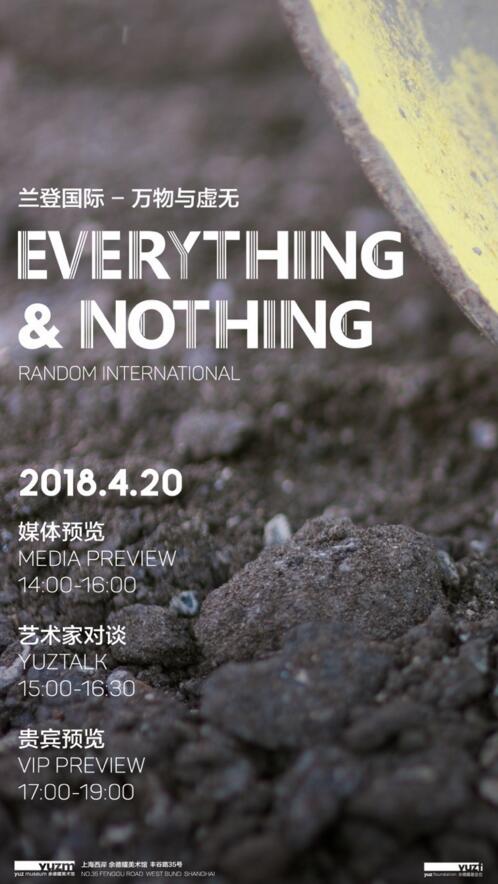 A London-based, multi-disciplinary collective, Random International explores the humancondition in an increasingly mechanised world through emotional yet physically intenseexperiences. The artists aim to prototype possible behavioural environments byexperimenting with different notions of consciousness, perception, and instinct. Theexhibition continues this path of enquiry; each of the works generates its ownenvironment, to which visitors are invited to respond on their own terms. RandomInternational strives to "invite visitors to re-experience and re-examine the physicalspaces that represent our relationship with technology. These spaces relate to both livedand speculative perceptions of an increasingly automated environment, and how naturalphenomena and human behaviour can shape the world."
The exhibition takes its title from the video installation, Everything and Nothing (2016),which attempts to pose essential questions about humankind's place in a technologicaldynamic. Random International's first work to be realised through video alone,Everything and Nothing documents the simultaneous decay and progress of theindustrialised world in an age of relentless transformation. The steamroller expresses aninherent ambiguity within a culture of un-tempered innovation; it has the potential tocompact and fragment, to destroy and enable renewal. Random International's newestwork Turnstiles (2018), exhibited here for the first time, also focuses on this interrelation between humankind and machine, but purely through analogue means. A maze of barrier gates, Turnstiles has no digital component, the interaction is born solely from merging mechanical and human movement. The unexpected grouping of familiar objects creates an environment in which visitors can explore their own instincts and kinetic responses. In a playfully surreal manner, the work explores the physical presence of networked systems and how they relate to human presence.
A further highlight of this solo show is the light sculpture Self and Other (2016), which forms part of the collection of Yuz Foundation. The piece invites unexpected physical interactions with the reflected image, while exploring traits of human cognition. The visitor is met with their own illuminated reflection, encased in sheets of glass to create a multi-layered mirror. The reflection echoes the visitor's movement and behaviour, but with a slight delay. In so doing, Self and Other invites a unique relationship with the self-image; it is neither the live reflection of a mirror nor the static image of a photograph fixed in past time, but rather occupying an ambiguous place somewhere in between. The work emphasises questions of human identity, and how it might be altered by life, today and in the future.
The exhibition marks the return of Rain Room (2012) to Yuz Museum, following its debut in Asia in 2015. This is the first time that Rain Room will be shown alongside other works by Random International. Part of Yuz Collection, Rain Room is a field of perpetually falling water that participants can explore whilst remaining dry. Human presence prevents the rain from falling, creating a unique atmosphere and exploring how human relationships to each other and to nature are increasingly mediated through technology. Rain Room is also in the collection of the Los Angeles County Museum of Art, where it was exhibited in 2015/16, following exhibitions at the Museum of Modern Art, New York (2013), and London's Barbican (2012). An edition of Rain Room will become the first permanently installed artwork at the Sharjah Art Foundation (UAE) in 2018, and be housed in its own building. At 150 square metres, Yuz Foundation's Rain Room is the largest iteration that the artists have created.
The exhibition will open in the afternoon, April 20th. For more information about the artist talk and related public events, please refer to our social media and official website.