FANG LIJUN
This All Too Human World
Hanart TZ Gallery
[Press Release]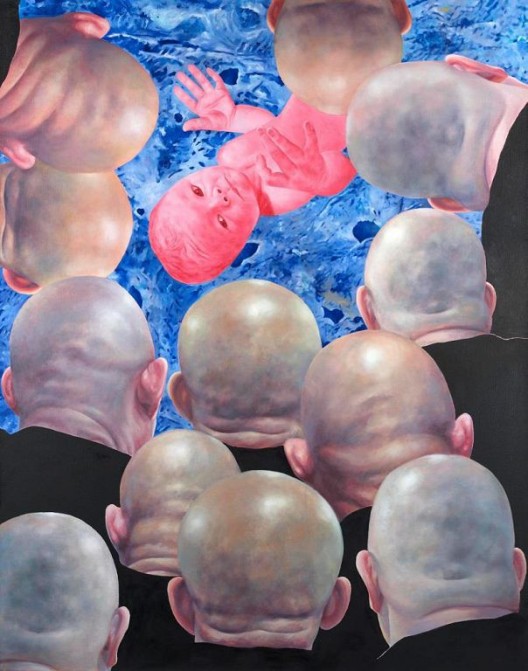 Hanart TZ Gallery proudly presents Fang Lijun: This All Too Human World, a solo exhibition of recent paintings and prints by celebrated Beijing-based artist Fang Lijun, opening on 3 November 2017. The exhibition will run through 2nd December.
Fang Lijun here turns his razor-sharp critical eye and unflinchingly honest gaze to the anxiety and pain felt by those living in the midst of a transforming society, shaped by rapid and critical change. He seeks to understand and analyse China's social transformation through a new lens, creating visual pictures that at once reflect and predict the types of ideological change engendered by this transformation.
Fang Lijun's iconic bald head appears frequently in these works as a kind of tool of self-analysis, both of society and of the artist himself: here this feature is applied to the different subjects who are inspected, organized and categorized in his pictures. At the same time, boldly imaginative visualizations and bizarre fantasies permeate Fang's world of images. In some works, ambiguous forms appear, variously resembling humans, birds or fish, while others feature neat rows of baldheaded boys, whorls and cloud-like forms, and even children who have sprouted wings and seem to exuberantly take flight. These unreal spaces and fantastical imaginings symbolize a realm of human spiritual idealism, of yearning for freedom and of the fabric of dreams. In Fang's works, the world of human reality is interwoven with the worlds of myth and of children's tales, representing the desire to construct a beautiful new world. Fang Lijun's bold imaginings and critical postulations are expressed with a perfectly tuned overlay of humour and cleverness; yet behind the entertaining narrative of every child's fairy tale there lurks an element of helplessness and pain.
Fang Lijun uses his visual strategy to investigate the pitfalls and crises of contemporary life in our time, both on the macroscopic level of human civilization and on the microscopic level of the self. His investigations into the reality and truth of contemporary existence also are conducted against a background of globalization as he directly addresses the spiritual crisis facing us today.
The new perspective Fang Lijun uses in his re-examination of contemporary reality is founded on his ability to accurately establish his own cultural coordinates, through the critical construction of a strongly personal attitude towards the meaning of life as an artist, and of a concomitant aesthetic system that is uniquely his own.