ANDIO LAI
"Found and Sound"
Mur Nomade
Hong Kong
[Press Release]
Mur Nomade presents Found and Sound, a solo exhibition by Hong Kong sound artist and performer Andio Lai, opening on November 5th as part of Art Day at South Island (Hong Kong Art Week 2016) and continuing until November 19th.
Ready-made objects, toys, musical instruments, computers and electronics are the media of Lai's artistic practice. For his solo exhibition at Mur Nomade, he selected works having strong interactive relationships with the audience, and turned the exhibition space into a playground.
Lai invites visitors to touch the artworks scattered around the room, and play with them individually or in small groups. Found and Sound deals with amusement and experiment, and blurs the frontier between exhibition and performance. The artists hopes to challenge the passive role of ' the visitor', taking the viewers-listeners out of their comfort zones and inviting them to actively engage with the artworks and somehow to become art producers.
The exhibition features three sets of Andio Lai's early and newly created works built with ready-made hardware and technology. Created specifically for the exhibition, 'Soundboards' is an interactive new-media work comprising a series of wooden boards with playable surfaces producing individual music notes. Similarly, 'Found N Sound' is a series of toy-like instruments requiring surprising and unique techniques from the player to produce sound. 'Track/Trace' is another set of sound apparatus that puts emphasis on control and adjustment in music making.
Lai invites visitors of all ages, with or without music background, to enter the playground he created for them with fresh eyes, curious ears and young hearts, to interact and perform with his works freely. For each visitor, Found and Sound exhibition aims at being a unique and different experience in visualising the possibilities of sound.
Curated by Charmaine Ching.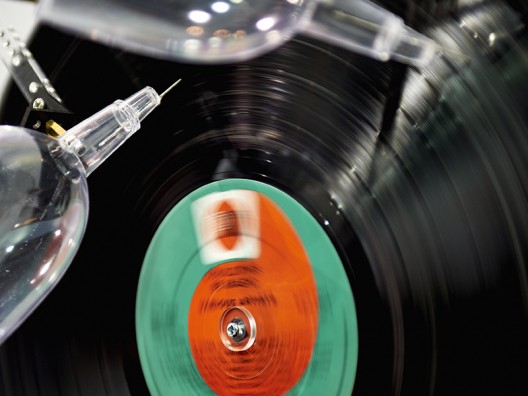 About Andio Lai
Andio Lai is a sound artist and instrument-builder, who lives and works in Hong Kong. He received a BA in Creative Media from the City University of Hong Kong in 2015 and he is currently pursuing a MA in Fine Arts at the Chinese University of Hong Kong.
Lai's works range from sound to media arts. His works use musical instruments to explore the theme of sound and human-machine interaction through referencing media technology and history. He has exhibited his work in solo and group exhibitions since 2015, such as The Act of Tracing, a solo presentation commissioned by Para Site (Art Basel Hong Kong 2016); Wood Whispers: Works by Carmen Ng and Andio Lai at Karin Weber Gallery (2016) and Project Room exhibition at Floating Projects (Microwave International New Media Arts Festival, 2016).
He has begun performing with his works since 2014, such as Sonic Anchor #24 Interfacing Dynamics organized by Contemporary Musiking Hong Kong (Hong Kong Arts Centre, 2015); Twelve, a sound and movement performance with Son Tse, commissioned by Mur Nomade (2015) and Ubiquitios Musical Expression Workshop Concert with SprayCans – Dom Chung and Green Lau (SCM HK, Zurich University of the Arts ZHdK, 2014).
Lai is a member of the Floating Projects Collective.
About Mur Nomade
Established in Hong Kong in 2012, Mur Nomade is a place for creative encounters. Managed on a non-profit-making basis, we imagine and conceive curatorial programmes such as collaborative art projects, cross-disciplinary and cultural exchanges, open calls for young curators, performances, workshops and residencies.
Our name is the French for 'nomadic wall' as we present site-specific curatorial projects in alternative venues all around Hong Kong and overseas, in addition to the regular programme of our space in the South Island Cultural District.
We collaborate with local and international artists, curators, writers and scholars. Above all, we like bold ideas, and we are convinced that confronting viewpoints and going out of comfort zones support creativity, stimulate emulation and encourage experimentation.
Art Day at South Island
Organised by Hong Kong Art Gallery Association, Art Day at South Island is part of Hong Kong Art Week from 27th October – 9th November 2016. Participating galleries on the South Island will open for visitors to visit their current exhibitions, providing quick tours & introduction. There will be special activities and events during the day, including talks, mini-tours, performances as well as an Art Treasure Hunt.