AKI KONDO
'From Island to Island'
TKG+ Projects
[Press Release]
Vast sea and blue sky, lofty rocky mountains and olive fields spread over the land.
Shodoshima Island in the Inland Sea of Japan is where I am experiencing life on the island.
Now, I am headed to another one.
In Taiwan, an island in a different world beyond the border, I will collect life and memorize it.
I want to inscribe these two islands' time onto my canvas.
— Aki Kondo
In 2016 Aki Kondo visited the Shodoshima Island in the Seto Inland Sea of Japan. Struck by the island's beauty, Kondo moved to the island for a life of simple means that has since inspired her creative practice. A collaboration project between TKG+ in Taipei and ShugoArts in Tokyo, From Island to Island is Kondo's first solo exhibition in Taiwan. The exhibition title refers to the artist's voyage to and survey of a different island, inviting viewers to imagine the other, to imagine a distant land. For this solo exhibition Kondo traveled across the ocean from her home Shodoshima to Taiwan for a 45-day residency, where she worked in her studio for almost a month to create a new body of work. Through her vivid imagination she weaves kaleidoscopic narratives of island life that straddle reality and fancy.
Painting is Kondo's creative means of expression through which she documents her physical perceptions and life experiences. Exploring space and excavating memory, the artist projects her emotions and aesthetic experiences onto polychromatic surfaces. The fictitious narratives, deeply rooted in reality and shaped by the environment, mirror the artist's empirical experiences pregnant with fantasy and actuality. The artist's physical location is of special significance. Following her move to the Shodoshima, Kondo visits Taiwan, another island, larger and unknown, anticipating once more a cultural and artistic impact on her perception and practice.
In Kondo's mind, painting is without linear temporality that characterizes the moving image. There is no sequential order within painting, yet interactions of fleeting memory, the past, and the future imbue the canvas, transforming each piece into a measure of time. On view in this exhibition is Kondo's latest series of works that both enlivens the memory of her home on the Shodoshima and pivots around her sojourn in Taiwan, where the mundane morphs into anecdotes and recollections of a voyage to a distant island in her dexterous brushwork.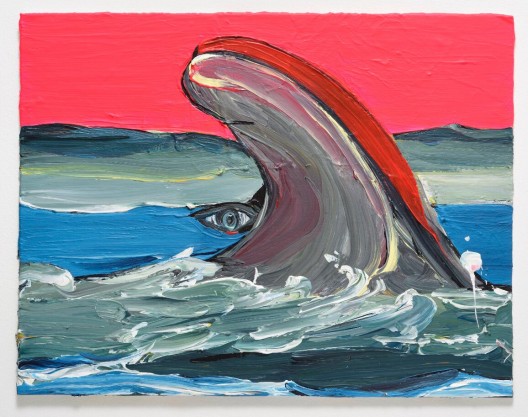 About Aki Kondo
Aki Kondo was born in 1987 in Sapporo, Hokkaido. As a young child, Kondo had an affinity and talent for painting. She caught the attention of Japan's art circle during her time at the graduate school of the Tohoku University of Art and Design. Painting is Kondo's main medium, which she experiments with such artistic media as collage, on-site performance, interactive performance, and animation. Disproportionate forms in a stirring palette occupy her canvas while the subject matter revolves around everyday life and the environment. The 2011 Tohoku earthquake left an indelible imprint on Kondo, who had been studying for her master's degree in the Yamagata Prefecture, where the most heavily hit area was one mountain away. After she graduated, her two solo exhibitions at ShugoArts both centered on the earthquake and its aftermath. In 2014-2015, she produced a film that combined animation and oil painting, through which she manifested her humanitarian concerns by telling the heart-wrenching story of earthquake survivors. She moved to the Shodoshima Island in the Seto Inland Sea after a 2016 trip there on which she was taken over by the island's breathtaking beauty. She currently lives and works on the Shodoshima. Recent exhibitions include Aki Kondo: Fly Piglet, Fly!, ShugoArts, Tokyo, Japan (2017), Physiology of Art, or Meditation of Transcendental Taste, Sezon Museum of Modern Art, Karuizawa, Japan (2017), Fantasy Access Code, Palazzo Reale, Milan, Italy (2017) and Hikari, Daiwa Foundation Japan House, London, U.K. (2016).