Frontier Re-assessment of Post-Globalisational Politics
OCAT Shanghai
OCAT Shanghai is honored to present the exhibition Frontier:
Re-assessment of Post-Globalisational Politics this December 30. This exhibition is part of the OCAT Shanghai annual young artist project, and a special exhibition on the occasion of the fifth anniversary of OCAT Shanghai. The exhibition is curated by Lu Mingjun. The exhibition invites more than thirty famous contemporary artists who employ video, installation, performance, photography and documentary language in rich expressions of their artistic thinking on regionality.
Unlike previous installments of the young artist project, this exhibition goes beyond presenting the highly stylized and timely artistic practices of the new generation of artists in recent years to incorporate several artworks that have been broadly exhibited and accepted in China and abroad into the exhibition narrative. Centering on our post-globalized world and the theme of "frontier," artists from different eras and cultural backgrounds have created works that will clash and send off sparks of new ideas, which is precisely what we wish to bring to the audience.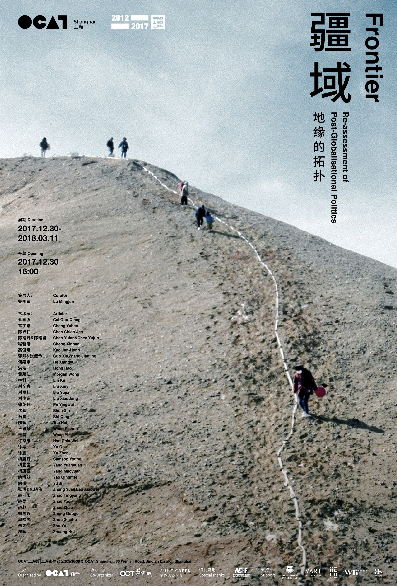 Since the 1990s, artists have been looking to such transitional terms as "boundaries", "frontiers" and "borders" to carry out regional thinking and practice in different dimensions and to seek out individual experiences through which to reexamine the world's regional structures of politics, economics and culture in a new light. These concretized practices can be seen as a form of political action, or as deviations in artistic language. Not only that, beyond pointing to their own different linguistic methods, more importantly, through these artistic practices, we can also see the complexity and convolution of history and the present, rife with absurdity and barbarism, alongside reason and caution that cannot be ignored. This exhibition strives to use artistic practice to give rise to a new structure and narrative that can open up our understanding of the many relationships between borders, frontiers and regional politics, lead us into active participation in this brutal, violent process of reality, and to engage new perceptions and imaginings of art and politics.
We would like to extend special thanks to the New Century Art Foundation for their support of this exhibition.