Dong Dawei
"The Common Reader"
Gallery Yang
Beijing
[Press Release]
Gallery Yang is going to open the solo exhibition "The Common Reader" by Dong Dawei, the first solo exhibition of any artist after the gallery just moved to its new address.
The uniqueness and the level of professionalism in Dong Dawei's past artistic practice are very impressive. Inspite of the implications of the term "professionalism", Dong Dawei tends to employ ordinary tools, plain techniques, and easily understandable forms. It is an important view of Dong Dawei in his artistic practice that unique and professional ideas need to be turned into plain forms.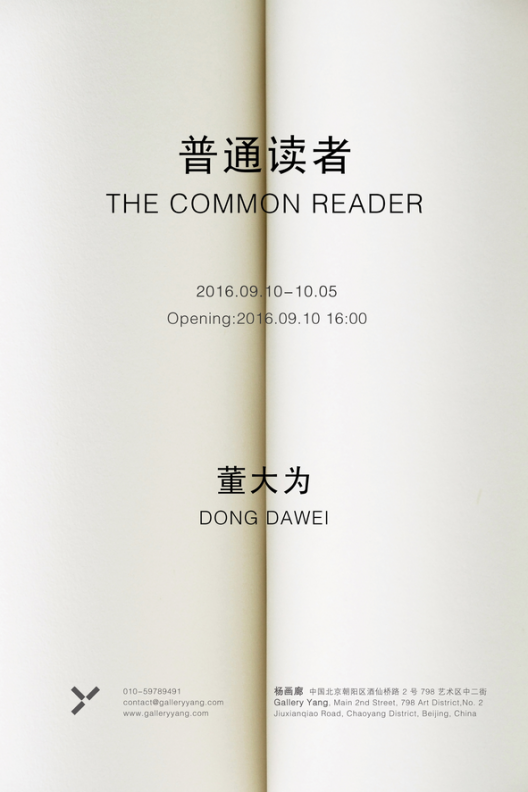 The phrase "The common reader" sprang from an essay by British writer Samuel Johnson, who held that views of writers should chime in with those of common people, for common readers still retain the common sense not yet contaminated by literary prejudices. Dong Dawei uses this phrase as a metaphor for his efforts to reach back to a simple perspective in his artistic practice.
Dong Dawei has undertaken productive practices as a common reader. In this exhibition the artist is taking a further step, with this batch of works all hovering around words, languages, books, and literature, to complete a transformation from a common reader to a creator.
Dong Dawei was born in Dalian, China, in 1980. He obtained his bachelor of arts in Luxun Academy of Fine Arts in 2004, and DNSEP with congratulations by the jury in ENSA-Bourges in France in 2011. Now he lives and works in Beijing. His works have been shown at Space Station Gallery, Beijing, China; Gallery Perrotin, Hong Kong, China; Taikang Space, Beijing, China; Chengdu MOCA, Chengdu, China; A4 Contemporary Arts Center, Chengdu, China; K11 Art Space, Hongkong, China; CAFAM, Beijing, China; Hubei Art Museum, Wuhan, China; Wuhan Art Museum, Hubei, China;Guan Shanyue Art Museum, Shenzhen, China; AMNUA, Nanjing, China; UCCA, Beijing, China; MMOMA, Moscow, Russia; House of Culture Bourges, Bourges, France; L'hospice St Roch Museum, Issoudin, France, etc.