GLENN LIGON
Debris Field / Notes for a Poem on the Third World / Sun Negro
Galerie Chantal Crousel, Paris
[Press Release]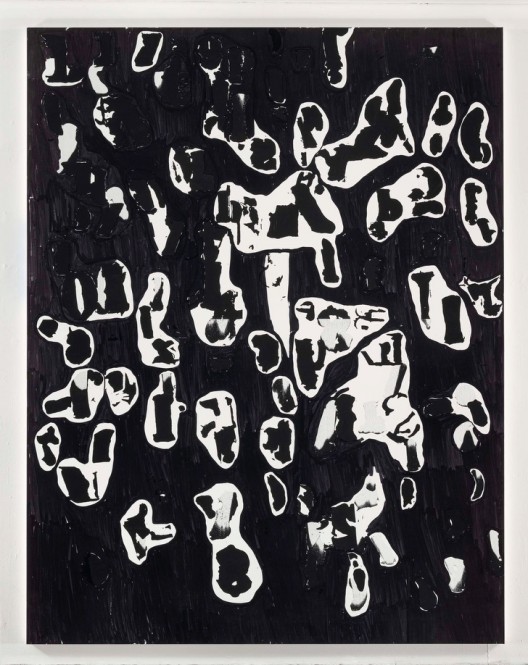 For his first solo exhibition at Galerie Chantal Crousel, Glenn Ligon will present a new series of large and small silkscreen and ink marker paintings, based on abstracted letter forms; two figurative neon installations inspired by an uncompleted project of Pier Paolo Pasolini; ten oil stick and coal dust paintings on paper quoting a Gertrude Stein text.
Since the 1990s, Glenn Ligon has been exploring American history, literature and society by turning focusing on words, their meaning and illegibility. Relying on various literary sources such as texts by James Baldwin, Gertrude Stein, Walt Whitman or Jean Genet to name only a few, his approach gives palpable density and weight to the word.
With this new body of work presented in Paris, Ligon takes text to an even more abstract level.
Whilst the quotation taken from Gertrude Stein's Three Lives is covered by coal dust in the Soleil Nègre paintings, hence becoming hardly legible, language is decomposed in the Debris Fields silkscreens into abstracted letter forms, and the universally symbolic image of the hand replaces the text in a neon installation.
Glenn Ligon (b. 1960) lives and works in New York. His work has been shown in numerous institutions including the Whitney Museum of American Art in New York, Camden Arts Centre in London, the Power Plant in Toronto, the Walker Art Center in Minneapolis, the Studio Museum Harlem, New York, the Institute of Contemporary Art in Philadelphia, and Kunstverein Munich. He has also participated in major group exhibitions such as the Berlin Biennal (2014), Istanbul Biennal (2011), documenta XI (2002), Gwangju Biennale (2000), the Venice Biennale (1997 and 2015) and the Whitney Biennial (1991 and 1993). A catalogue will accompany the exhibition, with an essay by Sara Nadal, professor, writer, curator and poems by Gregg Bordowitz, artist, writer and scholar. It will be published in October 2018.
A panel talk with the artist and Sara Nadal will take place at the gallery on September 11.