Growth
ART LABOR Gallery
[Press Release]
ART LABOR Gallery is pleased to kick off Shanghai's Fall art season with a dynamic group show featuring artists from China, Canada, Holland, the USA, Japan and Australia. En Masse are an internationally recognized art collective from Montreal, with a constantly changing roster, and who collaborate with other local artists wherever they are commissioned to create. They will team up with Chinese artists Pan Jianfeng, who has had a long a successful career creating his definitive ink paintings and has shown in a range of museums across China and Europe, alongside recent MFA CAFA graduate, Zhang Wenzhi, who is considered one of the top artists in the class of 2018. This collaboration will be rounded out by Australian artist/creative Allan Marshall, a noted DJ/Designer and graphic artist, co-founder of Yeti production.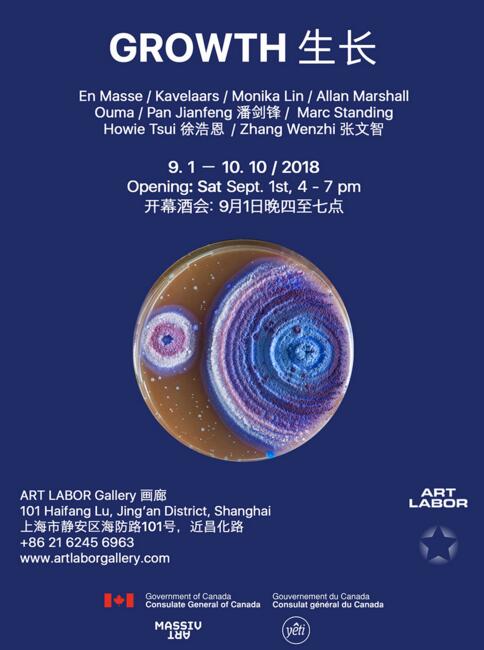 GROWTH will also feature installation from American artist Monika Lin, the work showing for the first time in Shanghai after a solo exhibition in NYC. On A special note, a brand new digitally composed piece from Hong Kong born, Vancouver based Canadian artist Howie Tsui, a little taste of brand new works just ahead of his major museum show at OCAT in Xi'an in November 2018 featuring his award winning Animation work, "Retainers of Anarchy". A highlight of the show will be an ever expanding installation painting work from Japanese artist Ouma, a former veterinarian, who was in residence in the Swatch Peace Hotel earlier this year, and who brightly coloured works were collected by many, including Swatch. And lastly we will show an unseen work from Dutch artist/roaming free spirit Kavelaars.
We promise you, as ever, a fabulous worthy exhibition, so please join us September 1st from 4 – 7pm, En Masse will be there and the artists will mostly be in attendance and will be finishing their massive installation on site the day of!
Our sincere gratitude for generous support from the Canadian Consulate, and also the assistance of MASSIVart out of Montréal, Québec, Canada.