"High Tension: 8 Winners of the Marcel Duchamp Prize", Red Brick Art Museum
[Press Release]
May 28, 2017, "High Tension: 8 Winners of the Marcel Duchamp Prize", will open at Red Brick Art Museum. A key event in this years Festival Croisements, organized by the French Embassy in China. The exhibition is curated by Alfred Pacquement, former director of the Musée national d'art moderne, Centre Pompidou, and assisted by Daphné Mallet.
The exhibition presents eight internationally acclaimed artists: Kader Attia, Latifa Echakhch, Cyprien Gaillard, Dominique Gonzalez-Foerster, Laurent Grasso, Mathieu Mercier, Julien Prévieux and Tatiana Trouvé. All have been winners of the Marcel Duchamp Prize.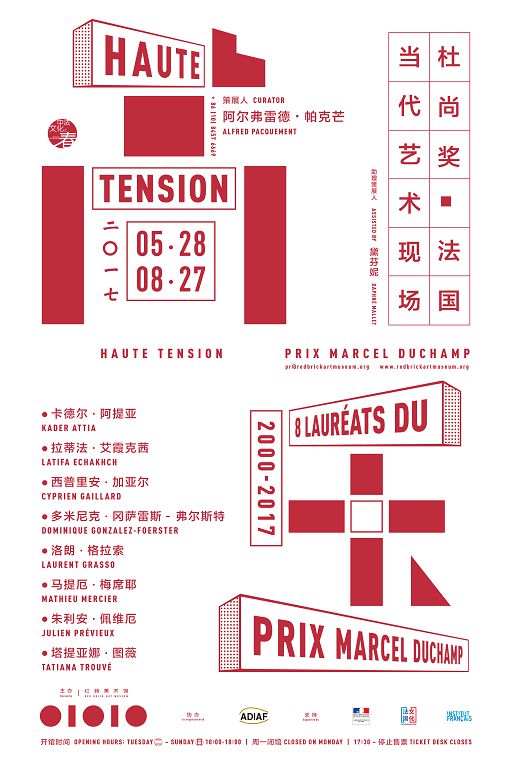 The exhibition takes "Tension" as its theme, or more suitably, "High Tension". In the French language the word "Tension" has many potential meanings, but here the artists' creative methods are seen to closely fit with the title "High Tension", insofar as these artists reject a neutral attitude to the contradictions and conflicts of contemporary society. Through sculpture, painting, video, installation and other unique visual languages the artists present personal images of our world, with most of the works exhibited for the first time in China.
The Marcel Duchamp Prize was founded in 2000 by the Association for the International Diffusion of French Art (ADIAF) and has become one of the world's most influential art awards.
In addition to the works of the eight award winning artists, the exhibition also presents a comprehensive review of the history of the Marcel Duchamp Prize, including information on almost 70 previously nominated artists, from 2000 to 2017. Images, catalogs and other archival information are brought together to present the value of this art award and its role in the art world, which can undoubtedly stand as a reference to the Chinese art world today.
The exhibition is hosted by the Red Brick Art Museum, co-organized by ADIAF, and supported by the French Embassy in China. The exhibition will run through August 27th 2017.