Hu Liu Solo Exhibition: Dark Wave, ShanghART
[Press Release]
"Dark Wave doesn't speak about blackness. Dark Wave is the whisper in the dark era."
ShanghART is pleased to present Hu Liu's first solo exhibition at the gallery, "Dark Wave" , opening on 18th March, 2017, on the second floor of the West Bund new space. This exhibition showcases the artist's pencil drawings from 2007 to 2016, and continues to 6th May.
Hu Liu has been sticking to pencil drawing as the way of her artistic practice. Each piece requires several months to complete and consumes thousands of pencils. Through her works, Hu tries to create another way of viewing: black, as a light-absorbing colour, interacts with the refraction caused by graphite of pencil. Only by taking a close look while wandering through, viewers can observe the texture and veins hiding behind the black. Some hints and lingering marks of the Renaissance and the Northern Song Dynasty painting can be traced in Hu's drawings. In Hu's works, single-point perspective from the Renaissance and the scattered perspective from traditional Chinese Shanshui (landscape), are accommodated and deconstructed, which contributes to a scenario where dimension is eliminated. The dark wave rushing down meditates Taoism's "know the whiteness, keep the blackness" ( means, who knows how white attracts,yet always keeps himself within black's shade).
The Album of Flowers series in the exhibition are Hu Liu's earlier works in 2007. "The spacial and temporal changes caused by the growth of life-form is marvelous and magical, like the creation of artwork; they are all driven by the forces generated from the primitive power of life. Comparing with precise logical analysis, the apperception and the following of intuition is the most important." In her recent large-scale works, drawings become the way that the artist views the world. Whether the fibers of leaves from earlier works, or the strokes in recent works like Starry Sky, Wave, Grass, etc., the same logic runs through. In the darkness, entering into deeper darkness, is Hu's groping attitude in the dusky world. Just as the preface implies, "Wherever I turn, the dark wave rushes down on me."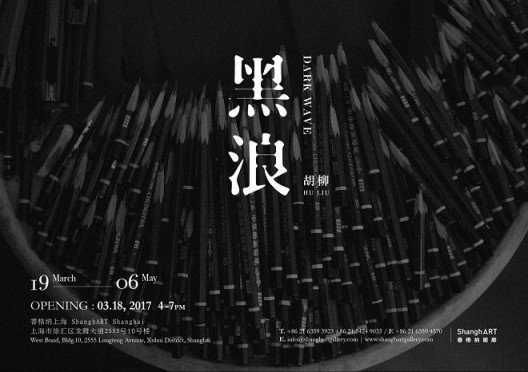 About Hu Liu
Hu Liu, 1982 born in Xinyang, Henan Province, graduated from Xi'an Academy of Fine Arts in 2004. She now works and resides in Beijing. Main exhibition includes: 10th Shanghai Biennale "Social Factory",Power Station of Art, Shanghai, China (2014); ON/OFF, Collective Practice in China, UCCA, Beijing, China (2012); Shanshui, Museum of Art Lucerne, Luzern, Switzerland (2010); The Temperament of detail, The Red Mansion Foundation, London (2007); Refresh: Emerging Chinese Artists, Shanghai Zendai Museum of Modern Art, Beijing (2007); Jellytimes, Shanghai Art Museum, Shanghai, China (2007). In 2013, Hu Liu received the award of 2013 New Youth Pioneer Artist of the Year.