Huang Yongping · Shen Yuan
Hong Kong Foot
Tang Contemporary
[Press Release]
Tang Contemporary Art is proud to announce a new exhibition for Huang Yongping and Shen Yuan, entitled "Hong Kong Foot," which will be shown from December 20, 2017 to January 27, 2018 at Tang Contemporary Art's new tenth-floor space in H Queen's.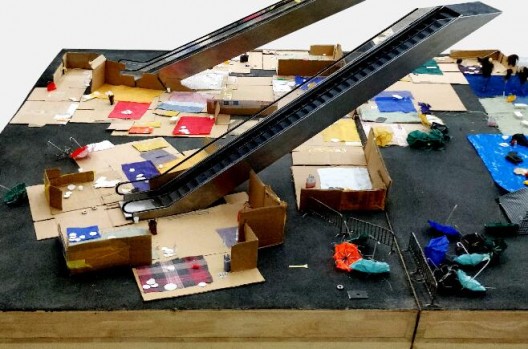 This exhibition will present three new works by Huang Yongping — Les Consoles de Jeu Souveraines, H.K/La Peau de Chagrin, and Wax Seal — as well as Shen Yuan's Yellow Umbrella/Parasol. The works exhibited have no direct relationship to the title, but the title does reflect the artists' interest in Hong Kong's regional politics. "Hong Kong foot" is the Chinese colloquial name for a fungal infection of the foot, because early Western missionaries noted that many people in Hong Kong had this condition. When Hong Kong was ceded to the British, many British soldiers also contracted this infection. Even later, many Shanghai people fleeing south during the Japanese invasion of China also developed this fungal infection. Huang Yongping has pointed out that "what we most associate with Hong Kong is the infection 'Hong Kong foot'. Hong Kong's greatest weapon is giving the events or things it infects with Hong Kong's characteristics."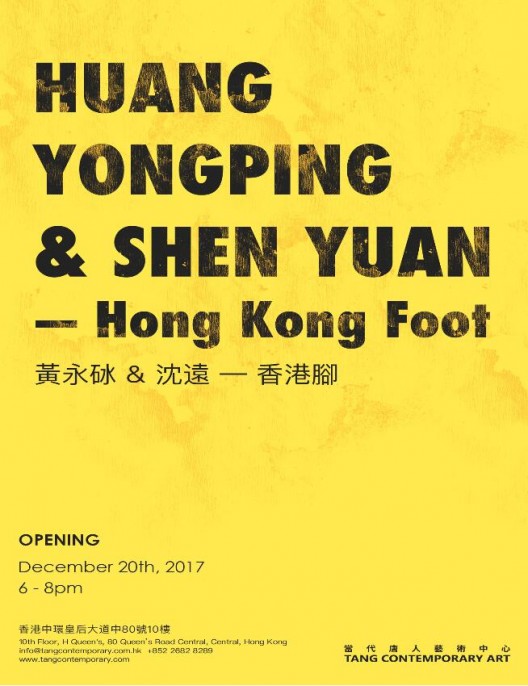 Huang Yongping's 1993 work Theater of the World became the key piece for "Art and China After 1989: Theater of the World," a major retrospective of Chinese contemporary art held at the Solomon R. Guggenheim Museum in New York. His recent works follow the ideas of Theater of the World and relate to the concepts of tension and conflict: Baton Serpent at MAXII in Rome in 2014, Baton Serpent II at Red Brick Art Museum in Beijing in 2015, Baton Serpent III: Spur Track to the Left at the Shanghai Museum of Contemporary Art in 2016, Empires at Monumenta held at Grand Palais in Paris.
From religious differences to territorial disputes, from the violence of political conflict to the sudden rise and fall of global empires… in Les Consoles de Jeu Souveraines (2017), we see what looks to be an amusement park, with animals and puppets, as well as revolving decorations and what looks like a topographical map of Hong Kong and more than twenty surrounding islands. The revolving horses imply "The 'Ruler' as a soul in a national machine." H.K/La Peau de Chagrin (2017) is a donkey skin covered in Arab symbols, draws its inspiration from Balzac's novel.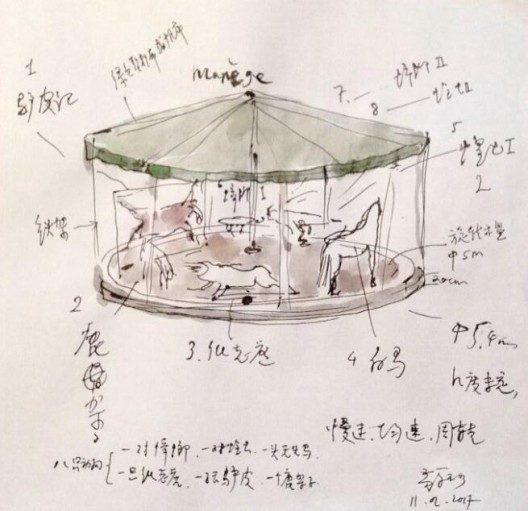 Shen Yuan's The Yellow Umbrella/Parasol (2017) Shen Yuan's similarly explores the changeability of urban space and the pervasive crises that lie beneath apparent calm. In contrast to her previous methods, used in Diverged Tongue (1999), a gigantic toy whistle that threatens to swallow up the space, and The Dinosaur's Egg (2001), a group of unnerving toys hatching from a massive chocolate egg, this new work concentrates an inerasable memory into a work table, or a toy-sized "military sand table" and causal handmade methods, in order to re-focus attention on society and its changes.
Shen Yuan was also a member of the art scene during the '85 New Wave', and participated in the 1989 exhibition "China/Avant-Garde" at the National Art Museum of China. She later moved to Paris, where she lived and worked. The cultural fracturing and identity issues of her experiences as an immigrant became a new starting point for her work. Cultural identity shifts, historical memory, and interactions between contexts have given her work richness and profundity. In her 1994 piece Perdre sa salive, knives support a row of frozen tongues sticking out of the wall. As the tongues melt into spittoons, the knives start to protrude. Because Shen has a distinctly female perspective, she often draws on her experiences of everyday life, and her work is full of fine emotion and keen observation. In The Dinosaur's Egg (2001), she cleverly uses beaver toys – often the prize inside Kinder chocolate eggs – representing cultures from around the world to discuss the importation of cultural identities and values.
This exhibition features works that these two artists have made specifically for Hong Kong, but these works are also an experiment with this unique context, presented to the Hong Kong art community as Tang Contemporary Art moves into its new space in H Queen's.