Hunsand Space – "One Day's Freshness
[Press Release]
Hunsand Space is very honored to present "One Day's Freshness: Chen Jie, Lu Chen, Zhang Yunyao and Xia Yu", group exhibition of four artists on 7 May 2016.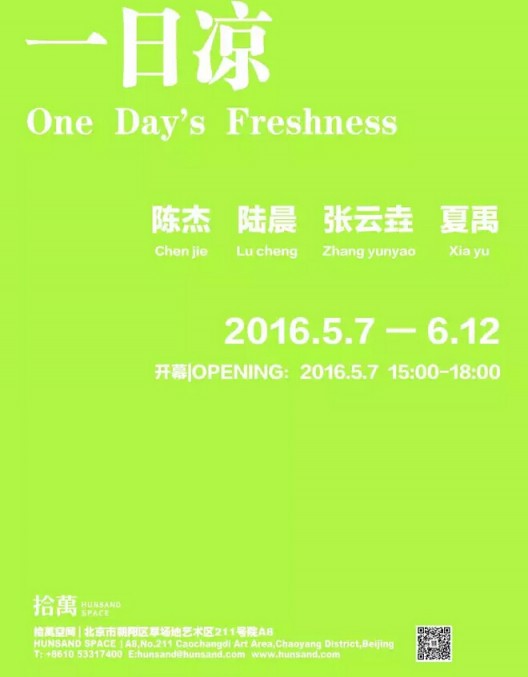 art gallery, 艺术画廊, artist, 艺术家, art, 艺术, 德萨北京, China, 中国, randian-online, randian, 燃点, 2016,
Concept is infinite, so understanding its significance is not a business once for all. But the journey of capturing such significance, though inspiring, is also difficult. The established artistic experiences and conceptual texts sometimes are obstacles, making it hard for us to explore the vitality of artistic creation — which is the point of doing art today. Concept will protect us when facing death.
To creators, the rich artistic experiences and mature system of concepts are both channels and barriers to expression. The only thing that is constantly changing is daily experiences, and to get over the barriers, the solution is obtaining vitality from daily life, keeping artists sensitive to their surroundings, and minimizing the influence of experiences and concepts. Vitality is what makes an artwork appealing.
Chen Jie and Lu Chen are two amateur painters. Here they are described as "amateur" as we are taking traditional ink and brush techniques as standards of "professional painters". In traditional ink painting training system, there will be a long and concrete interim period for a painter to make real progress. The two painters tap into the Chinese painting traditions, while pursuit more personalized and daily-life-oriented subjects and contents. They do not have any burdens, and love to make fun of themselves. Therefore, you can find their works quite free, amusing and lively. And Lu Chen's personal tastes on music also unreservedly manifest themselves in his calligraphies and paintings. Vitality comes with such fusion.
Zhang Yunyao and Xia Yu both received professional training in painting system. They both feature top-notch techniques. Consciously or unconsciously, you can feel the stickiness and subtlety of life out of the images they paint. The details of life are focused, enlarged and deliberated in these paintings. These make the audience exposed to the details constantly and keep motion sensing.
When experiences disappear into formless elements only in one day, where you could just go with the flow, feeling no anxiety or compulsion. You are allowed either to press ahead on your own will, or be diligent and prudent as usual. The four artists focusing on different art categories just adapt themselves with the daily changes, and enjoy every single day they feel at ease.
Hunsand Space, founded in 2014, is located in No. 211Caochangdi Art District. Hunsand Space, remaining vigilant towards regular cube-shaped exhibitions, is hoping to extend the current syntax and semantics of contemporary art expressions to a wider aspect. Through our on going exhibitions and projects, we aim at stimulating an exploration of the neglected present culture and to bring the merit of contemporary art ideology to you and me.