J: GALLERY Serial Exhibition "Total war or Nothing at all" Episode 2"NOISE"media Press Release
J: GALLERY is honoured to present "Noise", the second episode of the serial exhibition "Total War or Nothing at All", curated by Chen Chenchen, young artist, curator and musician. Following the successful opening of "Total War Or Nothing At All: Hot" at J: GALLERY, the curatorial team has continued to work on the second episode of this serial exhibition. The work-selection programme has been upgraded, and a new patch of "young jury" has been added. After three rounds of voting among over 40 proposals submitted, the artists Li Tingwei, Shang Tun, Huang Yenchao (Taiwan), Artlaxy x Hua Qingqing (art group), Zhang Ying, Yu Tianwen, Ding Xi, would be joining us for this exhibition. The venue will be relocated to a most surreal virtual space: CAPO, designed by Neri&Hu, located at the attic of a 1911 building in Rockbund, Shanghai. This exhibition seeks to distribute a sphere of noise into the medieval atmospheric space of CAPO. There will be exciting performances at the opening. The theme of this episode is "noise". Noisy surrounding is commonly recognised as a terrible environment for exhibitions, which arouses biological and psychological discomforts in the audience. The challenge of creating responsive works has therefore increased, compared to our first episode "Hot". The artists would seek to confront this extreme environment with their works.
Exhibition opens on 10 November 2016, until 16 November 2016.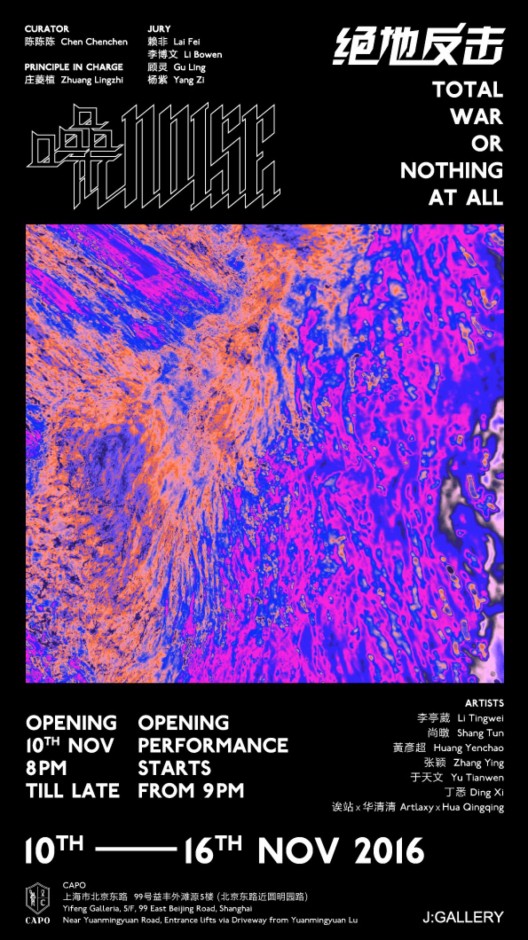 About CAPO
Designed by the renowned architecture studio Neri&Hu, CAPO locates at the attic of a 1911 building in Rockbund. Inspired by the mystic atmosphere of ancient basilicas, the entire space of CAPO embraces all traditional elements in its modernist spatial design: with its brick and vintage wooden floor, the space is entirely soaked in medieval style. CAPO offers authentic modern Italian cuisine in an exquisite space., the interior is inspired by atmospheric Roman basilicas, playing with traditional aesthetics in a space of contemporary style, its spacious roof terrace offers brilliant view of the night Shanghai. Excellent environment and the exquisite cuisine from Italian chef have made CAPO one of the top Italian restaurants in Shanghai.
Concerning "Total war or Nothing at all"
Statement by Chen Chenchen
Starting from a most general point, if we mark a white-boxlike space as zero – which serves as a line of demarcation, any substances put into this space prior to art works will be counted as minuses: a fire exit reduces 5 points, a window 10 points, dim lighting 20 points. However, when a proper work enters the space, such minuses would be transformed into pluses.
In order to produce a work that embodies vital creation, some stimulus need to be introduced in – in this case, we choose to take up some extreme methods of thinking. We create a space that is packed with "messages" – by which we refer to anything that might arouse intellectual and sensory reactions. This space, with the absence of artworks, is therefore filled with negative messages, overloaded by minuses. However, this situation is intentionally devised in order for the artists to transcend it into a space beyond expectation, ideally a pleasure-inspiring one, through their artistic creation. For artists, there seems no such "negative environment" – constrains are manipulable kite-strings.
In order to legitimise the above mentioned minuses to make sense, we are to produce some sorts of extreme environments that human beings physically dislike – a place that is biologically unbearable or even pushing people to flee, a kind of space that is atmospherically richer, relationally more intertwined, molecularly more reactive, spatially more inspiring and vibrant. We normally have a presumption of the amount of messages we gain per unit of time. In a situation where the messages we received become overloaded, negative responses will be generated, such as anxiety, fidget and pain. Such negative reactions are exactly demonstrations of the sufficiency of messages that this space encompasses. What we need is to devise a kind of interpretative agency that grants us the ability to transform minuses to pluses, to transcend extreme environments into a pleasure-inspiring medium.
Take Masochist for example, biological reactions occurred during the process of being abused are transparent: it is opened to share with anyone through practicing on them the same method. However, our judgements could vary due to diverse interpretation of this Masochistic experience. An environment that appears catastrophic for some people, might simultaneously be a medication for some others – such value judgments are personal, derived exclusively from our own interpretation. In reimaging the vision of purgatory, envisaging ascetic practices and tortures, a perceptional Nirvana begins to take shape.
Artists' creative works offer trial-and-error attempts to prepare the audience for entering this sort of "extreme environment" and to coexist with it. Such artistic creation would thus generate a force to tame a "barricading-Sphinx" and to domesticate a "savage-Cyclops", transforming a seemingly terrible situation to a sought after "theatre stage". These artworks represent not only the artist's ambition to justify extreme environments, but also a transcendence of the Freudian Pleasure Principle – the instinctual seeking of pleasure and avoiding of pain in order to satisfy biological and psychological needs. It is a trust of our imagination and a thoroughly opened stance towards the world we are in. Through artistic creation, the artists in fact not only have undergone an internal meditation, but also offer an exemplary solution to the negative side of the external world. Creative force is used as a weapon against the negative environment, to break through the barricades and to open up diverse paths of understanding and interpretation. In this exhibition, art works serve as a facility that converses negative energies to positive, an agency that offers an "upgrading patch" for our ordinary interpretation of extreme situations, a compensation without affection. Their presence transcends the extreme environment in the gallery space, so that we find such environment is co-existable, feasible, and even desired.
A Little Fiction concerning "Noise"
Text/ Chen chenchen
Chen was the only person I knew who claimed to have no interest in music. That was rather odd indeed, could there be anyone who does not like music? Nevertheless, he shared his thoughts to me. Chen asserted that a human being is fundamentally based upon a soliloquy, a voice located in one's mind, generally known as self-reflection. However, because of the singular nature of our perceptive input, external sounds and voices could affect the result of our "self-reflection". To put in Chen's own words, "impurities have fused into self-reflection". As people incline to find a quiet place to ponder, a complete incarnation of the self requires a quite theatre.
In Chen's definition, whichever sound that disturbs his "soliloquy" becomes the so-called noise. He even went to research on the present definition of the study of noise theory, as well as the narratives of the ways of hearing. After these comparisons his thoughts about music stayed the same.
"You have devoted yourself to music when you listen to it, you have lost yourself!" Chen always became irritated when he witnessed those hippies who had frenzy passion on music. Of course, though, people did not take Chen's claim seriously. The reason we listen to music is exactly because that we wish to submerge ourselves into something – just like swimming the backstroke, it is a momentary suspension of gravity, a temporary diversion of responsibility.
A couple of months later, Chen claimed passionately he was carrying out some sorts of "self"-enforcing training, which enlarges the sound volume of the soliloquy, or "self-reflection" in his mind. He could now hear the voice of his mind clearly even in a noisy environment. This interested me, since he downgraded his "ego" into "volume", an intriguing quantisation.
A few more months later, we heard about Chen's death. According to the friends who were with Chen in his last few days, he was suddenly bored of his soliloquising voice one day, which had become too coarse to listen. However, his inner voice had been trained to become an extremely loud volume, each stroke of self-reflection became a big bang. What's more devastating, Chen had no idea how to block this voice. The more he thought the louder his inner voice became. Desperation grew in him, and he was send to death by this "self-reflectional" voice.
About the Jurors
Gu Ling is an art writer, translator, editor, curator, her works focuses on individual creation, the ecology of agency and interdisciplinary practices. Commissioned by Van Abbemuseum in the Netherland, Gu Lin edited "Li Mu: Qiu Zhuang Project", its English edition was issued on September, 2015. Gu Ling was Head of Market Development and Assistant to Director at Shanghai Rockbund Art Museum, she was also director of Chinese Digital Art at the British Council. Gu Ling has been an editor of "Radian" since 2012. She is now Director of Communications of Shekou Design Society (a new art and culture platform founded by China Merchants Shekou Holdings, supported by the UK V&A Museum), which is scheduled to open on 2017.
Lai Fei, senior editor of LEAP magazine, is based in Beijing and has been working on editing, writing, translating and curating. She had 4-year's study on video art in Northeast, USA. Before officially entering her career, Lai Fei had written on music, architecture and fashion, in several unexpected incidents she also worked as DJ, and was engaged in filmmaking. Lai Fei has a continuous interest in more general and mass cultural phenomenon outside the contemporary art field.
Li Bowen, based in Beijing, was graduated from Goldsmith, University of London, and had 8-years training experience in Classical Ballet. Together with Liu Wei, Li Bowen curated "Nocturnal Friendships" at Lehmann Maupin Gallery, Hong Kong. His wishes to receive an issue of Glas in the coming Christmas.
Yang Zi is a writer and curator, graduated from Nanjing University, department of philosophie and religious studies. He lives and works in Beijing now. Yang Zi had worked in Beijing LGBT Centre and LEAP, now works at curatorial department, UCCA. He has been writing extensively for art media. The exhibitions Yang Zi curated includes "La Chair" (A+ Contemporary, Shanghai, 2016), "Aint No Chicken Outside the Canton" (REFORMERart, Shanghai 2016), "PAPAPA: Goodbyr Bubble Paper" (Space Station, Beijing, 2015), "Between Us" (Grand Space, Beijing, 2015).
About the Artists
Li Tingwei was born 1989 in Yantai, Shangong. She was graduated from Universität der Künste Berlin, and had previously studied at Hunter College, NYC and Tongji University. She is currently pursuing Meisterschueler title at the Berlin University of Arts. Tingwei works with objects, videos, sound of all kinds and engages in researching mental conditions and health issues. Her current work addresses on our self- improvement , body consciousness and the development of self-care & self-help in industrialising process of the society. She has shown in Galerie Gerken Berlin, Flowers Gallery NYC, Villa Renata Basel, EGG Gallery Beijing, Intelligentsia Gallery Beijing, Kreuzberg Pavillon Berlin among others.
Shang Tun graduated from mural painting department, Central Academy of Fine Arts, now lives and works in Shanghai, Guangzhou, Hong Kong. His recent exhibitions and academic conferences include "Metabolism", live commissioned work at Longli New Media Art Festival theme exhibition (Longli, Guizhou, 2016); "Another Wave", live commissioned work (Daojiao, Dongguang, 2016), "Urban Transformation: Shanghai Jingan International Sculpture Exhibition" (Shanghai, 2016), "BANANA, BANANA" (JNBY Concept Store, Beijing, 2016), "Order & Fantasy: Art and Technology Cross-Border Forum" (UCCA, Beijing, 2016), "Contents" (solo at Don Gallery, Shanghai, 2016), "Tongxi: The Third China International Installation Art Forum and China International Installation Art Exhibition" (Today Art Museum, Beijing, 2016), "We: A Comminity of Chinese Contemporary Artists" (Chi K11 Gallery, Shanghai, 2016), "Jimei x Arles: East West Encounters, International Photo Festival" (Yuanbo Garden, Xiamen, 2015), "Out of Xiaowei" (CAFA Art Museum, Beijing, 2015). Shang Tun's public collection record includes CAFA Art Museum and Ai You Foundation.
Huang Yenchao was born 1985 in Taipei, Taiwan. He graduated from Department of Fine Arts, Private Chinese Culture University, and subsequently gained an M.A. in Plastic Arts, Tainan National University of the Arts. He lives and works in Taipei now. Huang Yanchao works across painting, video, performance and other multi-media arts, his works initiate from the body itself, imagining his body to become a sensor, looking at a series of transitions which transforms from the body sensor to receiver, even to processor. In a digitalised contemporary society, he contends that the cognitional reaction of the body is likely broken from the perceptional signals, this inspires his multi-dimensional creative works. Huang Yanchao's work has frequently shown in Taiwan and Shanghai, "When you are here inside" won the 2011 Kaohsiung Prize, Taiwan; his "Telecom. Passive body" won 2012 Taipei Arts Awards.
Artlaxy was founded 2013 at School of the Art Institute of Chicargo, group members include artist, designer, music record company director, etc. Artlaxy concerns about art education in a globalised social background, for them daily art educational activities can be seen as a long-term art programme. As an indie- and avant-garde culture incubator, Artlaxy looks across the fields of art, design, music and education, its group members have widely shown both domestically and overseas. They now live and work in Shanghai and Chicago. Hua Qingqing graduated from China Academy of Art in 2015, who held her solo exhibition "Can you see me?" at Art Centro Gallery in State of New York, August 2015. Hua Qingqing lives and works in Shanghai and Hangzhou now.
Zhang Ying was born 1984 in Shangdong, graduated from China Academy of Art with a B.A. degree in Mixed-Media Art in 2007. He lives and works in Beijing now, pursuing an M.A. degree at the School of Experimental Art, Central Academy of Fine Arts. Zhang Ying's work primarily focuses on installation and video art, a series of conceptional dismantlement and construction through his perception of real life, and thus subjectively interferes and generates fictional "virtual event". His has shown in Shanghai, Beijing, Hangzhou, Ulaanbaatar.
Yu Tianwen was born 1984 in Jilin, Heilongjiang. He was graduated from Jilin University of Arts, now lives and works in Beijing and Xi'an. Yu Tianwen's interests in social issues of Chinese urban migrants, identity, mass entertainment and consumption is expressed through his installations, performances and videos. The artist enegages with Chinese social debates in a non-target wanderer's journey, his creations are initiated from the scenes and issues he has witnessed during his journey. In this exhibition, Yu Tianwen's work will bring to the audience a viewing experiment, presented in a humorous way, through engaging with his work, the audience are also invited to take a serious medication and reflection upon themselves in daily life. Yu Tianwen has shown in CAFA Art Museum, Tian Jin Art Museum, Daegu Art Museum among others.
Ding Xi was born 1985 in Yichang, Hubei. She is a designer now, lives and works in Shanghai. She also writes, founded a band and frequently carries out performances. Ding Xi's creative works engages with performance and installation, her performance art explores the role of an individual in a collective society, taking cases that are ambiguous in their signifying nature as clues, seeking to generate imaginations with more possibilities. Ding Xi's installation focuses on the diversity and dialectics of individual perception. Her works has recently shown in Power Station of Art, Shanghai and Brew&Blend Art Festival, Shanghai.