JAMES WHITE
Bodies
Blain Southern, London
[Press Release]
Blain|Southern presents BODIES, an exhibition of new paintings by James White. White's grey scale paintings explore everyday minutiae and hint at something that has happened or may occur. Fleeting moments from intimate, domestic scenes are paused, extended and captured by the artist in meticulous detail.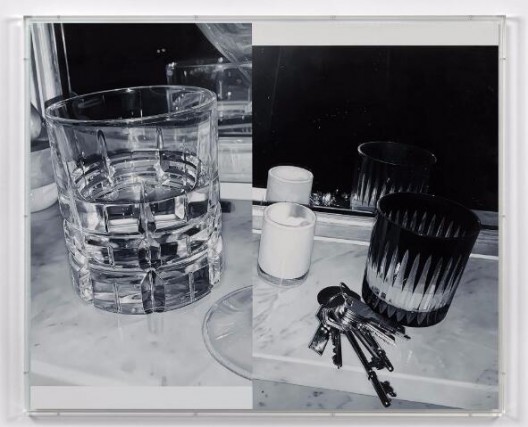 The references for the paintings are the artist's own photographs; stripped of their original colour, the painting shifts focus onto subject and technique. Reminiscent of crime scene photography, 'The paintings are forensic in the manner of their image-capture, the documentary-no-expense-spared monochrome…'.1 Tightly cropped, they are suggestive of incidents beyond the frame, alluding to a human presence without depicting any individuals.
The subjects of the paintings, the metaphorical BODIES, are the drinking glasses that become surrogate participants. Half-full, half empty, bearing marks and traces, they are a body of evidence. The mundane setting they sit within gives the scenes an air of familiarity, they could be everywhere and anywhere. In a departure from his earlier works, White now fractures the composition to add a new level of psychological disquiet.
'Photography, purportedly, captures time by killing a moment dead when the shutter clicks. James White asks us to look again, making that moment not decisive, but endless, elusive and always – just – out of sight'. 2
The exhibition is accompanied by a catalogue with 50 full colour plates, documenting BODIES and works from the past five years, with a foreword by Craig Burnett, an essay by artist Jake Chapman and a short story by author Ned Beauman.
1 Chapman, J., 2017, A Vivisection of Sight, The Obdurate Paintings of James White
2 Burnett, C., 2017, Foreword, in James White, BODIES