KAWS: WHERE THE END STARTS – Yuz Museum
[Press Release]
Yuz Museum, Shanghai proudly announces a major survey exhibition of the work of Brooklyn-based artist KAWS (American, born 1974) on view at Yuz Museum, from March 28 to August 13, 2017. It is not only the largest KAWS's exhibition in China, but also his first survey exhibition in Asia. Jointly organized by Yuz Museum and Modern Art Museum of Fort Worth in close collaboration with the artist, KAWS: WHERE THE END STARTS will feature his key paintings, sculptures, drawings, toys, and advertisement interventions to examine KAWS's prolific career in depth, revealing critical aspects of his formal, conceptual, and collaborative developments over the last twenty years.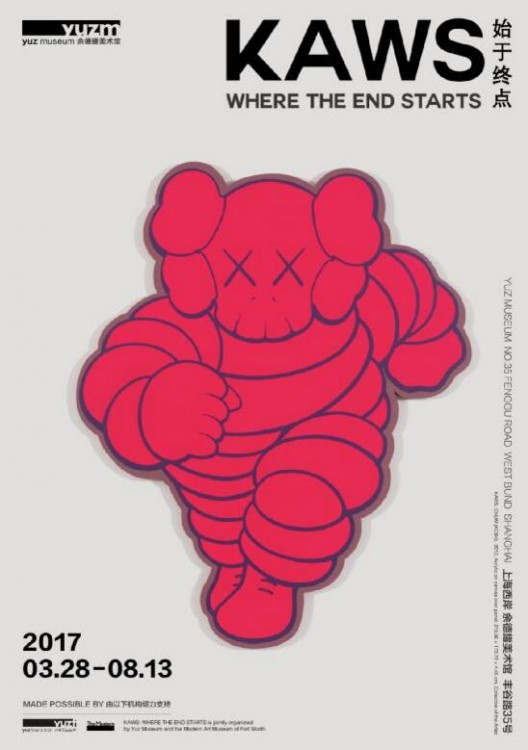 Spanning the worlds of graffiti, pop art, and consumer culture, KAWS's bodies of work are highly charged, each conveying his underlying wit, irreverence, and affection for our times, as well as his agility as an artist. He has primarily looked to and appropriated from pop-culture animations to form his artistic vocabulary for his paintings, drawings, and sculptures. Now well known for his larger-than-life sculpture and hard-edge paintings that emphasize line and color, KAWS's cast of hybrid cartoon/human characters, with similarities to popular cartoon figures and logos, are perhaps the strongest examples of his exploration of humanity. These figures have amicable names – Chum, Companion, Accomplice – and express and provoke an array of human emotions, from sad, overwhelmed, pathetic, and weary, to shy. They reflect emotions and situations we can empathize with in presentations that are balanced with humor, heartening in their cartoon aesthetic.
This exhibition is made possible by Yuz Foundation, in partnership with the Modern Art Museum of Fort Worth.