KAZUO SHIRAGA
Lévy Gorvy Gallery
London
[Press Release]
Lévy Gorvy is pleased to present an exhibition of Kazuo Shiraga's paintings in London, marking the artist's first solo exhibition in the city in a decade. A selection of Shiraga's forceful gestural canvases, mostly dating to the early 1960s, a period when the artist was gaining international attention, will be on view beginning 3 February 2017. This marks the inaugural London exhibition under Dominique Lévy and Brett Gorvy's recently announced partnership; this is the gallery's second exhibition of Shiraga's work, following the critically acclaimed 2015 exhibition, Body and Matter: The Art of Kazuo Shiraga and Satoru Hoshino in New York.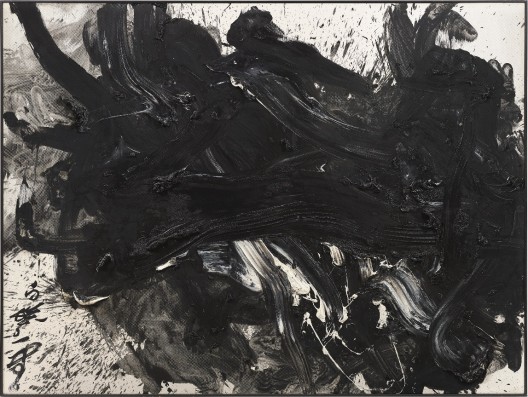 Kazuo Shiraga, Höhö, 1991, oil on canvas, 76 3/8 x 102 inches (194 x 259 cm), signed and dated (lower left). © Kazuo Shiraga
courtesy Hisao Shiraga. Photo by Tom Powel Imaging Inc.
Shiraga emerged as one of the most prominent members of the avant-garde group Gutai with his sensational 1955 performance, Challenging Mud. In a work that has become one of the canonical touchstones of postwar Japanese art, the artist used his entire body to aggressively manipulate a plot of mud, enacting a struggle between human form and material. This performance followed Shiraga's foot painting practice, begun in 1954, in which the artist used his feet to paint powerful and energetic abstract forms. He would set a canvas on the floor of his studio and, suspending his body from a rope hung from the ceiling, push and kick paint applied by his wife, Fujiko Shiraga, in dynamic strokes over the canvas' surface. Shiraga continued to paint in this manner for the majority of his career, developing an entirely new form while engaging historical techniques of painting with the body rather than with brushes (finger-painting is a centuries-old technique developed in China). Displayed in a Western context, these works challenge preexisting notions of artistic creation and verticality assumed in the act of painting to emphasise the corporeal meeting of body and matter. As Shiraga described it: 'I want to paint as though [I were] rushing around a battlefield, exerting myself to collapse from exhaustion.'
Many of the canvases on view at Lévy Gorvy were initially presented at Galerie Stadler, Paris. Rodolphe Stadler was introduced to Shiraga by the leading French art critic Michel Tapié, who visited the artist and the Gutai group in Osaka in 1957. Both Stadler and Tapié would have an important and lasting influence on Shiraga's work. Shiraga first exhibited work as part of the gallery's group exhibition Métamorphisme in 1959, and in 1962 his first solo show was presented there. T32 (1962), a highlight of Lévy Gorvy's presentation, was made in the same year of this first solo exhibition and was sent directly to Stadler after its completion. During this time, as his work was gaining an international audience not only in Paris, but also in Turin, Italy, and New York, Shiraga began to enlarge his canvases and give them traditional Japanese names at the advice of Stadler and Tapié. In 1960, the artist embarked on a body of paintings called the Water Margin series, named after a Chinese saga dating to the fourteenth century. In this legend, 108 bandits are the heroes as they rebel against the senior officials of a government ruled by a corrupt emperor. The number 108 carries auspicious connotations in Buddhism, and the violent plot of The Water Margin echoes Shiraga's own energetic and spiritual battle with the materiality of the paint in his canvases. The exhibition features three paintings from this series, each titled after a character from the epic tale: Chiyosei Mochakuten (1960), Chikisei Sesuisho (1960), and Chisuisei Tsuhien (1961). One of these, Chikisei Sesuisho, once belonged to Lucio Fontana.